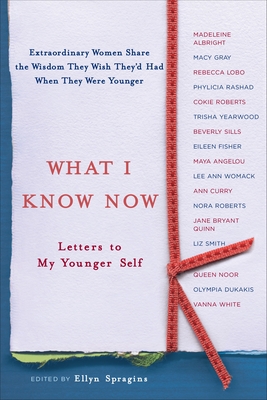 What I Know Now
Letters to My Younger Self
Paperback

* Individual store prices may vary.
Other Editions of This Title:
Hardcover (4/4/2006)
Hardcover (4/1/2010)
Description
If you could send a letter back through time to your younger self, what would the letter say?

In this moving collection, forty-one famous women write letters to the women they once were, filled with advice and insights they wish they had had when they were younger.

Today show correspondent Ann Curry writes to herself as a rookie reporter in her first job, telling herself not to change so much to fit in, urging her young self, "It is time to be bold about who you really are." Country music superstar Lee Ann Womack reflects on the stressed-out year spent recording her first album and encourages her younger self to enjoy the moment, not just the end result. And Maya Angelou, leaving home at seventeen with a newborn baby in her arms, assures herself she will succeed on her own, even if she does return home every now and then.

These remarkable women are joined by Madeleine Albright, Queen Noor of Jordan, Cokie Roberts, Naomi Wolf, Eileen Fisher, Jane Kaczmarek, Olympia Dukakis, Macy Gray, and many others. Their letters contain rare glimpses into the personal lives of extraordinary women and powerful wisdom that readers will treasure.

Wisdom from What I Know Now

"Don't let anybody raise you. You've been raised." —Maya Angelou

"Try more things. Cross more lines." —Breena Clarke

"Learn how to celebrate." —Olympia Dukakis

"You don't have to be afraid of living alone." —Eileen Fisher

"Please yourself first . . . everything else follows." —Macy Gray

"Don't be so quick to dismiss another human being." —Barbara Boxer

"Work should not be work." —Mary Matalin

"You can leave the work world—and come back on your own terms." —Cokie

Roberts

"Laundry will wait very patiently." —Nora Roberts

"Your hair matters far, far less than you think" —Lisa Scottoline

"Speak the truth but ride a fast horse." —Kitty Kelley
Praise For What I Know Now: Letters to My Younger Self…
"What these letters offer . . . is hope—hope that those who read them will understand that there is a future where the road not taken is no longer regretted, and, in the end, the choices we make, make us who we are." —Boston Globe

Harmony, 9780767917902, 208pp.
Publication Date: April 1, 2008
About the Author
ELLYN SPRAGINS encourages women to share their life's wisdom through books, products, and WHAT I KNOW NOW™ women's leadership seminars (www.letterstomyyoungerself.com). She wrote the "Love and Money" column in the New York Times business section for three years. She first edited five of these letters for an issue of O, The Oprah Magazine. She lives in Pennington, New Jersey, with her family.