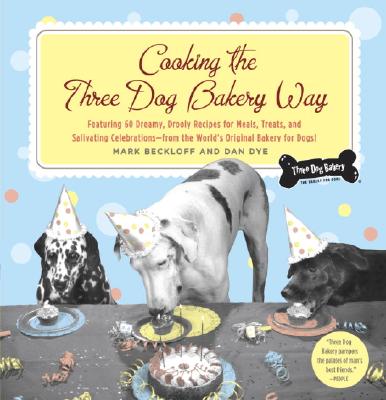 Cooking the Three Dog Bakery Way (Paperback)
Broadway Books, 9780767918190, 140pp.
Publication Date: August 9, 2005
* Individual store prices may vary.
or
Not Currently Available for Direct Purchase
Description
From the celebrated creators of the ever "pup"ular Three Dog Bakery, the world's first bakery for dogs, comes a fun-filled collection of easy-to-make gour"mutt" meals and treats designed to keep dogs healthy, happy, and drooling from ear to ear. It's the cookbook that gives "baked-from-"scratch"" a whole new meaning
With more than thirty bakeries across the U.S., Canada, and Asia (and more on the way ), a thriving Internet and mail-order business, and products featured in retail stores nationwide, Mark Beckloff and Dan Dye of the Three Dog Bakery have baked tasty treats for pampered pooches around the world. In "Cooking the Three Dog Bakery Way," now you can learn to cook these canine-inspired creations at home.
The sixty recipes collected here focus on simplicity, using human-quality ingredients that can readily be found in the everyday kitchen pantry. You will be able to whip up de"leash"ous foods that will make your dog smile, sit up, and beg for more Many traditional dog foods are manufactured from the lowest-grade ingredients, but in "Cooking the Three Dog Bakery Way," you will learn to prepare flavorful foods for your furry four-legged best friend. The delicious delicacies including Say Cheese Chasers, Biscotti Bites, PupOvers, Yip Yap Banana Snaps, and Labrador Lasagna were developed using ingredients approved by one of the nation's top animal nutritionists, and dog-tested by the authors own beloved pack of hounds.
In addition to the recipes, you will also find health tips, nutritional facts, basic grooming and training information, charming illustrations, and plenty of pet-loving puns, making "Cooking the Three Dog Bakery Way" irresistible for anyone who loves a dog.
About the Author
MARK BECKLOFF and DAN DYE are the founders of Three Dog Bakery, the world s original bakery for dogs. They ve been featured in numerous media venues, including on the cover of "Forbes "magazine, "Oprah," " ""Today, Late Night with Conan O'Brien, People," "The New York Times," and "USA TODAY." The authors of three previous books, "Short Tails and Treats from Three Dog Bakery," " Three Dog Bakery Cookbook," and "Amazing Gracie," they also hosted the Food Network show "Three Dog Bakery...Unleashed!" for two years. Mark and Dan currently reside in Tucson, Arizona, with their hounds: Dottie, Biscuit, Claire, and Lu."
Praise For Cooking the Three Dog Bakery Way…
"Looking for all-natural, wholesome, healthy dog biscuits and treats that your pooch will howl over? Seeking a treat that your pooch'll be head over paws for? It's time for a stroll to the bakery loved by dogs the world over--Three Dog Bakery."-- Pampered Puppy

"At Three Dog Bakery, it's all Bone Appetit!" – Wall Street Journal

Advertisement