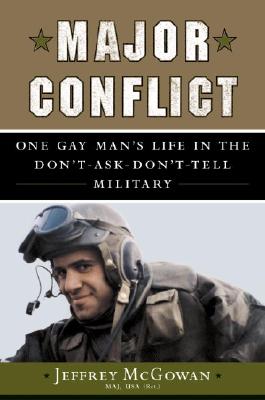 Major Conflict: One Gay Man's Life in the Don't-Ask-Don't-Tell Military (Hardcover)
One Gay Man's Life in the Don't-Ask-Don't-Tell Military
Broadway Books, 9780767918992, 288pp.
Publication Date: March 8, 2005
* Individual store prices may vary.
or
Not Currently Available for Direct Purchase
Description
A book that will move hearts and open minds, Jeffrey McGowan's memoir is the first personal account of a gay man's silent struggle in the don't-ask-don't-tell military, from a cadet who rose to the rank of major, left as a decorated Persian Gulf hero, and whose same-sex marriage was the first on the East Coast.

Love of country and personal love combine in this groundbreaking memoir of one gay man's life in the military—and beyond. In Major Conflict, Queens-born Jeffrey McGowan tells how he enlisted in the army in the late 1980s and served with distinction for ten years. But McGowan had a secret: he was gay. In the don't-ask-don't-tell world of the Clinton-era army, being gay meant automatic expulsion. So, at the expense of his personal life and dignity, he hid his sexual identity and continued to serve the army well.

Major Conflict is a moving account of his years in the military, the homophobia he encountered there, and his life afterward. McGowan presents a vivid portrait of his experience as a soldier in the Persian Gulf, where he commanded U.S. troops in Operation Desert Storm, eventually rising to the rank of major. Ultimately, however, he realized that the army held no future for gay men—even closeted ones. Desiring more of a personal life and tired of hiding his true identity, McGowan resigned from the Army he loved in 1998. In February 2004, he married his partner of six years in New Paltz, New York, making front-page news in the New York Times.
About the Author
JEFFREY McGOWAN joined the army in the late 1980s and served for ten years. Since leaving the service, McGowan has developed a successful sales career in the pharmaceutical industry. In February 2004, he and his partner, Billiam van Roestenberg, were the first same-sex couple to be married on the East Coast. They live in New Paltz, New York.
Praise For Major Conflict: One Gay Man's Life in the Don't-Ask-Don't-Tell Military…
Advance Praise for MAJOR CONFLICT:

"Jeffrey McGowan is a decorated Army officer, a valued leader of men in combat. For those in our society who see gay men only through the eyes of media stereotypes, McGowan's successful military career may well be a revelation. But the power of this book lies not in the politics of Don't-Ask-Don't-Tell, but rather in the poignant recognition of McGowan's humanity."
— Rear Admiral Alan M. Steinman, MD, USPHS (USCG) (Ret.)

"This is essential reading for anyone interested in promoting full access to American society for its gay, lesbian, and bisexual citizens. It is also an absorbing personal account of the life of a gay soldier. All Americans lose when good and talented people like Jeffrey McGowan leave the service they love."
—Keith H. Kerr, Brigadier General, CSMR (Ret.)

"Jeff McGowan's story is one we all need to read, and more stories like his are desperately needed. I hope his book is found by gay and lesbian youth feeling isolated and alone so that they know there are other people who've gone through what they're feeling. I hope his book is read by straight America, so that we can better understand what it means for people to have to choose between how they were born and how they want to live, knowing that both are part of who they are."
—Jason West, mayor, New Paltz, New York
Jeffrey McGowan's courageous personal account of his experience as a gay man serving in the U.S. Army connects two important issues that are front and center in the minds of many Americans. With the political landscape in our country dominated by such issues as war and gay rights, Major Conflict clearly and cogently examines the impact that the confluence of these issues has on an individual's psyche and sense of self. This story of personal conflict, service, and patriotism will help to enlighten the American public and its policy makers.

—U.S. Representative Maurice Hinchey (D-NY)
Advertisement