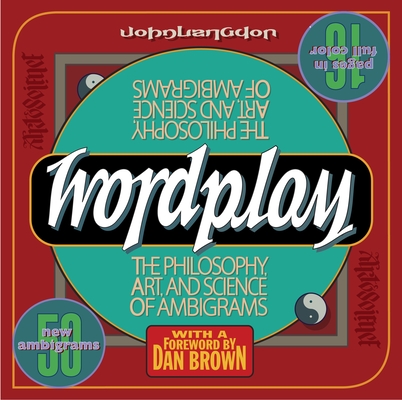 Wordplay: The Philosophy, Art, and Science of Ambigrams (Paperback)
The Philosophy, Art, and Science of Ambigrams
Broadway Books, 9780767920759, 203pp.
Publication Date: November 8, 2005
Description
Take a second look at the cover of this book--this time, turn it upside down. The title, Wordplay, is an ambigram, which means you will be able to read it both right side up and upside down. You may be familiar with the John Langdon's ambigrams from Dan Brown's bestseller Angels & Demons (see pages 186 and 188 of Wordplay), but if this is your first experience with the art of the ambigram, prepare to be dazzled This lovely updated edition of the classic collection of ambigrams features a section of full-color ambigrams and dozens of stunning, mind-bending examples of this cryptic art form. Each strikingly beautiful and arresting illustration is accompanied by a short essay--sometimes serious, sometimes witty--to delight your brain as much as your eyes. Taken together, the art and the essays show how the very shape of letters can change our idea of words and their meanings. As Dan Brown says in the Foreword of this revised edition, John Langdon brilliantly rearranges the familiar, casting it in a new light. Both playful and profound, Wordplay will challenge you to take a second look at your world.
About the Author
Graphic designer JOHN LANGDON has won numerous awards for his logo designs; his ambigrams have appeared in countless publications; and the first museum show of his paintings was held in late 2004 at the Noyes Museum of Art in New Jersey.He is the creator of the ambigrams in Dan Brown's Angels & Demons. Langdon teaches at the College of Media Arts & Design at Drexel University, and lives in Philadelphia.
Advertisement