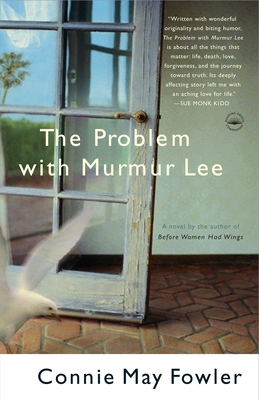 The Problem with Murmur Lee (Paperback)
Broadway Books, 9780767921459, 288pp.
Publication Date: March 7, 2006
* Individual store prices may vary.
or
Not Currently Available for Direct Purchase
Description
The bestselling author of Before Women Had Wings spins a wild new tale about the ties that bind a group of friends together after the loss of its quirkiest member, Murmur Lee. When Murmur Lee Harp drowns in the Iris Haven river, her friends are grief-stricken and haunted by the mysteries surrounding her death. But as her circle of friends sets out to discover what really happened to her, they end up learning as much about her failings and triumphs as they do their own. After years of self-exile in the North, Charlee Mudd returns to set her best friend's affairs in order, only to confront her own ghosts. Edith Piaf, a former marine who underwent a sex change at the age of sixty-two, must find the confidence to carry on without the encouragement of her friend. Lonely widower Dr. Zachary Klein plummets into the depths of depression at the loss of the second woman he has ever loved. As for Murmur Lee: in death she experiences her own journey as she is plunged into her familial past and discovers the truth about who she really is. With poignancy and humor Fowler weaves the voices of Murmur and her friends into a compelling narrative. Part family saga, part murder mystery, The Problem with Murmur Lee is Fowler's most rewarding and engrossing work yet.
About the Author
Connie May Fowler is an essayist, screenwriter, memoirist, and novelist. Her novels include Remembering Blue and Before Women Had Wings, which received the Southern Book Critics Circle Award and was made into an Emmy-winning Oprah Winfrey Presents movie for television. She founded the Connie May Fowler Women with Wings Foundation, a nonprofit organization dedicated to aiding women and children in need. She is the Irving Bacheller Professor of Creative Writing at Rollins College in Winter Park, Florida.
Praise For The Problem with Murmur Lee…
"The Problem with MurmurLee is a brave and beautiful book.  It might be called a mystery, but the questions it asks are not who killed or even how or why.  The questions Fowler asks are the ones we all ask: What is the meaning of one human life?  How do we cope with loss, sorrow, or with our deepest fears?  Where she takes us is not to mourning but to celebration.  I loved Murmur Lee and will never forget her."    
—Dorothy Allison, author of Bastard Out of Carolina

Praise for Connie May Fowler

"If writing is a gift, then Connie May Fowler must be endowed with the gifts of ten muses."
—Amy Tan, author of The Joy Luck Club and The Opposite of Fate

"[Before Women Had Wings is] a thing of heartrending beauty, a moving exploration of love and loss, violence and grief, forgiveness and redemption."
—Chicago Tribune

"Connie May Fowler writes with great sympathy and insight."
—Lee Smith, author of Saving Grace

"There is no denying the depth of Connie May Fowler's talent …"
—New York Times Book Review

"[Fowler's] prose is never less than as sinewy as cypress trees and as right as Christmas cake … Few writers capture poverty's weird chemistry of aching hope and grinding pessimism like Fowler."
—Atlanta Journal-Constitution
Advertisement