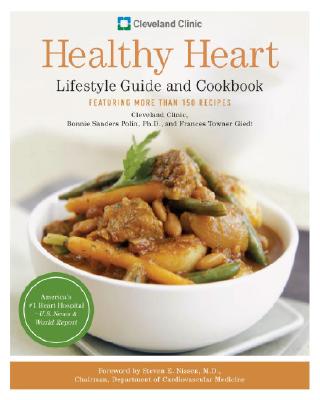 Cleveland Clinic Healthy Heart Lifestyle Guide and Cookbook (Hardcover)
Featuring more than 150 tempting recipes
Clarkson Potter, 9780767921688, 384pp.
Publication Date: January 30, 2007
* Individual store prices may vary.
Description
Ranked as the #1 heart hospital in America eleven years running by U.S. News & World Report, Cleveland Clinic is also world-renowned for its life-saving medical breakthroughs, including bypass surgery. The hospital performs more open-heart surgeries and transplants than any other hospital in America. Now, emphasizing prevention, it has teamed with cookbook authors Bonnie Sanders Polin and Frances Towner Giedt to create the most complete and easy-to-follow plan yet for preventing heart disease: Cleveland Clinic Healthy Heart Lifestyle Guide and Cookbook.

Polin and Giedt have developed outstanding recipes that taste too good to be good for you (but are), ranging from Cajun Grilled Shrimp with Fresh Pineapple Salsa to Chipotle Chicken and Corn Tamale Pies, All-American Meatloaf, and even New York-Style Cheesecake. The authors also provide a week's worth of menus for each of three caloric plans to take the guesswork out of eating from morning to night.

With this guide handy, there's no irksome hunt for answers to heart-related diet and fitness questions. Just turn the pages to find:

• How many eggs can be safely consumed per week

• Lists of foods rich in omega-3 oils and tips on avoiding mercury in fish

• Ideas for healthy snacks under 200 calories

• Strategies for eating out

• Why fiber is the key to good nutrition

• How to choose the healthiest protein–and the facts on soy

• The latest findings on alcohol

• How using a pedometer can keep you out of a gym

• How to calculate a healthy body weight

• How to keep kids fit and cope with finicky eating habits


Backed by the reputation of Cleveland Clinic, this all-in-one guide is the easy, enjoyable way for Americans to care for their hearts and live longer, healthier lives.
About the Author
BONNIE SANDERS POLIN, Ph.D., and FRANCES TOWNER GIEDT won a James Beard Award for "The Joslin Diabetes Gourmet Cookbook." They are also the authors of "The Joslin Diabetes Quick and Easy Cookbook," "The Joslin Diabetes Healthy Carbohydrate Cookbook," and "The Joslin Diabetes Great Chefs Cook Healthy Cookbook." Bonnie Polin lives in Tulsa, Oklahoma, and Frances Giedt lives in Arlington, Texas. STEVEN E. NISSEN, MD, is chairman of the Department of Cardiovascular Medicine at Cleveland Clinic Heart and Vascular Institute and the current president of the American College of Cardiology.
Praise For Cleveland Clinic Healthy Heart Lifestyle Guide and Cookbook: Featuring more than 150 tempting recipes…
"Great advice and sensational recipes in this cooking 'bible' can make living healthy and young more likely. That's because arterial disease is reversible, and that means the recipes for keeping your heart young are in your hands now. (Since arterial youth is a large part of sexual enjoyment, it may even help drive you to the bedroom, for reasons other than sleep.)

If you do not already have heart disease, you're even luckier, because these are great recipes for those who just want to stay young at heart. You should be the world expert on your body, and this book can help you take control—arteries are important for your memory and all other functions, including avoiding wrinkles. Whether it is an artery to your heart or to your brain or to your skin, the process of aging of the arteries is the same, and its prevention can be facilitated by the right foods.

That's why you'll find it worthwhile to buy the Cleveland Clinic Healthy Heart Lifestyle Guide and Cookbook today! For yourself and for your friends and loved ones! Giving it will tell the recipients that you love them, and want them to keep or regain their rapture for life.

Cleveland Clinic Healthy Heart Lifestyle Guide and Cookbook gets my personal award for a most comprehensive, up-to-date cardiac guide and deliciously perfect heart-healthy cookbook in the world today. But it should. It's from the heart-care program ranked as the world's best by US News and World report twelve years in a row. And remember, walk 30 minutes after dinner, no excuses, and tell a supporter you did so! Only then can you go to the bedroom."

—Michael F. Roizen, MD, author or coauthor of five bestsellers on health including the #1 bestsellers YOU: The Owner's Manual, and Real Age: Are You as Young as You Can Be?, professor of internal medicine, and anesthesiology at Case Western Reserve University, and devoted cook of recipes in this book.

or
Not Currently Available for Direct Purchase