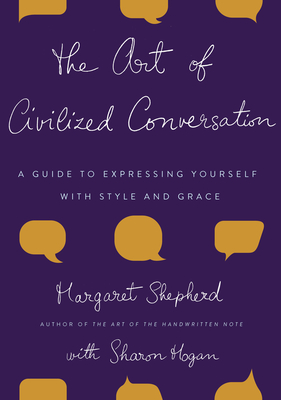 The Art of Civilized Conversation: A Guide to Expressing Yourself with Style and Grace (Hardcover)
A Guide to Expressing Yourself with Style and Grace
Broadway Books, 9780767921695, 228pp.
Publication Date: December 27, 2005
Description
For those intimidated by the complexity of personal interaction, or those simply looking to polish their speaking skills, The Art of Civilized Conversation is a powerful guide to communicating in an endearing way. In our fast-paced, electronic society, the most basic social interaction--talking face-to-face--can be a challenge for even the most educated and self-assured individuals. And yet making conversation is a highly practical skill: those who do it well shine at networking parties, interviews, and business lunches. Good conversation also opens doors to a happier love life, warmer friendships, and more rewarding time with family. In The Art of Civilized Conversation, author Margaret Shepherd offers opening lines, graceful apologies, thoughtful questions, and, ultimately, the confidence to take conversations beyond hello. From the basics--first impressions, appropriate subject matter, and graceful exits--to finding the right words for difficult situations and an insightful discussion of body language, Shepherd uses her skilled eye and humorous anecdotes to teach readers how to turn a plain conversation into an engaging encounter. Filled with common sense and fresh insight, The Art of Civilized Conversation is the perfect inspiration not only for what to say but for how to say it with style.
About the Author
Margaret Shepherd is a writer, calligrapher, and teacher. In addition to The Art of the Handwritten Note, she has written thirteen books on calligraphy. Each year she speaks at MIT's "charm school" about the importance of gracious communication. She lives in Boston. Sharon Hogan writes books on topics that range from aging to dog training. She enjoys civilized conversations with other authors about book concepts, and she leads workshops on nonfiction writing for physicians. She lives near Boston.
Praise For The Art of Civilized Conversation: A Guide to Expressing Yourself with Style and Grace…
"Just as a civilized conversation can get the morning off to a great start, it can enhance your work life all through the day and invigorate an evening of social life. If you enjoy the art of conversation with your family and friends, you will also shine at breakfast with a client, lunch with coworkers, and dinner with your boss. It's the Swiss Army knife of social skills that anyone can learn to use. Take it with you wherever you go, and you'll be equipped to turn a seatmate into a confidant, an interviewer into an employer, and an acquaintance into a friend. As an accomplished conversationalist, you'll be welcomed everywhere; everyone loves good conversation because it is fun."
—from the Introduction
Advertisement