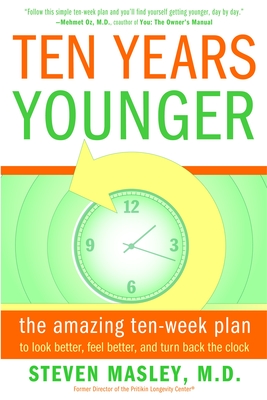 Ten Years Younger
The Amazing Ten Week Plan to Look Better, Feel Better, and Turn Back the Clock
Paperback

* Individual store prices may vary.
Other Editions of This Title:
Hardcover (12/27/2005)
Description
How would you like to look and feel ten years younger in just ten weeks time?

Studies show that Americans on the whole are aging faster than ever with conditions like diabetes, cancer, and heart disease occurring increasingly earlier on in life—along with everyday age indicators like wrinkles and love handles. Now, Dr. Steven Masley, former medical director of the prestigious Pritikin Longevity Center® and a pioneer in anti-aging medicine, delivers a breakthrough plan to turn back the clock, inside and out—no matter what your age!

Originally featured on the Discovery Channel, the Ten Years Younger Program is designed to combat the roots of accelerated aging. Poor nutrition, toxins in the environment, stress, and exposure to free radicals all make us old before our time, along with a little-known aging culprit: low- and no-carb diets. As Dr. Masley shows, low-carb diets deprive the body of anti-aging phytonutrients and fiber, accelerate osteoporosis, and damage brain cells. So the first secret of turning back time is: Eat your carbs!

Each week, Ten Years Younger guides you through an age-busting combination of cutting-edge nutritional choices, relaxation techniques to reduce the aging effects of stress, and simple workouts designed to build lean muscle and trim and tone your body from head to toe. By following the plan for just ten weeks, you will:
• Achieve significant weight loss—up to twenty-five pounds
• Boost your energy levels
• Rejuvenate your skin
• Enhance brain function
• Prevent and reverse the onset of diabetes and heart disease
• Lower your cholesterol and blood pressure
• Improve sexual vitality

With tools to help you assess how your body is really aging, weekly shopping lists and meal plans, and over 100 delicious recipes packed with antioxidants and anti-aging nutrients, Ten Years Younger is the healthiest, safest, and fastest way to take off the years—no surgery required!
Praise For Ten Years Younger: The Amazing Ten Week Plan to Look Better, Feel Better, and Turn Back the Clock…
"Dr. Steven Masley leads the way for anyone searching for the keys to extend not only lifespan, but healthspan as well. A stand-out program for turning back the clock that makes these goals a reality." —David Perlmutter, M.D., F.A.C.N., author of The Better Brain Book

"A fantastic, no-excuses plan that will take off the years, inside and out. Ten Years Younger should be required reading for all physicians and their patients." —Fleur Sack, M.D., former President, Florida Academy of Physicians
Harmony, 9780767921718, 400pp.
Publication Date: January 9, 2007
About the Author
Steven Masley, M.D., is a physician, nutritionist, and trained chef. A fellow with the American Heart Association and the American College of Nutrition, he has helped thousands of patients improve their cognitive function, and prevent and reverse type II diabetes and heart disease. His clinical research focuses on the impact of lifestyle choices on brain function, heart health, and aging. Masley has published several best-selling books: The Better Brain Solution, The 30-Day Heart Tune-Up, Ten Years Younger, Smart Fat, and numerous scientific articles that have appeared in The Journal of the American College of Nutrition, Integrative Medicine, JAMA, The American Family Physician, and The Journal of Clinical Psychology. His health programs have been seen on PBS, the Discovery Channel, and the Today Show. Dr. Masley is a Clinical Associate Professor with the University of South Florida. He lives in St. Petersburg, Florida, where he heads the Masley Optimal Health Center.
or
Not Currently Available for Direct Purchase