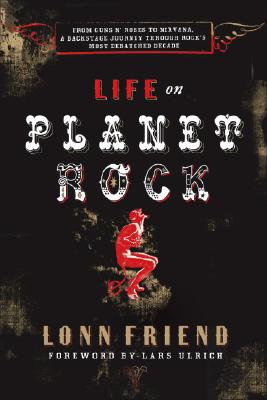 Life on Planet Rock: From Guns N' Roses to Nirvana, a Backstage Journey through Rock's Most Debauched Decade (Paperback)
From Guns N' Roses to Nirvana, a Backstage Journey through Rock's Most Debauched Decade
Three Rivers Press, 9780767922081, 320pp.
Publication Date: July 11, 2006
* Individual store prices may vary.
or
Not Currently Available for Direct Purchase
Description
For the generation coming of age in the years from 1987 to 1994, RIP magazine was every bit as crucial as Rolling Stone. Life on Planet Rock describes how Lonn Friend, the editor of RIP, became the Zelig-like chronicler of the biggest musical moments of that time from introducing Guns N Roses (in nothing but a top hat, underwear, and cowboy boots) to sitting in during the making of Metallica's Black Album. Life on Planet Rock provides revealing portraits of artists as varied as Kurt Cobain, Gene Simmons, Alice Cooper, Axl Rose, James Hetfield, Steven Tyler, and many more. Part oral history, part candid and humorous memoir, it is a wormhole back to a fast-moving time in music that saw tastes flash from new wave to hair metal to grunge, told as only someone who was there through it all could tell it.
About the Author
LONN FRIEND was born in 1956, the year Elvis brought rock 'n' roll to the mainstream. He has been around music--as a DJ, writer, reviewer, developer of talent, and editor--ever since. He has had a regular spot on MTV's "Headbanger's Ball," and he lives in Los Angeles.
Praise For Life on Planet Rock: From Guns N' Roses to Nirvana, a Backstage Journey through Rock's Most Debauched Decade…
"Lonn lives where the reckless heart of rock still thunders in your chest. No one else can throw a literary dinner party where Henry Miller sits side by side with Kurt Cobain and Jon Bon Jovi.  That's Lonn's planet, and that's his vivid personality.  Soulful and rowdy and always hilarious, Life on Planet Rock reminds you why you ever turned it up, all the way up."
—Cameron Crowe

"Dark, brutally honest, and hilarious at the same time, Lonn's tales of rock-and-roll debauchery, excess, and bad business are a love letter to the rock gods."
—Scott Ian Rosenfeld, founder/guitarist, Anthrax

"Lonn Friend. If anybody is entitled to write about rock in L.A. in the '80s and '90s, it's him. This is a good book. Steal it!"
—Lemmy Kilmister, lead singer, Motörhead

"Its humor, insight, and behind-the-scenes honesty have captured me and whisked me away to a very special mind space. I am content. All is well on Planet Rock . . . I ought to know, I've lived here all my life."
—Kevin Cronin, lead singer, REO Speedwagon
Advertisement