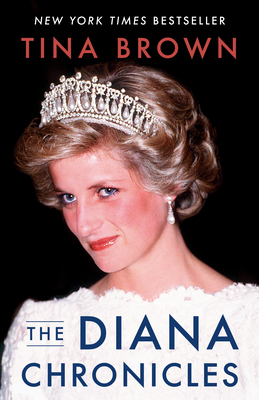 The Diana Chronicles (Paperback)
Anchor, 9780767923095, 592pp.
Publication Date: May 20, 2008
Other Editions of This Title:
Digital Audiobook (6/11/2007)
Digital Audiobook (6/11/2007)
Hardcover (6/12/2007)
Mass Market Paperback (5/20/2008)
Hardcover, Large Print, Large Print (6/12/2007)
Paperback (6/1/2008)
* Individual store prices may vary.
Description
Years after her death, Princess Diana remains a mystery. Was she "the people's princess," who electrified the world with her beauty and humanitarian missions? Or was she a manipulative, media-savvy neurotic who nearly brought down the monarchy?

Only Tina Brown, former Editor-in-Chief of Tatler, England's glossiest gossip magazine; Vanity Fair; and The New Yorker could possibly give us the truth. Tina knew Diana personally and has far-reaching insight into the royals and the Queen herself.

In The Diana Chronicles, you will meet a formidable female cast and understand as never before the society that shaped them:   Diana's sexually charged mother, her scheming grandmother, the stepmother she hated but finally came to terms with, and bad-girl Fergie, her sister-in-law, who concealed wounds of her own.  Most formidable of them all was her mother-in-law, the Queen, whose admiration Diana sought till the day she died. Add Camilla Parker-Bowles, the ultimate "other woman" into this combustible mix, and it's no wonder that Diana broke out of her royal cage into celebrity culture, where she found her own power and used it to devastating effect.   




About the Author
Tina Brown was 25 when she became editor–in–chief of England's' oldest glossy, The Tatler, reviving the nearly defunct 270 year old magazine with an attitude and style that gave it a 300 percent circulation rise. She went on to become editor–in–chief of Vanity Fair, and won four National Magazine Awards. In 1992 she became the first female editor of the New Yorker where she raised circulation by 145 percent on the newsstand and was honored with 4 George Polk Awards, 5 Overseas Press Club Awards, and 10 National Magazine Awards, including a 1995 award for General Excellence, the first in the magazine's history. Ms. Brown was awarded C.B.E. (Commander of the British Empire) from Queen Elizabeth in 2000. She is married to Sir Harold Evans. The couple have two children and reside in New York.
Praise For The Diana Chronicles…
PRAISE FOR THE DIANA CHRONICLES

"Amazingly detailed . . . Brown's jam-packed, juicy roll in the high cotton is...a walloping good read."
—Washington Post

"[An] insanely readable and improbably profound new biography."
—Chicago Tribune

"Intensely well researched and an unputdownable read."
—Academy Award-winning actress Helen Mirren

"It's Dianamite!"
—Tom Wolfe

"Tina Brown knows this world much better than many who inhabit it.... This book resembles the Queen in its calm, credible, quietly chattering view of life inside the royal hothouse."
—The New York Times

"[Tina Brown] tells the story fluently, with engrossing detail on every page, and with the mastery of tone that made her Tatler famous for being popular with the people it was laughing at."
—The New Yorker

"The Diana Chronicles, by Tina Brown, former editor of Vanity Fair and The New Yorker, peels many layers of...mystery away and even makes the old horror stories of [Diana's] life seem fresh...Brown gives them new vigor, with insights based on her own exhaustive research and a wickedly canny, celebrity-trained eye for detail."
—Boston Globe

"The book's greatest attraction...is its sheer wealth of detail, by turns salacious, vinegary, depressing, and hilarious...a psychodrama, a morality play, a pageant of recklessness and revenge, of passion and pity, of loneliness and looniness."
—The Wall Street Journal

"The Diana Chronicles...has enough of Diana's hairpin personality turns, emotional drops, and gleeful summits to be a Disneyland thrill ride...Brown reminds us of her instantly intimate, magical presence."
—Los Angeles Times