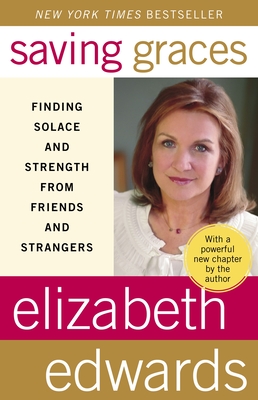 Saving Graces: Finding Solace and Strength from Friends and Strangers (Paperback)
Finding Solace and Strength from Friends and Strangers
Broadway Books, 9780767925389, 368pp.
Publication Date: August 14, 2007
Description
She charmed America with her smart, likable, down-to-earth personality as she campaigned for her husband, then vice-presidential candidate John Edwards. She inspired millions as she valiantly fought advanced breast cancer after being diagnosed only days before the 2004 election. She touched hundreds of similarly grieving families when her own son, Wade, died tragically at age sixteen in 1996. Now she shares her experiences in Saving Graces, an incandescent memoir of Edwards trials, tragedies, and triumphs, and of how various communities celebrated her joys and lent her steady strength and quiet hope in darker times.
Edwards writes about growing up in a military family, where she learned how to make friends easily in dozens of new schools and neighborhoods around the world and came to appreciate the unstinting help and comfort naval families shared. Edwards reminiscences of her years as a mother focus on the support she and other parents offered one another, from everyday favors to the ultimate test of her own community's strength their compassionate response to the death of the Edwards teenage son, Wade, in 1996. Her descriptions of her husband's campaigns for Senate, president, and vice president offer a fascinating perspective on the groups, great and small, that sustain our democracy. Her fight with breast cancer, which stirred an outpouring of support from women across the country, has once again affirmed Edwards belief in the power of community to make our lives better and richer.
About the Author
ELIZABETH EDWARDS, a lawyer, has worked for the North Carolina Attorney General s office and at the law firm Merriman, Nichols, and Crampton in Raleigh, and she has also taught legal writing as an adjunct instructor at the law school of North Carolina University. She lives in Chapel Hill, North Carolina."
Praise For Saving Graces: Finding Solace and Strength from Friends and Strangers…
Reader Praise for Saving Graces

"I feel as if I've just had a long heart-to-heart with a wonderful new friend. Your writing is so open and engaging, truly." 
— Louisa Dykstra, Des Moines, IA 

"I admire your continued courage, wisdom, and generosity. You are truly an inspiration."
— Peggy Abrams, Raleigh, NC

"I wept when I read about your son Wade, and I can't even imagine how you felt when you discovered your breast cancer. But you are a survivor. Your strength is an inspiration to me. Thank you."
— Amy Manata, Skokie, IL

"I have taken so much wisdom from your words and those of your husband. Life is full of heartache. But life is such a wonderful tapestry of colors, grays and oranges, sad ones, happy ones. . . "
— Priscilla Harcourt, Tewksbury, MA

"You are an inspiration and not simply because of your own courage but because you lead us to other heroes. You show me the hero that is your son and the hero that is my mother."
— Carina Ost, Los Angeles, CA

"It is you who deserves our graces. You showed the world how to be strong, courageous, and most of all determined."
— Eddie Alexander, San Mateo, CA

"You have been an inspiration to me because of your grace and consideration to all of us who support your battle against breast cancer as well as your obvious humanity and ability to speak to us as though we were in your living room."
— Ellen E. Schaefer, Eugene, OR
Throughout Saving Graces, Elizabeth Edwards describes her great friend, Hargrave McElroy, who knows not only how to soothe but also how to orchestrate countless details. Who is the Hargrave in your life? To whom do you turn when you need both compassion and wisdom?
How was Elizabeth shaped by her childhood as a military daughter? What aspects of that world prepared her for a high-profile future? What aspects of her youth would later challenge her understanding of the world?
What did Elizabeth's parents and grandparents teach her about parenting? Which of their legacies are still a part of her life?
Discuss the memoir's title. How do you define grace? What is Elizabeth's message about human nature in times of crisis?
Elizabeth recalls her first date with John Edwards, which culminated in her wedding-dress quest during the bar exam and a lifetime of anniversary celebrations at Wendy's. What has kept their marriage strong?
As Elizabeth writes about the sorrow of burying her son, what does she tell us about the experience of grief, and the best ways to bring comfort to someone who is enduring a similar experience? If you had participated in her online group, how would you have responded to the religious debate that was sparked?
Wade clearly embraced his parents' vision of service to others and striving for excellence in all endeavors. At his funeral, his father read these lines from Wade's Outward Bound journal: "The course director said the solo is where you become a man. I disagree with that … I think that you never really stop maturing and growing as a person." How do his words apply to your life? What does it mean to possess maturity? What were your equivalents of a challenging "solo"? Has your personal growth ever truly been achieved solo?
Enrolling in law school, Cate followed in her parents' footsteps. What opportunities exist for Cate in the twenty-first century that were less available to her grandmother's generation?
Now in her mid-fifties, the author grew up during a period of rapid cultural transformation. How have the expectations for various populations—families, politicians, military personnel, first ladies—changed since the 1950s and 1960s? What lessons did Elizabeth learn during the sixth-grade mock election between Kennedy and Nixon?
How did Elizabeth adapt when her husband entered political life—and was immediately made a presiding officer in the Clinton impeachment hearings, no less? What new elements did Washington introduce into the Edwards household? What were (and are) the constants in their lives? How have you weathered the greatest transitions in your life?
What are your recollections of the 2004 presidential election? What were the deciding factors? What campaign details were you surprised to discover in Saving Graces? What qualities does a candidate's spouse need in order to be truly supportive?
Elizabeth vividly recounts many of the conversations she has had with voters in recent years, and her concern for keeping promises made to them. She also describes her frustration when expectations were not met, such as the Kerry-Edwards train not stopping in the wee hours though crowds had gathered on the platform, or Dick Cheney claiming never to have met John Edwards prior to the debate, though news footage quickly proved otherwise. Is it possible for elected officials to maintain a high standard of reliability and honesty once in office?
Elizabeth and John have built supportive networks of lifelong friends and colleagues, but the subtitle of Saving Graces reminds us of the strangers who have also helped them, such as the now deceased pilot who gave her cheerful greetings and safe passage after her dreadful transportation experiences. Who have been the least-expected strangers to help you during a crisis? What opportunities are in your life right now to be the saving grace for someone else?
What insight does Elizabeth's story impart about the emotional and medical aspects of a breast cancer diagnosis? What does her case indicate about current debates over whether mammograms are worthwhile?
Though Elizabeth's life has been marked by loss, she and John have also experienced beautiful blessings, including the birth of their two younger children when the odds seemed against it, and Elizabeth's victories in her battle against cancer. What determines whether our losses overshadow our joys?
Advertisement