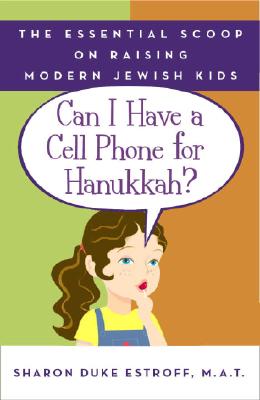 Can I Have a Cell Phone for Hanukkah?
The Essential Scoop on Raising Modern Jewish Kids
Paperback

* Individual store prices may vary.
Description
How do you help your child choose between mandatory baseball practice and Hebrew school? How can you plan a birthday party (not to mention bar or bat mitzvah party!) for your child without sacrificing your values, sanity, and pocketbook? How can you keep peace on the homework homefront? And how do you deal with Santa envy–let alone the entire month of December?

As any modern Jewish parent knows, balancing family traditions and the realities of contemporary culture can be incredibly challenging.

Answering questions both old and new, Jewish and secular, internationally syndicated parenting columnist and award-winning Jewish educator and mother of four, Sharon Duke Estroff illuminates the ways that Jewish tradition can be used to form a lasting, emotional safety net for modern families. Can I Have a Cell Phone for Hanukkah? is an instant classic.

"A warm book full of tangible advice that will fashion children into committed Jews and menschen; in short, into people who will be a blessing in their own lives and in the lives of all those whom they meet."
–Rabbi Joseph Telushkin, author of You Shall Be Holy and The Book of Jewish Values

 "Brimming with humor and strategy, love, and secret parent handshakes."
–Melissa Faye Greene, author of The Temple Bombing, Praying for Sheetrock, and There's No Me Without You
 
"Sharon Duke Estroff has the uncanny ability to give solid, useful, and practical information on how to raise children while making you laugh out loud at the same time."
–Stephen Nowicki Jr., Ph.D., ABPP, coauthor of Helping the Child Who Doesn't Fit In and Teaching Your Child the Language of Social Success

"I'm not Jewish, but I love this book. I laughed through it all while still appreciating the serious lessons it teaches. Every mom (and dad) with kids will find themselves nodding and smiling to themselves as they discover each other on every page."
–Bonnie R. Strickland, Ph.D., ABPP, former president of the American Psychological Association

"This book belongs in the library of every parent and grandparent."
–Atlanta Jewish Times

"Can I Have a Cell Phone for Hanukkah is a valuable must-buy for all Jewish parents, and not just for Hanukkah. Not only does Estroff give practical child rearing advice but her joyful approach to Judaism is a healthy antidote to religious skeptics."
-Hadassah Magazine

"Estroff's witty, sympathetic tone and her attention to ethical matters make her a refreshing authority."
- Jewish Living Magazine

"Sharon Duke Estroff's Can I have a Cell Phone for Hanukah? is a wise, witty, and insightful guide for parents — both Jews and non-Jews — who are faced with navigating their way through the shoals of contemporary American life."
- Deborah Lipstadt PhD, History on Trial: My Day in Court with David Irving

"One of the best parenting books I've read this year."
-Five Minutes for Mom Blog

"Sharon Duke Estroff has come to the rescue of parents raising children in today's 'overachieving, anxiety- filled culture,' with her concise, insightful and often hilarious guide Can I have a Cell Phone for Hanukkah? The Essential Scoop on Raising Modern Jewish Kids."
-Jewish Independent

"From play dates, homework and extracurricular activities, to bar/bat mitzvah,tzedakah and Jewish holidays, with humor and insight Estroff offers suggestions for coping with the day-today challenges of Jewish parenting...an easy read packed with a lot of good,practical advice."
-Chicago Jewish Star

"With Can I Have a Cell Phone for Hanukkah? a mother will have help navigating her way through the child rearing years and beyond. With humor and in a contemporary modern mind, the book offers wonderfully creative ways to take your children from one subject to another."
-Shalom Newspaper

"Insightful and humorous, Can I Have a Cell Phone for Hanukkah? covers many of the parenting issues us mommy bloggers banter about every day, such as choosing a kindergarten to teaching your children the value of a dollar. Estroff writes in a fun and catchy rhythm that makes her down-to-earth advice a joy to read, including text peppered with Jewish references that add flavor and voice."
-Mommy Blog Spot

"Peppered with humor, Estroff's book addresses dilemmas that begin as early as the preschool years and evolve throughout elementary school, junior high school and high school. She discusses academic competitiveness, cutthroat soccer games and surviving homework. She guides parents who struggle with the idea that they must provide the most entertaining play dates, most exciting birthday parties and the most lavish b'nai mitzvah receptions."
-Jewish News of Greater Phoenix

"Any parent feeling overwhelmed will find Can I Have a Cell Phone for Hanukkah? filled with interesting, easy-to-read advice. Estroff has a sense of humor, noting when she's made parenting mistakes and discussing the lessons she learned the hard way. Parenting in the 21st century may not be easy, but Estroff helps make the task a little less difficult."
-The Reporter

"Sharon has filled 'Can I have a Cell Phone' with lots of practical advice for Jewish parents, including how to deal with Santa-envy, how to survive the homework struggle, how to plan a birthday party without breaking your budget and how to help shy kids make friends. Also, there are chapters on grade-school play date protocol and parenting in the Net generation."
-Jewish Literary Review

"Ms. Estroff, mother of four, Jewish educational consultant, and author of a nationally syndicated parenting advice column, writes with wit, candor, and authority. She brings issues and wisdom from her personal parenting experiences, those of the families at her day school, and those from her readers together in gentle, measured, moderate, and reasonable, contemporary guide to raising children."
-Juggling Frogs Jewish Parenting Blog
Harmony, 9780767925440, 320pp.
Publication Date: October 9, 2007
About the Author
SHARON DUKE ESTROFF is an internationally syndicated columnist whose articles on parenting issues within a Jewish context appear in more than fifty publications and reach nearly two million readers. An award-winning educator with experience in both public and private schools, she is currently an educational consultant with Perimeter Education and Psychological Services in Atlanta and co-creator/co-director of Epstein Summer Adventure, a popular Atlanta day camp. She lives in Marietta, Georgia.
or
Not Currently Available for Direct Purchase