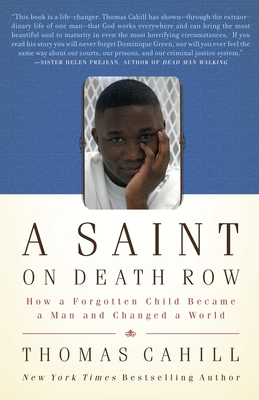 A Saint on Death Row: How a Forgotten Child Became a Man and Changed a World (Paperback)
How a Forgotten Child Became a Man and Changed a World
Anchor Books, 9780767926461, 146pp.
Publication Date: March 9, 2010
Description
Bestselling author Thomas Cahill tells the absorbing, heartbreaking tale of the hard life and tragic death of Dominique Green--wrongly accused, then executed in Huntsville, Texas--and shines a light on our racist and deeply flawed criminal justice system. Green, an extraordinary young man from the urban ghettos of Houston, was utterly failed by every echelon of society--the Catholic Church, numerous U.S. courts of law, and even his own mother. But from the depths of despair on Death Row, he transcended his earthly sufferings and achieved enlightenment and peace, inciting an international movement against the death penalty and inspiring his personal hero, Archbishop Desmond Tutu, to plead publicly for mercy. A Saint on Death Row is an unforgettable, sobering, and deeply spiritual account that illuminates the moral imperatives too often ignored in the headlong quest for judgment.
About the Author
THOMAS CAHILL is the author of five volumes in the Hinges of History(TM) series: How the Irish Saved Civilization, The Gifts of the Jews, Desire of the Everlasting Hills, Sailing the Wine-Dark Sea, and Mysteries of the Middle Ages. They have been bestsellers not only in the United States but also in countries ranging from Italy to Brazil. He and his wife, Susan, also a writer, divide their time between New York City and Rome.
Praise For A Saint on Death Row: How a Forgotten Child Became a Man and Changed a World…
"This book is a life-changer.  Thomas Cahill has shown—through the extraordinary life of one man—that God works everywhere and can bring the most beautiful soul to maturity in even the most horrifying circumstances. If you read his story you will never forget Dominique Green, nor will you ever feel the same way about our courts, our prisons, and our criminal justice system."  —Sister Helen Prejean, author of Dead Man Walking

"Though this is a book that ends in death, it does not end in despair. Read it and discover how even the obscenity of capital punishment can be transformed into an occasion of light and peace." —Desmond Tutu, Archbishop Emeritus of Cape Town, South Africa

"A deeply moving narrative about a man transformed as he faced an unjust execution."  —James H. Cone, author of Black Theology and Black Power
 
"I expect A Saint on Death Row to become a classic in the growing struggle to cleanse this nation finally of the sin of the death penalty."  —Jonathan Kozol

"Riveting. . . . [A] poignant tribute. . . . Cahill's moving tale shines a sharp light on a negligent and flawed justice system."  —The Christian Science Monitor
 
"An inspiring story of growth and redemption. . . . Cahill has achieved something grander than straight biography here: an intervention in public memory."  —Texas Observer
 
"An affecting book. . . . Cahill stimulates deep thought about good and evil, and he is an intelligent, engaging historian."  —The Dallas Morning News
 
 "Intensely powerful. . . . A case history of the failures of society. . . . There is so much in this meticulously researched and clearly explained book to make you think."  —Washington Lawyer
 
"Powerful. . . . [A] story of redemption and forgiveness. . . . In patient detail, [Cahill] captures a young street kid responding to [the death penalty] with such growing equanimity, grace, and saintliness. . . . [An] excellent book."  —Baltimore City Paper
 
"Remarkable. . . . Cahill's book stimulates deep thought about good and evil. . . . Readers could count themselves foolish to pass by any book he writes. . . . An affecting book."  —The Tampa Bay Times
 
"Moving. . . . A powerful challenge to any notion that all is more or less OK with the administration of criminal justice in the US. . . . Once you've gotten to know [Dominique Green] in Cahill's pages, [he] is not likely to slip very quickly from your memory."  —Richard Bernstein, The Daily Beast
 
"Everyone who reads [A Saint on Death Row] will be touched by it. . . . Dominique's shining example of a rehabilitated life, indeed a rebirth within a living death, will surely stand as silent witness against the continued employment of the death penalty."  —www.curledup.com
 
"Compelling."  —The Miami Herald
 
"Cahill reveals the stomach-knotting circumstances of Dominique's childhood years with great sensitivity. . . . This is not merely an academic account of miscarried justice. [Cahill is] lending [his] voice to someone who has been dehumanized, debased. . . . Cahill's central question lingers like the burn of stomach acid in the back of one's throat: What did we gain—what?—by killing him?"  —Paste Magazine
 
"An inspiring example of human development on Death Row."  —America Magazine
Advertisement