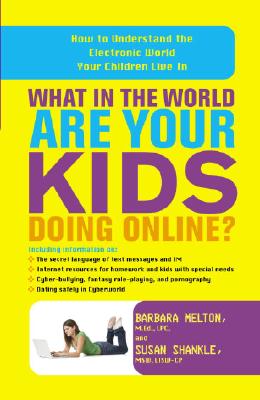 What in the World Are Your Kids Doing Online?: How to Understand the Electronic World Your Children Live in (Paperback)
How to Understand the Electronic World Your Children Live in
Broadway Books, 9780767926638, 386pp.
Publication Date: August 14, 2007
* Individual store prices may vary.
or
Not Currently Available for Direct Purchase
Description
Texting. Blogging. IMing. Technology that has become second nature to our children remains uncharted territory for many parents. "What in the World Are Your Kids Doing Online?" tells you everything you need to know to navigate the parenting issues technology raises, and arms you with the tools you need to protect your children.
This comprehensive, all-purpose guide shows you how to keep up with the latest in computer technology and the Internet even if you re a techno-illiterate.
You ll also learn how to:
protect your child from cyber-bullies and sexual predators
monitor your child's online activity
recognize the danger signs in your child's use of chat rooms and socializing sites such as MySpace
decode the secret language of texting, instant messaging, e-mail, and chat rooms
keep your Cyber-kid healthy and fit
teach your child good on-line study skills
help your child build healthy friendships and dating relationships, both on- and off-line
gear your rules about the Internet to your child's age and developmental stage
know when to turn the computer off
Includes information on how the cyber world affects children with special needs, learning disorders, and emotional disorders.
About the Author
BARBARA MELTON, M.Ed., is a licensed professional counselor (LPC) and supervisor in private practice; sheregularly workswith families with challenging kids, conductsworkshops, and lectures on a variety of topics. Her practiceis in Charleston, South Carolina.SUSAN SHANKLE, MSW, LISW-CP, is a licensed clinical social worker who focuses on the treatment of adolescents experiencing difficulty due to modern technology. She lives in Mount Pleasant, South Carolina. Both authors have been featured inMSNBC.com articles addressingadolescents, parenting challenges, and technology."
Praise For What in the World Are Your Kids Doing Online?: How to Understand the Electronic World Your Children Live in…
"A must read for parents who want to raise healthy, caring, creative, and self-reliant children as well as kids who can thrive in a cyber-steeped future."
--Margaret Sagarese, coauthor of The Roller Coaster Years and Boy Crazy 
Advertisement