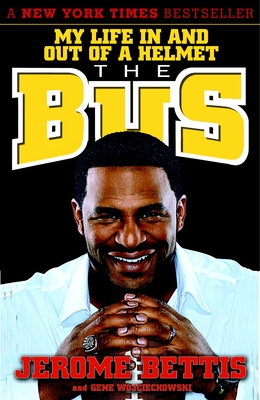 The Bus: My Life in and Out of a Helmet (Paperback)
My Life in and Out of a Helmet
Broadway Books, 9780767926669, 215pp.
Publication Date: September 9, 2008
Description
He was one of pro football's most beloved and respected stars, admired not only by NFL fans and his own teammates, but by his opponents as well. Super Bowl champion; six time Pro Bowler; NFL Comeback Player of the Year; NFL Man of the Year; fifth all-time leading rusher in the NFL; future Hall of Famer; now NBC Sports commentator.
You may think you know Jerome Bettis, but you don t.
In The Bus, Jerome Bettis tells his full, unvarnished story for the first time--from his sometimes troubled childhood in inner-city Detroit to his difficult transition at Notre Dame, to a pro coach who almost caused him to quit the game, to a trade for the ages that resulted in ten glorious seasons with the Pittsburgh Steelers.
As a chunky child wearing glasses, Jerome's only sports-related aspiration was to become a professional bowler. But growing up in one of the roughest neighborhoods in Detroit, he eventually found his escape on the high school football field, thanks to the devotion of hard-working parents, a concerned coach, and his prodigious talent. He arrived at Notre Dame as one of the nation's best prep players, but despite his incredible performances, he never stopped worrying that he would somehow blow his chance to make good. Drafted and later discarded by the Los Angeles Rams, it was in the football-obsessed city of Pittsburgh that Jerome found his home and became a legend.
The Bus captures the sweetness and honesty of Bettis, but also details the jaw-dropping, violent nature of the game he loved, the mind-boggling injuries he endured, and the cut-throat NFL business tactics he overcame and later mastered. Through it all, Jerome was also a loving son, an adoring father, and the ultimate teammate and mentor.
The Bus not only takes you under the helmet, but inside the huddle, the locker room, the practice field, the negotiating table, the owner's office, and the Super Bowl sideline. You ll learn how Bettis became The Bus, how he helped engineer the greatest trade in Steelers history, how he almost cost Pittsburgh a conference championship, and how sweet it was to win finally one for the thumb.
About the Author
Jerome Bettis is now a commentator on NBC s Football Night in America.. He is the founder of The Bus Stops Here Foundation, which works to improve the quality of life for disadvantaged children, and works with the American Lung Foundation to increase asthma awareness. He lives in Atlanta. Gene Wojciechowski is a senior writer for ESPN The Magazine and ESPN.com. He has authored or coauthored eight books, including Cubs Nation, My Life on a Napkin (with Rick Majerus), I Love Being the Enemy (Reggie Miller), Nothing But Net (Bill Walton) and his baseball novel, About 80 Percent Luck. He lives in Wheaton, Illinois."
Praise For The Bus: My Life in and Out of a Helmet…
"Exciting – entertaining – extra special like the Bus himself!"
-- Dan Rooney, owner of the Pittsburgh Steelers

"This is one Bus ride you won't want to get off.'"
Rick Reilly, bestselling author of Who's Your Caddy? and Missing Links

Advertisement