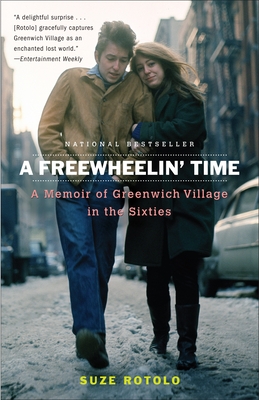 A Freewheelin' Time
A Memoir of Greenwich Village in the Sixties
Paperback

* Individual store prices may vary.
Other Editions of This Title:
Hardcover (5/13/2008)
Description
"The girl with Bob Dylan on the cover of Freewheelin' broke a forty-five-year silence with this affectionate and dignified recalling of a relationship doomed by Dylan's growing fame." –UNCUT magazine

Suze Rotolo chronicles her coming of age in Greenwich Village during the 1960s and the early days of the folk music explosion, when Bob Dylan was finding his voice and she was his muse.

A shy girl from Queens, Suze was the daughter of Italian working-class Communists, growing up at the dawn of the Cold War. It was the age of McCarthy and Suze was an outsider in her neighborhood and at school. She found solace in poetry, art, and music—and in Greenwich Village, where she encountered like-minded and politically active friends. One hot July day in 1961, Suze met Bob Dylan, then a rising musician, at a concert at Riverside Church. She was seventeen, he was twenty; they were both vibrant, curious, and inseparable. During the years they were together, Dylan transformed from an obscure folk singer into an uneasy spokesperson for a generation.

A Freewheelin' Time is a hopeful, intimate memoir of a vital movement at its most creative. It captures the excitement of youth, the heartbreak of young love, and the struggles for a brighter future in a time when everything seemed possible.
Praise For A Freewheelin' Time: A Memoir of Greenwich Village in the Sixties…
"A delightful surprise . . . [Rotolo] gracefully captures Greenwich Village as an enchanted lost world." —Entertainment Weekly

"A portrait-of-an-era . . . through [Rotolo's] eyes, we see Dylan as a unique artist on his way to greatness." —People

"Artist Suze Rotolo pays rollicking homage to a revolutionary age." —Vogue

"Exhilarating . . . a moving account." —New York Times

"A perceptive, entertaining, and often touching book about a remarkable era in recent American cultural history, about a way of living, of making art, that couldn't have happened at any other time or in any other place." —Stephanie Zacharek, Salon

"Telling her own story more than Dylan's, Rotolo writes with the lightest touch . . . She makes her own textures, so what is left out doesn't feel as if it's missing, and what is left in maps the territory she wants to bring into view." —Griel Marcus, Interview

"Poignant . . . full of quick, deft sketches of key characters." —Guardian

"What a wonderful kid [Suze Rotolo] must have been—brave, openhearted, keenly observant and preternaturally wise, able to rise to the challenge of loving a genius like Bob Dylan and knowing when to let go. I'm glad I finally got to meet her in these pages." —Joyce Johnson, author of Minor Characters

"Suze Rotolo digs hard and deep. Then she strolls, frets, and paints a gorgeous picture of a singular place and a time that was simpler but all tangled up. Best of all, she's a natural writer who puts the beguiling voice, skeptical brow, shining eyes, and conductor's hands I know right before you on the printed page. What's her secret?" —Sean Wilentz

"A welcome, page-turning perspective conspicuously absent from the plethora of books on Dylan and the folk era of the 1960s: that of a woman witnessing it all from its cultural and political epicenter." —Todd Haynes, screenwriter and director of I'm Not There

"There have been a lot of books written about Greenwich Village in the sixties,and I've probably read all of them. What makes Suze's story so special is that she grew up in this neighborhood and she still lives here. She knows these crooked streets intimately, and they know her." —Steve Earle
Crown, 9780767926881, 384pp.
Publication Date: May 12, 2009
About the Author
Suze Rotolo (aka Susan) is an artist who lives in New York City with her family.