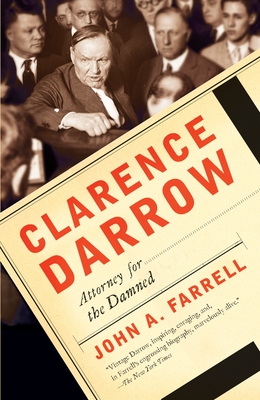 Clarence Darrow: Attorney for the Damned (Paperback)
Attorney for the Damned
Vintage Books, 9780767927598, 561pp.
Publication Date: May 1, 2012
Description
Winner of the Los Angeles Times Book Prize for Biography
The definitive biography of Clarence Darrow, the brilliant, idiosyncratic lawyer who defended John Scopes in the Monkey Trial and gave voice to the populist masses at the turn of the twentieth century, thus changing American law forever.

Amidst the tumult of the industrial age and the progressive era, Clarence Darrow became America's greatest defense attorney, successfully championing poor workers, blacks, and social and political outcasts, against big business, fundamentalist religion, Jim Crow, and the US government. His courtroom style a mixture of passion, improvisation, charm, and tactical genius won miraculous reprieves for men doomed to hang. In Farrell's hands, Darrow is a Byronic figure, a renegade whose commitment to liberty led him to heroic courtroom battles and legal trickery alike.
About the Author
John Aloysius Farrellis the author ofRichard Nixon: The Life, a biography of that most enigmatic 37th president of the United States. His previous books areClarence Darrow: Attorney For The Damned, a biography of America's greatest defense attorney, and ofTip O'Neill and the Democratic Century, the definitive account of House Speaker Thomas P. "Tip" O'Neill Jr. and his times. Farrell is an American journalist and author. He is a contributing editor toPolitico Magazine, after a prize-winning career as a newspaperman, most notably atThe Denver PostandThe Boston Globe, where he worked as White House correspondent and served on the vauntedSpotlightteam. His biography of Clarence Darrow was awarded theLos Angeles Timesbook prize for the best biography of 2011, and won critical praise from reviewers and fellow writers."
Praise For Clarence Darrow: Attorney for the Damned…
"[This is] vintage Darrow, inspiring, enraging, and, in Farrell's engrossing biography, marvelously alive." —The New York Times

"John A. Farrell, with access to previously unavailable materials, brings the 'grandest legal career in American history' to life again in a masterfully researched and elegantly written volume." —The Boston Globe

"Clarence Darrow: Attorney for the Damned is inpeccably researched, beautifully written, and timely . . . Farrell gives us Darrow in all his brilliance, hypocrisy, and eccentricity. . . . As Farrell's riveting biography makes abundantly clear, there was no more powerful and incendiary thunderbolt than Clarence Darrow." —San Francisco Chronicle

"A clear-sighted, empathetic biography. . . . [Farrell] knows that he has a protagonist of Shakespearean richness and complexity, and this well-written, vividly atmospheric portrait captures Clarence Darrow with his faults and contradictions intact." —Los Angeles Times

"A comprehensive biography of the storied defense attorney. Making elaborate use of transcripts, observers' accounts, correspondence and newspaper reports, Farrell chronicles Darrow's most celebrated trials in detail. . . . These cases—including two in which Darrow, almost surely guilty, was himself tried for jury tampering—dominate the narrative, but Farrell neatly places them within the larger context of this complicated man's crowded life and practice. . . . Farrell unflinchingly addresses [Darrow's] shortcomings, even as he underscores the genuine brilliance of a still-unmatched advocate for underdogs everywhere." —Kirkus Starred Review
 
"Farrell offers excerpts from Darrow's magnificent courtroom arguments as well as delicious details of his personal life (he was a hearty participant in the era's free love movement). [He] gleans from previously undisclosed material to offer a completely engaging portrait of a flawed man of noble ideals." —Booklist Starred Review

"John A. Farrell, in Clarence Darrow: Attorney for the Damned, goes farther into the archives and deeper into Darrow's crags." —New Yorker

"Masterful . . . a riveting piece of work and certain to be one of the most fascinating biographies of this or any other year." —The Daily Beast

"Groundbreaking. . . . Attorney for the Damned is a well-balanced portrait of the private and public Darrow, giving the sweep of his life and times." —The Washington Times

"Farrell draws from previously unpublished correspondence to give fresh insight into Darrow's remarkable career. . . . A thoughtful overview of Darrow, his life, and his many accomplishments." —The Seattle Times

"It is almost impossible to conceive how so much living could have come in just one life, and Jack Farrell's masterful new biography makes Clarence Darrow come alive. This is a wonderful, at times heart-pounding story, told with precision, sympathy, and insight." —Ken Burns

"This book is a joy and a revelation. It is at once a rollicking tour through the mind of a legal genius and a spellbinding account of some of the most famous cases in American history. The chapter on Leopold and Loeb alone is worth waiting in line to get a seat in Jack Farrell's courtroom." —David Maraniss, author of When Pride Still Mattered and They Marched into Sunlight

"John Farrell's Clarence Darrow: Attorney for the Damned is a riveting historical drama filled with strange twists and turns. Every page is a triumph of scholarship. A marvelous biography!" —Douglas Brinkley, professor of history at Rice University and author of The Wilderness Warrior: Theodore Roosevelt and the Crusade for America

"People want heroes. But history demands truth. This gritty biography demystifies a deeply flawed legal hero, who 'almost assuredly' bribed jurors and witnesses in order to level the playing field against 'the rich and powerful.' Darrow was a giant of his corrupt times. His biography is a must-read for all Americans who care about both the means and ends of justice!" —Alan M. Dershowitz, author of The Trials of Zion

"Clarence Darrow confounded titles: he was a freethinker, hedonist, anarchist, populist, infidel, cynic, and master storyteller who became our greatest lawyer and a folk hero. Farrell's masterful, sweeping new biography not only does justice to all his roles but joyously satisfies even a Darrow addict like me." —Roy Black, Esq., criminal defense attorney
Advertisement