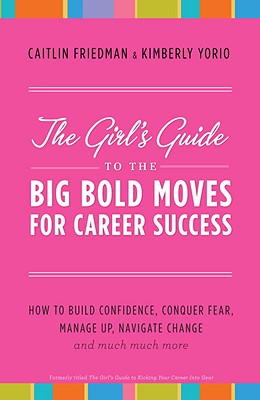 The Girl's Guide to the Big Bold Moves for Career Success: How to Build Confidence, Conquer Fear, Manage Up, Navigate Change and Much, Much More (Paperback)
How to Build Confidence, Conquer Fear, Manage Up, Navigate Change and Much, Much More
Broadway Books, 9780767927673, 231pp.
Publication Date: December 29, 2009
* Individual store prices may vary.
or
Not Currently Available for Direct Purchase
Description

Are you worried about protecting your career in this tough market?
Are you ready to get your dream job or that coveted promotion?
Are you eager to show the world everything you have to offer?
If you answered yes, to any of those questions, this book is for you
Caitlin Friedman and Kimberly Yorio see it all the time: women derailing their careers because they believe that if they just sit quietly and work hard, someone upstairs will recognize their contribution and deliver big rewards. However, in today's ultra-competitive workplace and tough economic climate if you want your dream job with your dream salary, and all the opportunities and fulfillment that come with it, you have to be armed with the right strategies and big, bold moves.
The Girls Guide to The Big Bold Moves For Career Success gives you everything you need to decide what you want out of your work life and create a plan to make it happen. From negotiating a raise or a promotion to starting a new profession, finding your footing after a layoff, Friedman and Yorio provide savvy, reassuring advice on how to successfully navigate every aspect of your career. Their sure-fire tools will show you how to:
* Sell yourself (without selling out)
* Master the secrets of the New Girl's Network
* -Manage Upward- to impress the right people, the right way
* Overcome the fears-from public speaking to risk-taking-that hold you back
* Cope with workplace underminers
* Ask for what you deserve
* Fight the stereotypes that often keep women from moving up
Based on interviews with more than 100 successful women who have paved their own way, this must have handbook is your ticket to taking charge of your career once and for all-and getting where you want to go.

About the Author
As authors and speakers, Caitlin Friedman and Kimberly Yorio have helped thousands of women take control of their careers. They are authors of the bestselling and award-winning books The Girl's Guide to Starting Your Own Business and The Girl's Guide to Being a Boss (Without Being a Bitch). Co-owners of YC Media, a successful public relations company in Manhattan, Caitlin and Kim have appeared on hundreds of media outlets including Today, CNN, Time, Newsweek, Shape and Real Simple. Visit their Web site at www.girlsguidetobusiness.com.
Praise For The Girl's Guide to the Big Bold Moves for Career Success: How to Build Confidence, Conquer Fear, Manage Up, Navigate Change and Much, Much More…
"The Girl's Guide lays out what women need to do in order to be firm, fair, and—above all—successful." –Newsweek
Advertisement