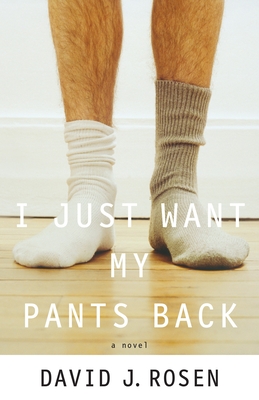 I Just Want My Pants Back (Paperback)
Broadway Books, 9780767927949, 226pp.
Publication Date: August 7, 2007
Description
Now a new MTV series, from acclaimed director and executive producer Doug Liman ("Mr. and Mrs. Smith, "Swingers," "Go," "The Bourne Identity") Jason Strider is a twentysomething young man with an English degree from an Ivy League university, a very small apartment in New York, a vapid job as a receptionist at a casting agency--and no particular idea what to do with his life. On most evenings he gets stoned and goes out, sometimes with his long-time best friend and wingman Tina and sometimes alone, if not to get laid then at least to get hammered enough to really regret it the next day and be late for work. Then one night Jason has athletic, appliance-assisted intercourse with a cute girl named Jane--and ends up lending her his favorite Dickies jeans. Many unanswered e-mails and text messages later, he is reduced to the plaint "I just want my pants back." How he does, in a most unexpected way, find those pants and how he is forced to face his immaturity--and mortality--are at the heart of this smart, raunchily comic and deeply affecting novel.
About the Author
David J Rosen is a writer based in Brooklyn. He is the creator and executive producer of I Just Want My Pants Back on MTV, and also the author of What's That Job And How The Hell Do I Get It?
Praise For I Just Want My Pants Back…
"This laugh-out-loud debut reminds us what it's like to be young, broke, lost, and randy—in the best way. Rosen's is a stand-out new voice, and he sings beautifully throughout."
—David Lipsky, author of Absolutely American

"David J. Rosen has written a hilarious, smart, sexy, great, completely original debut novel. It's as if Bright Lights, Big City had been given a polish by a young Woody Allen."
—Darin Strauss, author of Chang and Eng and The Real McCoy

"Jason Strider is the most well-adjusted screw-up to come down the pike in a while . . . I Just Want My Pants Back is a laugh-out-loud funny, ultimately poignant look at one very nice guy's awakening to adulthood."
—Kate Christensen, author of In the Drink and The Epicure's Lament

"I Just Want My Pants Back" is a novel that deserves all the praise it's going to get—Jason is a funny character, funny ha-ha and funny sad, but the most important thing: I'd follow him anywhere."
—Ain't It Cool News

"Rosen breathes new life into the genre with his incredible eye for comedic detail."
—Kirkus Reviews; Selected, Promising Debuts From Important New Voices
Advertisement