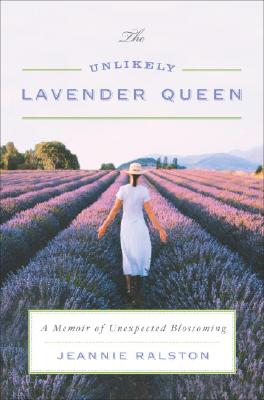 The Unlikely Lavender Queen
A Memoir of Unexpected Blossoming
Hardcover

* Individual store prices may vary.
Description
"I couldn't help but question how I'd gotten to this strange spot in my life, so far from what I'd expected for myself. Yes, there had been a heady romance a few years back. Then a slew of subsequent decisions, fueled by love and yearnings I didn't even know I had. But I never, ever would have suspected that this was where the sum total of them would bring me. That afternoon a new doubt dripped into my mind. When do you know, I wondered, whether the choices you've made were the right ones?"

In 1990, Jeannie Ralston was a successful magazine writer and bona fide city girl—the type of woman who couldn't imagine living on soil not shaded by skyscrapers. By 1994, she had called off an engagement, married Robb, a National Geographic photographer, and was living in Blanco Texas, population 1600.

The Unlikely Lavender Queen is the intimate story of a woman who gives up a lot for the man she loves – her beloved blue state, bagels and all-night bodegas—only to have to wonder: Was it too much? Ralston offers a lively chronicle of her life as a wife, new mother and an urban settler in rural Texas. As she labors to convert a dilapidated barn into a livable home, deal with scorpions and unbearably hot summers, raise two young children while Robb is frequently away on assignment, she realizes her ultimate struggle is to reconcile her life plans and goals with her husband's without coming out the proverbial loser. And just when it seems like she might be losing that fight--and herself-- a little purple bloom changes her life.

For centuries lavender has been a mystical herb, so valuable to ancient Romans that a bushel would cost nearly a month's wages. But when Robb returns from a trip to Provence with a plan for growing lavender on their land, Ralston is not convinced—in fact the last thing she needed or wanted was to take up farming on top of everything else. Then, much to her surprise, she slowly but surely falls in love with lavender, and in the course of growing and selling blooms, hosting the public at the farm, and creating lavender products, she discovers a new side of herself. A few short years later, Ralston had built Hill Country Lavender, a thriving commercial enterprise that transforms both her little corner of Texas and her life.

The Unlikely Lavender Queen will resonate with all women who have faced the tough choices that come with "having it all" and secretly (or not so secretly) hoped for great adventure to come along and surprise them. Ralston's honest, funny, and poignant memoir is a testament to the fact that such adventures await us around every bend in life.
Praise For The Unlikely Lavender Queen: A Memoir of Unexpected Blossoming…
"Book clubs, start your engines! Jeannie Ralston's engaging read takes on all the current issues on a woman's plate -- career, marriage, kids, health, money, sanity and social conscience. It's good and it's good for you."
--Marianne Wiggins, author of The Shadow Catcher and Evidence of Things Unseen


"A smart, ambitious -and secretly 'hayseed'- Tennessee girl comes to Manhattan and earns her props as a magazine writer. Then she falls in love with a Lone Star State-loyal globe-trotting photographer and agrees to chuck her hard-won sophistication to become a Texan, a ranch wife and mother, and finally, an herb farmer. Jeannie Ralston's deliciously intimate exploration of autonomy vs. partnership, worldliness vs. domesticity, and order vs. chaos is filled with epiphanies scented in lavender. Worried about finding your strength in a marriage to a (benignly) dominating man? Read this, enjoy, and have heart."
-Sheila Weller, author of Girls Like Us: Carole King, Joni Mitchell, Carly Simon-and the Journey of a Generation and Dancing at Ciro's: A Family's Love, Loss and Scandal on the Sunset Strip

"From New York City to rural Texas, Jeannie Ralston's The Unlikely Lavender Queen entrances. Here is a smart, funny, and edgy voice, well worth following into the lavender fields!"
-Catherine Goldhammer, author of Still Life with Chickens

"Honestly, I was about as enthusiastic about reading a book about a lavender farm as the author once was about starting one, but Jeannie Ralston's sharp writing and old-school storytelling quickly drew me in. Her memoir is unusual and refreshing -instead of harrowing the reader with tales of tragedy and dysfunction, Ralston inspires with behind-the-scenes stories of a remarkable project and a life well lived."
-Marion Winik, author of Above Us Only Sky and The Lunch-Box Chronicles

"Jeannie Ralston magically takes us along on her nutty, agonizing, hilarious and uplifting journey to discover happiness and meaning in her own backyard. Learning to want what you already have is the greatest lesson in life and this wonderful story shows you how to let it happen."
- Martha Sherrill, author of Dog Man: An Uncommon Life on a Faraway Mountain

"Jeannie Ralston's memoir is a lovely read, and inspires us to know that you can find beauty-fields of it!- in the most difficult and unexpected places."

-Laura Fraser, author of The Italian Affair

"Brimming with piquant observations on everything from marriage to motherhood, careers to cappuccino, Ralston's exuberant memoir showcases the resiliency of the human spirit."
--Booklist


Broadway, 9780767927956, 272pp.
Publication Date: May 27, 2008
About the Author
JEANNIE RALSTON is a contributing editor to "Parenting" and a freelance writer whose work has appeared in "Life, The New York Times, National Geographic," and other publications. She and her family currently live in San Miguel de Allende, Mexico. Hill Country Lavender can be found on the web at www.hillcountrylavender.com. Please also visit www.jeannieralston.com where you too can share your story of unexpected adventure.
or
Not Currently Available for Direct Purchase