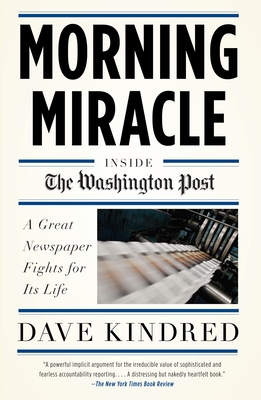 Morning Miracle: Inside the Washington Post: A Great Newspaper Fights for Its Life (Paperback)
Inside the Washington Post: A Great Newspaper Fights for Its Life
Anchor Books, 9780767928144, 266pp.
Publication Date: August 9, 2011
* Individual store prices may vary.
or
Not Currently Available for Direct Purchase
Description
In this in-depth, behind-the-scenes look at The Washington Post, Pulitzer Prize nominee Dave Kindred describes the turmoil and triumph of a news organization during the most chaotic media revolution in five hundred years.
Morning Miracle takes readers inside the heart of a legendary paper in transition from newsprint to the digital realm, capturing the ambition, enthusiasm, and commitment to excellence that remains at the heart of world-class daily journalism. This fascinating look into the professionalism that drives one of our nation's greatest papers demonstrates that though newsprint may vanish, great journalism will always matter.
About the Author
Dave Kindred has reported and written for newspapers and magazines for forty-five years. He has been a Washington correspondent, sports columnist, and general-interest columnist. His work has won the Red Smith Award, sports journalism s highest honor, as well as a National Headliner award for general-interest columns. Kindred s stories have been anthologized in the Chicken Soup for the Soul series. He is the author of eight books, including, most recently, Sound and Fury, the dual biography of Muhammad Ali and Howard Cosell."
Praise For Morning Miracle: Inside the Washington Post: A Great Newspaper Fights for Its Life…
"A powerful implicit argument for the irreducible value of sophisticated and fearless accountability reporting. . . . A distressing but nakedly heartfelt book. . . . Morning Miracle may be the best semi-insider's account we'll get about a newspaper's losing season of red ink, cutbacks and institutional angst amid the current industry crisis. . . . Kindred is a connoisseur of journalists' voices. . . . [He writes with] a sportswriter's unfailing good humor and sympathy for his chorus of ink-stained wretches."
—The New York Times Book Review

"A love story, a tale of passion starring a faded beauty trying desperately to hang on in a rapidly changing world. . . . Kindred paints a vivid picture of the paper, its people, its triumphs and its struggle to survive in a media landscape transformed profoundly and inexorably by the Internet."
—The Washington Post

"Revelatory and entertaining. . . . A poignant and indelible reminder about the importance of the First Amendment."
—The Philadelphia Inquirer
 
"Morning Miracle will appeal to news junkies everywhere, but it wouldn't be a bad idea for anyone concerned about thorough and accurate coverage of the news hereafter to have a look."
—Providence Journal

"An intimate look at one of America's most prestigious and powerful newspapers. . . . A heartfelt—and often-heartbreaking—tale of the challenges faced not only by The Post but by every other American newspaper. . . . Miracle is both a tribute to journalists and journalism and a case study of the ramifications of the corporate downsizing of newspapers. It also captures the odd yet committed nature of journalists."
—The Columbus Dispatch
 
"Addictive. . . . Like all good reporters, Kindred tells this informative and entertaining story through people—the Post's stars and drudges, its curmudgeons and eccentrics—to elucidate its triumphs and failures."
—Richmond Times-Dispatch
 
"A rich portrait. . . . With a romantic's love of the reporting life, unique access to the inner chambers of the Post and a gift for hand-tooled writing, Kindred tells how, as the subtitle implies, a great newspaper fights for its life. The result is a book as engaging as any contemporary novel and as telling as any history about America today."
—The Roanoke Times (Virginia)
 
"Kindred epitomizes the classic sports columnist: dogged, eloquent, skeptical yet enthusiastic, dedicated more to his craft than his 'brand.' His 8-page introduction alone is worth the cost of the book. . . . For anyone interested in how newspapers work, [Morning Miracle] is a must-read."
—The Courier-Journal (Louisville, Kentucky)
 
"Morning Miracle is both a love letter to newspapers and an elegy for days long gone. . . . [Kindred] nails what's wrong with newspapers in general, and with the Post in particular."
—AARP Magazine
 
"Busy and exciting and fun to read. . . . Kindred has a real gift for describing his fellow Posties. . . . [And] is equally adept at describing action in the newsrooms. . . . His book successfully takes the reader inside a great newspaper as it tries to endure."
—Columbia Journalism Review
 
"There's always some guy in the newsroom who knows the real story."
—Roger Ebert
 
"Kindred's book is the miracle, making this old New York Times man wish he had spent at least one shining moment in the heartbreaking romance of The Washington Post."
—Robert Lipsyte
 
"This is a book about reporting and reporters. The best reporter involved in it is the one writing it. Through his talent, his wit, and his uncommon humanity, Kindred demonstrates a love for journalism as a job, as a craft, and, above all, as a calling. In fact, he loves it more than it probably deserves to be loved anymore."
—Charles P. Pierce
Advertisement