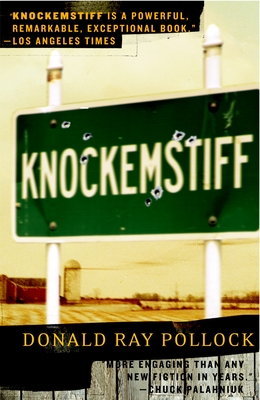 Knockemstiff
Paperback

* Individual store prices may vary.
Other Editions of This Title:
Digital Audiobook (11/19/2018)
Hardcover (3/18/2008)
Description
"More engaging than any new fiction in years." —Chuck Palahniuk

An unforgettable work of fiction that peers into the soul of a tough Midwestern American town to reveal the sad, stunted but resilient lives of its residents. Knockemstiff is a genuine entry into the literature of place.
Spanning a period from the mid-sixties to the late nineties, the linked stories that comprise Knockemstiff feature a cast of recurring characters who are irresistibly, undeniably real. A father pumps his son full of steroids so he can vicariously relive his days as a perpetual runner-up body builder. A psychotic rural recluse comes upon two siblings committing incest and feels compelled to take action. Donald Ray Pollock presents his characters and the sordid goings-on with a stern intelligence, a bracing absence of value judgments, and a refreshingly dark sense of bottom-dog humor.
Praise For Knockemstiff…
"Knockemstiff is a powerful, remarkable, exceptional book."
—Los Angeles Times
"More engaging than any new fiction in years."
—Chuck Palahniuk
"Pollock's voice is fresh and full-throated…His steely, serrated prose…calls to mind Harry Crews."
—The New York Times Book Review
"[Donald Ray Pollock] could be the next important voice in American fiction."
—Wall Street Journal
"These are absorbing stories that linger and haunt. They crept up on me, leaving me breathless and shaken."
—Oregonian
"Startling, bleak, uncompromising, and funny…This is as raw as American fiction gets. It is an unforgettable experience."
—San Francisco Chronicle
"Here is a collection of stories that are perhaps unique in our time…Wry and raw and poignant, these extraordinary stories are gritty with the yeast of folks caught in the act of being only too human."
—Larry Heinemann, author of Paco's Story
"Profanely comic…Pollock's tales are spiked with a lurid panache that handily earns its own literary genre: Southern Ohio Gothic."
—Elle
"Pollock doesn't so much push the envelope as incinerate it, but his potent narrative gifts (and pitch-black humor) make it impossible to look away from the flames."
—The Washington Post
"This electrifying collection of linked stories uses the voices of the rural hamlet of Knockemstiff to create a coherent world of echoing themes and recurring characters that has the drive and impact of a fine novel. Pollock brings grace and precision to colloquial language, and the ferocious integrity of his vision is flat-out stunning. Pollock grapples with savagery and reveals primal tenderness. After every story in Knockemstiff I had to take a walk and let my head cool down. I keep reaching for some other writer to compare him with—maybe a Raymond Carver with hope and vitality, or a godless Flannery O'Connor—but Pollock is no shadow of anybody else. This is a powerful talent at work."
—Katherine Dunn, author of Geek Love
Anchor, 9780767928304, 224pp.
Publication Date: March 10, 2009
About the Author
Donald Ray Pollock, recipient of the 2009 PEN/Bingham Fellowship, made his literary debut in 2008 with the critically acclaimed story collection, Knockemstiff.  He worked as a laborer at the Mead Paper Mill in Chillicothe, Ohio, from 1973 to 2005.  He holds an MFA from Ohio State University. His work has appeared in, among other publications, Epoch, Granta, and the New York Times.