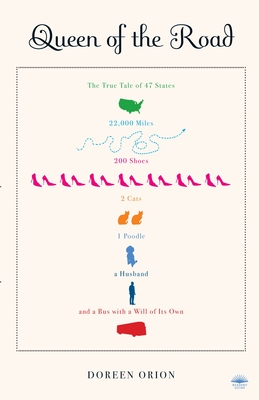 Queen of the Road
The True Tale of 47 States, 22,000 Miles, 200 Shoes, 2 Cats, 1 Poodle, a Husband, and a Bus with a Will of Its Own
Paperback

* Individual store prices may vary.
Other Editions of This Title:
MP3 CD (7/12/2016)
Description
A pampered Long Island princess hits the road in a converted bus with her wilderness-loving husband, travels the country for one year, and brings it all hilariously to life in this offbeat and romantic memoir.

Doreen and Tim are married psychiatrists with a twist: She's a self-proclaimed Long Island princess, grouchy couch potato, and shoe addict. He's an affable, though driven, outdoorsman. When Tim suggests "chucking it all" to travel cross-country in a converted bus, Doreen asks, "Why can't you be like a normal husband in a midlife crisis and have an affair or buy a Corvette?" But she soon shocks them both, agreeing to set forth with their sixty-pound dog, two querulous cats—and no agenda—in a 340-square-foot bus.

Queen of the Road is Doreen's offbeat and romantic tale about refusing to settle; about choosing the unconventional road with all the misadventures it brings (fire, flood, armed robbery, and finding themselves in a nudist RV park, to name just a few). The marvelous places they visit and delightful people they encounter have a life-changing effect on all the travelers, as Doreen grows to appreciate the simple life, Tim mellows, and even the pets pull together. Best of all, readers get to go along for the ride through forty-seven states in this often hilarious and always entertaining memoir, in which a boisterous marriage of polar opposites becomes stronger than ever.
Praise For Queen of the Road: The True Tale of 47 States, 22,000 Miles, 200 Shoes, 2 Cats, 1 Poodle, a Husband, and a Bus with a Will of Its Own…
"Two psychiatrists driving a motor home around America, and you're still wondering whether to buy this book? Step on the gas and go straight to the register."
–Jeff Arch, Academy Award-nominated screenwriter, Sleepless In Seattle

"Doreen Orion has a fresh, wry voice that's all her own and she works it like a rodeo rider in her light-hearted and yet tender new memoir, Queen of the Road."
–Jacquelyn Mitchard, New York Times bestselling author of The Deep End of the Ocean

"His dream — he's always wanted to see America in a converted bus — and her nightmare —she has a bus phobia — and their mid-life crisis on wheels, make for a hilarious reading adventure."
–Mary-Lou Weisman, author of Traveling While Married

"You will never look at a psychiatrist the same way again. And you will never take a bus driver for granted, either."
–John Elder Robison, New York Times bestselling author of Look Me in the Eye

"Doreen Orion and her handyman husband Tim prove, with abundant laughs and martini shaker in hand, that sometimes the best way to enrich home-life is to leave the home...or, better yet, just put it on wheels."
–Franz Wisner, New York Times bestselling author of Honeymoon with My Brother

"Orion has every good travel writer's ability to make readers feel they are there, to capture the telling details of places, and to present the account in a witty, accessible way. Reading the book makes you want to hit the road and have some of your own grand adventures. This is a fun read that will make just about anyone start itching for a road trip. Grade 'A.'"–Rocky Mountain News

"A Charles Kuralt-Albert Brooks-style romp where they meet up with nudists, robbers and more. Required Reading." -The New York Post

"Hot Summer Read." - Chicago Tribune

"The Elizabeth Gilbert Antichrist." - The Oregonian

"Beneath its fun and frothy exterior, you'll find in this wild ride across America's highways and byways a lovely portrait of a marriage that treats its ups and downs with humor and grace." - Elle Magazine

A charming, insightful and - most important - hilarious book that evokes the best of Bill Bryson and David Sedaris, but spotlights the unique voice of a gifted memoirist. - Jonathan Kellerman, New York Times Bestselling Novelist

"Queen of the Road is basically what would happen if you took me, gave me a modicum of maturity and a better education, and then tricked me into living on a (very nice) bus with my husband and pets for a year. I loved this book and I love this author." - Jen Lancaster, bestselling author of Bright Lights, Big Ass, Bitter is the New Black and Such a Pretty Fat

The author's charm, intelligence and wit make this multi-faceted memoir a must-read. Eat, Pray, Love - without the depression - meets Confessions of a Shopaholic - without the ditz. - Denver Magazine

"A funny, inspiring travel memoir of one couple's cross-country motorhome trip and how it changed their lives.... an action-packed, romantic journey of trials and transformations." - Family Motor Coaching Magazine.

"Part travel memoir, part diva-on-a-bus-tour comedy." - 5280 Magzine




Crown, 9780767928533, 304pp.
Publication Date: June 3, 2008
About the Author
DOREEN ORION is a triple-boarded psychiatrist on the faculty of the University of Colorado Health Science Center. She is an award-winning author, has lectured throughout the U.S., and has appeared on major national media such as Larry King Live, 48 Hours, Good Morning America and been interviewed by the New York Times, People Magazine and many others. Still, she considers her greatest accomplishment that her bus was the centerfold for Bus Conversions magazine (which she is the travel writer for), thus fulfilling a life-long ambition of being a Miss September.