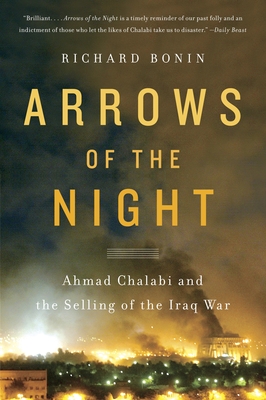 Arrows of the Night (Paperback)
Ahmad Chalabi and the Selling of the Iraq War
Anchor, 9780767928762, 320pp.
Publication Date: November 13, 2012
Other Editions of This Title:
Digital Audiobook (12/5/2011)
Hardcover (12/6/2011)
Compact Disc (12/6/2011)
* Individual store prices may vary.
Description
The definitive account of what Iraqi exile Ahmad Chalabi did to manipulate the U.S. government into invading Iraq with his ultimate hope of being placed in power, by longtime 60 Minutes producer Richard Bonin.
 
Drawing on unparalleled access to Chalabi, Bonin traces the exile's ingenious efforts to stoke a desire for Iraqi regime change in the U.S. He narrates Chalabi's ill-fated engagement with the CIA and his later focus on neoconservative policy makers who rose to power under George W. Bush. As a result, from day two of the Bush presidency, the push for a new Iraq was on, with the intent to install Ahmad Chalabi as overseer of U.S. interests in the Middle East. The outcome was perhaps the biggest foreign policy disaster in our history and a triumphant end to Chalabi's forty-five-year quest. Arrows of the Night is full of shocking revelations about how we got there, including the true story of Chalabi's relationship with Iran.
About the Author
RICHARD BONIN is a producer at 60 Minutes, working with Lesley Stahl. He has won five Emmys for his work, as well as an Overseas Press Club award for his reporting in Iraq. He lives in Washington, D.C.
Praise For Arrows of the Night: Ahmad Chalabi and the Selling of the Iraq War…
Praise for Arrows of the Night

"Brilliant. . . . Arrows of the Night is a timely reminder of our past folly and an indictment of those who let the likes of Chalabi take us to disaster." —Daily Beast
 
"Chalabi . . . is a terrific character, worthy of John Le Carre or Graham Greene. Arrows of the Night . . . [is] an account studded with juicy quotes, that perfectly balances information and narrative." —Salon

"This is the most thorough telling of the story of Ahmad Chalabi. . . . Arrows of the Night is a first-rate case study of both Middle Eastern émigré politics and the American way of dealing with the Middle East."  —Foreign Affairs

"Bonin, a 60 Minutes producer, clearly has the chops to tell a good story and this highly detailed study of Ahmad Chalabi, an Iraqi-born Shiite exiled to London during his childhood, does not disappoint. . . . Alive with action, Bonin's account is a whodunit for avid newshounds." —Publishers Weekly

"Arrows of the Night is the best book on the Iraq War, bar none. Bonin has written the authoritative account of how one man, along with a handful of well-meaning but naïve confederates, conned the greatest power on earth into a war it will rue for years. I read it in a sitting, and it answered every question I had about this folly. It is a must-read for the historian and anyone with the slightest interest in politics." —Robert Baer, author of See No Evil and The Company We Keep

"People ask me, 'Why was there an Iraq War?' Now I can tell them: read Arrows of the Night. It's the best-researched, most readable narrative about how a small group of people caused the United States to fight a war that was unnecessary, and, worse, counterproductive. Most Americans do not know who Ahmad Chalabi is, but this is the story of how every American has paid a price for Chalabi's successful manipulation of our government." —Richard A. Clarke, author of Against All Enemies

"In Arrows of the Night, Richard Bonin has provided a stunning portrayal of Ahmad Chalabi that, for the first time, brings him to life and places him in his proper historical context. Bonin, one of our best reporters in Washington, provides a fascinating account of Chalabi's secretive ties to the neoconservatives in the Bush administration, and shows us that Chalabi and the neoconservatives were engaged in an elaborate dance, using each other to justify war."  —James Risen, author of State of War: The Secret History of the CIA and the Bush Administration

"A marvelous read about a tragic and deceitful relationship." —James Bamford, author of The Shadow Factory, Body of Secrets, and The Puzzle Palace
or
Not Currently Available for Direct Purchase