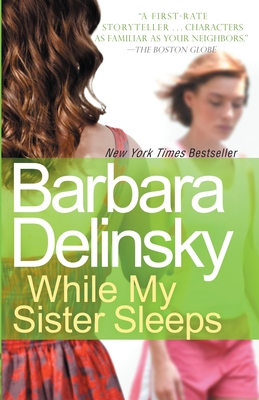 While My Sister Sleeps
Paperback

* Individual store prices may vary.
Other Editions of This Title:
Digital Audiobook (2/16/2009)
Digital Audiobook (2/16/2009)
Mass Market Paperback (10/27/2009)
Description
NEW YORK TIMES BESTSELLER

Once again New York Times bestselling author Barbara Delinsky brings us a masterful family portrait, filled with thought-provoking insights into how emotions affect the decisions we make and how letting go can be the hardest thing to do and the greatest expression of love all at the same time.

Molly and Robin Snow are sisters in the prime of life. So when Molly receives the news that Robin has suffered a massive heart attack, the news couldn't be more shocking. At the hospital, the Snow family receives a grim prognosis: Robin may never regain consciousness. Feelings of guilt and jealousy flare up as Robin's family struggles to cope. It's up to Molly to make the tough decisions, and she soon makes discoveries that shatter some of her most cherished beliefs about the sister she thought she knew.
Praise For While My Sister Sleeps…
"Delinsky is a first-rate storyteller who creates believable, sympathetic characters who seem as familiar as your neighbors." —The Boston Globe

"Delinsky is an engaging writer who knows how to interweave several stories about complex relationships and keeps her books interesting to the end." —Newark Star-Ledger

"Delinsky treads the same domestic themes as fellow best-seller Jodi Picoult." —Entertainment Weekly

"Delinsky may be as adept at chronicling contemporary life in New England as any writer this side of John Updike." —Times Union (Albany)

"Delinsky delves deeper into the human heart and spirit with each new novel." —Cincinnati Inquirer

"Delinsky uses nuance and detail to draw realistic characters and ensure that emotion is genuine." —The Providence Journal

"Delinsky is out there with the Anita Shreves and Elizabeth Bergs, perpetually bestselling authors who wrestle with bigger themes." —Lexington Herald-Ledger

"Fast-paced entertainment… In her new family drama, Delinsky examines the roles people unconsciously play in families and how a mother's single-minded passion to have one child fulfill a dream can create resentment in the other siblings." —USA Today

"Molly Snow isn't worried when she gets a phone call notifying her that her sister is in the ER. A world-class runner, 32-year-old Robin Snow has had many injuries, and Molly arrives at the hospital expecting nothing worse than an ankle sprain. But Robin has had a massive heart attack while running, and the prognosis is not good. As the devastated Snow family holds a bedside vigil, they learn things about Robin that alternately surprise and distress them. Graced by characters readers will come to care about, this is that rare book that deserves to have the phrase "impossible to put down" attached to it. Delinsky (The Secret Between Us) does a wonderful and realistic job portraying family dynamics; the relationship between Molly and Robin, in particular, is spot-on. This touching and heartbreaking novel is highly recommended for public libraries where women's fiction is popular. Readers of Kristin Hannah and Patricia Gaffney will enjoy it." —Library Journal

"The Snow family faces a devastating crisis when oldest daughter Robin, a runner training for the Olympics, suffers a catastrophic heart attack. Molly, Robin's younger sister, gets the call from the hospital and is immediately guilt-stricken: she was supposed to accompany Robin on her run. When Molly, her older brother, Chris, and her parents, Kathryn and Charlie, gather at the hospital, they learn that Robin is in a coma and might be brain dead. While Kathryn refuses to believe the worst, Molly reaches out to David, the handsome teacher who found Robin after the heart attack, and tries to determine whether Nick, a charming reporter who once dated Robin briefly, is truly concerned about the family or just pursuing a big story. The Snows try to come to grips with the reality that Robin might never wake up, and Molly, attempting to discern what Robin would want, stumbles across Robin's diaries and learns some startling family secrets... Delinsky's popularity should ensure demand for this engaging exploration of every family's worst nightmare." —Booklist
Anchor, 9780767928953, 384pp.
Publication Date: October 27, 2009
About the Author
Barbara Delinsky is a New York Times bestselling author with over thirty million copies of her books in print. She lives with her family in New England.
How would you characterize the relationship among Robin, Molly, and Chris? Does Chris play a different role because he is a son? How does the Snow family compare to yours?
How is Molly transformed during the week after Robin's heart attack? What does Molly discover about herself and about the range of emotions she and her sister evoked in each other?
What is at the root of Kathryn's controlling behavior? How did her past, including her experience with her own parents and her art teacher, influence her personality? Who has more power in the marriage: Kathryn or Charlie?
Discuss Snow Hill and what it means to Molly's family. What makes the Snows good at nurturing plants but not as good at nurturing one another? What kinds of healing does Molly experience through her work at Snow Hill?
What do Charlie's religious beliefs say about him and about the differences between him and the other members of his family?
As parents, what family memories do Chris and Erin create for their daughter, Chloe? How does their approach to parenting compare to Charlie and Kathryn's?
How does Alexis's illness shape the novel's storyline? What parallels exist between her situation and Kathryn's state of denial?
How much is Nick entitled to know, as a reporter and as a friend of Robin's? Is Robin entitled to less privacy because she is a public figure, with a wide circle of fans who are concerned about her?
What determines whether Liz will be a threat to Chris's marriage? How is Liz's role in the novel different from Peter's? How much does the past matter in a marriage, especially events that took place before the wedding?
What was it like to read Robin's journal after hearing so much about her? Captured in her own words, how does her life compare to other people's impressions of her?
What does Kathryn have to do in order to let go? What does it take to help her see the truth about her circumstances–and Robin's?
How is Marjorie's family affected by her dementia? What do the connections among Marjorie, Kathryn, and Molly show us about mothers and daughters? What traits, emotional and otherwise, are passed from one generation to the next in While My Sister Sleeps?
Why is David willing to look out for Alexis? What makes him such a caring teacher? What makes him such a tough opponent against Nick?
Ultimately, what legacy does Robin leave for her family? What intangible gifts does Molly inherit from her sister?
Discuss the medical issues raised by Robin's story. Is it unethical to keep a child from knowing the identity of his or her biological parents? How would you have handled the end-of-life-care questions raised by Robin's heart attack?
How do secrets affect the characters in While My Sister Sleeps and in Barbara Delinsky's other novels? When is it best to let a secret remain hidden? When is it best to reveal the truth?
or
Not Currently Available for Direct Purchase