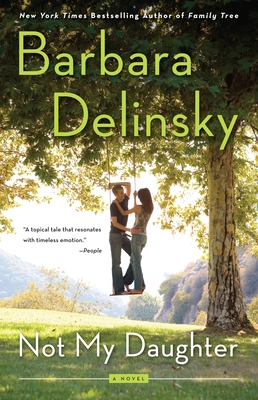 Not My Daughter (Paperback)
Anchor Books, 9780767928960, 385pp.
Publication Date: May 3, 2011
Description
When Susan Tate's seventeen-year-old daughter, Lily, announces she is pregnant, Susan is stunned. A single mother, she has struggled to do everything right. She sees the pregnancy as an inconceivable tragedy both for Lily and herself. Then comes word of two more pregnancies among other high school juniors who happen to be Lily's best friends. The town turns to talk of a pact. As fingers start pointing, the emotional ties between mothers and daughters are stretched to breaking in an emotionally wrenching story of love and forgiveness.
About the Author
Barbara Delinsky is a New York Times bestselling author with more than thirty million copies of her books in print. She lives with her family in New England.
Praise For Not My Daughter…
 
"A topical tale that resonates with timeless emotion."—People

"Delinsky examines the roles people unconsciously play in families." —USA Today

"Delinsky proves once again a perceptive observer of family relationships. . . . A tautly emotional story about mothers and daughters." —Boston Globe
 
"Timely, fresh, and true-to-life. . . . Explores multiple layers of motherhood and tackles rough questions." —Publishers Weekly
 
"Delinsky has a knack for exploring the battlefields of contemporary life. . . . Not My Daughter [is] an emotionally intelligent [book that] offers readers what they want—high drama and realism." —Kirkus Reviews

"Delinsky treads the same domestic themes as fellow best-seller Jodi Picoult." —Entertainment Weekly
 
"An engaging writer who knows how to interweave several stories about complex relationships and keeps her books interesting to the end.  Her special talent for description gives the reader almost visual references to the surroundings she creates." —Newark Star-Ledger
 
"[She] may be as adept at chronicling contemporary life in New England as any writer this side of John Updike." —Times Union (Albany)

"Delinsky uses nuance and detail to draw realistic characters and ensure that emotion is genuine." —The Providence Journal
 
"Barbara Delinsky knows the human heart and its immense capacity to love and believe." —Observer-Reporter (Washington, PA)
 
"Delinsky delves deeper into the human heart and spirit with each new novel." —Cincinnati Inquirer
 
"Delinsky [is] out there with the Anita Shreves and Elizabeth Bergs, perpetually bestselling authors who wrestle with bigger themes." —Lexington Herald-Ledger
 
"
Advertisement