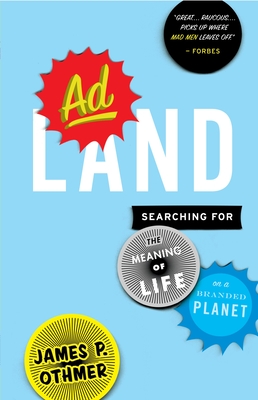 Adland: Searching for the Meaning of Life on a Branded Planet (Paperback)
Searching for the Meaning of Life on a Branded Planet
Anchor Books, 9780767928977, 320pp.
Publication Date: June 1, 2010
* Individual store prices may vary.
or
Not Currently Available for Direct Purchase
Description
James P. Othmer, advertising executive turned novelist, gives us a hilarious, personal, and sneakily profound chronicle of the past, present, and future of the advertising business. On one level it's the wickedly funny, compelling personal chronicle of the rise and fall of a modern-day ad man; a riveting insider's look at the astonishing transformation taking place in advertising's hottest idea factories. But take a step back from the tales of lavish shoots, agencies on the brink, and pampered mega-brands and Adland becomes much more: a snapshot of how we are living our lives thirty seconds at a time. Funny, deeply thoughtful, and utterly unique, this book is both a wildly amusing ride in Adland, brilliantly recounted, and an exploration of the value of life in the information age.
About the Author
James P. Othmer is a former creative director at advertising giant Young & Rubicam, and the author of the novels Holy Water and The Futurist. www.jamespothmer.com"
Praise For Adland: Searching for the Meaning of Life on a Branded Planet…
"Great. . . . Raucous. . . . Picks up where Mad Men leaves off." —Forbes

"Entertaining and thought-provoking. . . . [Othmer's] sharp voice helps cut through the hype, and underscores how the distinction between entertainment and advertising is vanishing more quickly than anyone imagines." —"Smart Money," WSJ.com

"[A] hilarious chronicle of the absurd world of Madison Avenue." —The Free Lance Star
 
"An engrossing tour of a revolution that is unlikely to be televised. . . . Othmer wields his pen like a stiletto." —CNN/Money.com

"An enjoyable and profound read. . . . It resonates with everything we love about this industry, everything we hate, everything that keeps us working in it, everything that makes us want to leave and everything that makes us believe in what could still be possible. . . . Buy it now." —Advertising Age
 
"Othmer's story has dual appeal—as a portrait of a changing industry and a template for readers torn between a drive for professional success and a pull toward human happiness. . . . A great resource for anyone whose professional life makes them want to sing the from theme song from Alfie." —The Huffington Post
 
"One of the pop culture must-reads of the year." —LargeHeartedBoy.com
 
"A memoir about selling and selling out in a world Don Draper and his Mad Men colleagues never could have envisioned. . . . As juicy a read as the chicken KFC hired (Othmer) to promote." —Louisville Courier Journal
 
"Truth in advertising comes through in this revealing tome." —MediaBistro.com
 
"Othmer is a witty and charming tour guide who chats self-deprecatingly about his own Adland epiphanies and humiliations while leading us inexorably toward the birthing room of Advertising Next. A terrific introduction to what advertising has been and what it is becoming, a memoir-manifesto with warmth and insight, and a must-read for those contemplating entering the industry." —Max Barry, author of Company and Jennifer Government
 
"Advertising is an industry like any other, except it changes our planet daily. James Othmer, one of my favorite writers, takes you inside that world and makes the people and places real. You can dislike these guys, but you can't ignore them. They make sure of that." —Seth Godin, author of Tribes

"With a unique blend of humor and insight, Othmer guides us through this rapidly changing business and lets us see the direction in which it is headed. A must read for any student of advertising." —Rick Boyko, Director, VCU Brandcenter

"For nearly half a century, David Ogilvy's Confessions of an Advertising Man has served as the Old Testament for an industry. Now there's a new one: James Othmer's Adland. Fully aware of (but not made giddy by) the many changes that have brought advertising from the classical Age of Ogilvy to our current era of the digital baroque, Othmer describes the art of commerce with the insight of an insider and the bemusement of a novelist." —Robert Thompson, Professor of Popular Culture, Syracuse University

"What Upton Sinclair did for meatpacking, Jim Othmer has done for advertising—only with far more humor and far less (physical) horror. Adland is destined to become a classic of its kind—a must read for anyone brave (or insane or aimless) enough to toil in the fields of modern advertising." —Daniel H. Pink, author of A Whole New Mind

"James P. Othmer is one of the funniest writers at work today. Period. His keen eye for the absurdities of the modern world rivals the likes of George Saunders and Sam Lipsyte. You could sharpen knives on Othmer's sentences. Prior to his 2006 debut novel, The Futurist, he was honing his mad skills in the advertising racket, as an exec at Young & Rubicam. And though I daresay it was a colossal waste of his talents, I, for one, am glad he endured it, or we wouldn't have Adland, a hilarious and insightful chronicle of the rise and fall of a modern ad man." —Jonathan Evison, author of All About Lulu and West of Here

"I've been in advertising more than twenty years and spent countless hours trying to tell people how insane and hilarious and exciting and pointless and fascinating it all is. Now all I have to do is hand them this book." —Jamie Barrett, Creative Director/Partner Goodby Silverstein & Partners, SF
Advertisement