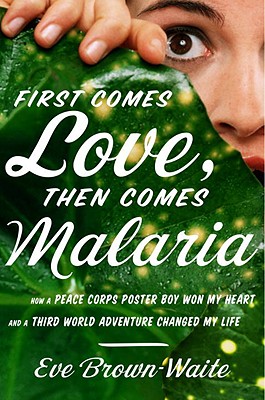 First Comes Love, then Comes Malaria (Hardcover)
How a Peace Corps Poster Boy Won My Heart and A Third World Adventure Changed My Life
Broadway, 9780767929356, 320pp.
Publication Date: April 14, 2009
Other Editions of This Title:
Paperback (4/13/2010)
* Individual store prices may vary.
Description
In this laugh-out-loud funny memoir, a pampered city girl falls head over little black heels in love with a Peace Corps poster boy and follows him —literally–to the ends of the earth.
Eve Brown always thought she would join the Peace Corps someday, although she secretly worried about life without sushi, frothy coffee drinks and air conditioning.  But with college diploma in hand, it was time to put up or shut up. So with some ambivalence she arrives at the Peace Corps office–sporting her best safari chic attire –to casually look into the steps one might take if one were to become a global humanitarian, a la Angelina Jolie.  But when Eve meets John, her dashing young Peace Corps recruiter, all her ambivalence flies out the window. She absolutely must join the Peace Corps - and win John's heart in the process. Off to Ecuador she goes and - after a year in the jungle - back to the States she runs, vowing to stay within easy reach of a decaf cappuccino for the rest of her days. 

But life had other plans.  Just as she's getting reacquainted with the joys of toilet paper, John gets a job with CARE and Eve must decide if she's up for life in another third world outpost. Before you can say, "pass the malaria prophylaxis," the couple heads off to Uganda, and the fun really begins--if one can call having rats in your toilet fun. Fortunately, in Eve's case one certainly can, because to her, every experience is an adventure to be embraced and these pages come alive with all of the alternatively poignant and uproarious details. 
With wit and candor, First Comes Love, then Comes Malaria chronicles Eve's misadventures as an aspiring do-gooder. From intestinal parasites to getting caught in a civil war, culture clashes to unexpected friendships, here is an honest and laugh-out-loud funny look at the search for love and purpose—from a woman who finds both in the last place she expected.
AUTHOR BIO
EVE BROWN-WAITE was a finalist for Iowa Review, Glimmer Train, and New Millennium Writings Awards for stories she wrote about her time abroad. She lives with her husband and two children in Massachusetts.
About the Author
EVE BROWN-WAITE was a finalist for "Iowa Review," "Glimmer Train," and "New Millennium Writings" awards for stories she wrote about her time abroad. She lives with her husband and two children in Massachusetts.
Praise For First Comes Love, then Comes Malaria: How a Peace Corps Poster Boy Won My Heart and A Third World Adventure Changed My Life…
"Eve Brown-Waite writes as she lives - with verve and humor and a fine sense of the absurd."
--Maarten Troost, author of Lost on Planet China

"A must, must, must read. You will laugh, laugh, laugh at this account of how you can do good and laugh away your stress all at the same time."
--Loretta LaRoche, author of Kick Up Your Heels Before You're Too Short to Wear Them


"Eve Brown-Waite had me at "Jambo." Her hilarious, charming and honest memoir about evolving from someone who merely shops at Banana Republic to someone who wants to save banana republics is an un-putdownable must-read."
-Jenny Gardiner, author of Sleeping with Ward Cleaver

"Eve Brown takes you on a wild, engrossing, and totally unpredictable ride with laughs and tears along the way. A wonderful debut!"
-Mia King, author of Good Things

"First Comes Love, Then Comes Malaria is infectious! Once you start it- you can't put it down."
--Eileen Cook, author of Unpredictable and What Would Emma Do?

"Proof positive that you CAN help the world, fall in love, survive malaria and a civil war AND laugh all at the same time. Eve Brown-Waite is a talented debut writer who better be writing a sequel because I want to know happens next!
--Gail Konop Baker, author of Cancer is a Bitch: Or, I'd Rather be Having a Midlife Crisis


"First Comes Love, Then Comes Malaria is a hilarious, smart and compelling debut. Eve Brown-Waite vividly captures the ex-pat experience, the paradox of trying to save the world while desperately craving a cappuccino and proves that in some locales, you can be a little bit pregnant. The result is a grand adventure, love story and journey of self-discovery that you will not be able to put down."--Danielle Younge-Ullman, author of Falling Under


Did Eve misrepresent herself to John during her Peace Corps interview? Why do you think John recommended her so highly? What qualities did she display at her interview and afterward that convinced him she was right for the job? Do you think he was right?
What do you think of John? Is the portrayal of "St. John" an honest portrait, or do you think he is an idealized character? What are his negative characteristics?
Despite Eve's reluctance to actually follow through with her Peace Corps plans, she does seem to handle the challenges of her Ecuadorian mission well, and derives sincere pleasure from being of service to the orphans she works with. Do you think her initial doubts are overblown? Does her commitment surprise her? Do you think she would have gone if not for John?
What lessons do you think Eve learned from her time in Ecuador? Do you think her Peace Corps experience helped her prepare for life in Uganda?
Before leaving for Uganda, Eve admits to Susan and Jean that she feels she needs to prove that she can survive a stint overseas. In fact, she remembers that she was the one to first suggest to John that they seek overseas jobs. Why do you think this need is so great? At what point do you think she has succeeded to her own satisfaction?
How do Eve and John relate to the expat community in Uganda? Do they have much in common? How much do they rely on their fellow expats? Is this a good support system? Why or why not?
Near the end of her stay in Uganda, Eve writes that Pauline would be proud of the "bush hostess" she's become. Would Pauline be proud? How closely do you think Eve follows in Pauline's footsteps as matron of the "big house"? Is it what Eve expected or hoped? Is it what Pauline expected? How are the two women different?
What do you make of the way Eve and John react to the very real dangers of Uganda: bombings, corruption, political unrest, and the hostage situation in their own home. Do you think they are too cautious or too blithe? Does their attitude change after the birth of their daughter?
After Sierra's birth, Eve admits her inner doubts about returning with a newborn to Uganda. In the end, she reasons that it's better to raise a child in an environment that is dangerous but nurturing, rather than one that is modern and convenient, but can be hectic and full of material distractions. Do you agree? Given the two extremes of New York and Uganda, which would you choose, and why?
Susan reminds Eve that "They have so little and we have so much." How does Eve deal with the income disparity in Uganda? How does she adapt to the reality of having hired "help"?
What about Eve's AIDS prevention work? Do you think she finds her few opportunities to contribute to be a source of satisfaction, or merely frustration? Objectively, do you think she has had a positive impact on her community? Why or why not?
Eve wonders whether Sierra will remember her early months in Arua. What impact, if any, do you think these experiences will have on Sierra's later life? Do you have memories of your earliest surroundings? Do you think they have had a significant impact on the person you've become?
What do you think of the style and tone of Eve's letters home? Does she withhold or exaggerate anything for the benefit of her friends and family? Which is a truer account: The letters she wrote at the time, or the memoir she wrote looking back?
After reading Eve's account, did your impressions of Ecuador or Uganda change? How do you think native Ecuadorians and Ugandans would react to Eve's descriptions of their country?
Did the book impact your opinion of the Peace Corps and similar organizations? How do you think you would handle the challenges of living in a developing country?
or
Not Currently Available for Direct Purchase