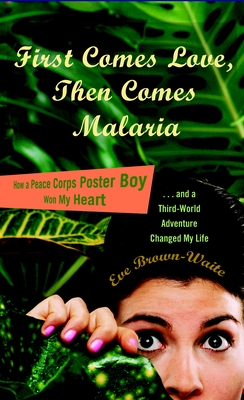 First Comes Love, Then Comes Malaria: How a Peace Corps Poster Boy Won My Heart and a Third-World Adventure Changed My Life (Paperback)
How a Peace Corps Poster Boy Won My Heart and a Third-World Adventure Changed My Life
Broadway Books, 9780767929363, 305pp.
Publication Date: April 13, 2010
* Individual store prices may vary.
or
Not Currently Available for Direct Purchase
Description
Eve Brown-Waite writes as she lives with verve and humor and a fine sense of the absurd. -- Martin Troost, author of Lost on Planet China
Eve Brown's dream is to join the Peace Corps and maybe solve world hunger and win a Nobel Peace Prize along the way. But she secretly fears she isn t tough enough to survive the bug-infested jungle, much less life without toilet paper and decaf cappuccino. Then she falls head-over-little-black-heels in love with John--a dashing Peace Corps recruiter whose do-gooder passions outshine her own. She becomes more determined than ever to get into the Peace Corps and to win John's heart in the process.
Assigned to Ecuador, she yearns for warm showers and cold beers (instead of the other way around ). And though she occasionally finds herself overwhelmedby herwork reuniting homeless children with their families, she learns to delight in small successes. But a year into her service, a tragedy befalls one of her fellow volunteers which unearths troubling memories from Eve's pastand causes her to return, rather unceremoniously, to the US. Back home, Eve attempts to settle down with John and get reacquainted with the joys of sushi and supermarkets. But faster than she can say pass the malaria pills, John accepts a job with CARE in a remote corner of Africa and Eve gets a second chance to test her mettle in the Third World.
Withuproarious wit and candor, Eve Brown-Waite details the (mis)adventures that ensue. Fromintestinal parasites andguerrilla warfare, toculture clashes, and unexpected friendships, First Comes Love, Then Comes Malaria captures the thrills and absurdities of global humanitarian life in a story any globetrotter - armchair or otherwise - will love.
About the Author
EVE BROWN-WAITE was a finalist for Iowa Review, Glimmer Train, and New Millennium Writings awards for stories she wrote about her time abroad. She lives with her husband and two children in Massachusetts.
Praise For First Comes Love, Then Comes Malaria: How a Peace Corps Poster Boy Won My Heart and a Third-World Adventure Changed My Life…
"Eve Brown-Waite writes as she lives—with verve and humor and a fine sense of the absurd."
—J. Maarten Troost, author of Lost on Planet China

"A must, must, must read. You will laugh, laugh, laugh at this account of how you can do good and laugh away your stress all at the same time."
—Loretta LaRoche, author of Kick Up Your Heels Before You're Too Short to Wear Them


"Eve Brown-Waite had me at "Jambo." Her hilarious, charming, and honest memoir about evolving from someone who merely shops at Banana Republic to someone who wants to save banana republics is an un-putdownable must-read."
—Jenny Gardiner, author of Sleeping with Ward Cleaver

"Eve Brown takes you on a wild, engrossing, and totally unpredictable ride with laughs and tears along the way. A wonderful debut!"
—Mia King, author of Good Things

"First Comes Love, Then Comes Malaria is infectious! Once you start it, you can't put it down."
—Eileen Cook, author of Unpredictable and What Would Emma Do?

"Proof positive that you CAN help the world, fall in love, survive malaria and a civil war AND laugh all at the same time. Eve Brown-Waite is a talented debut writer who'd better be writing a sequel because I want to know happens next!
—Gail Konop Baker, author of Cancer Is a Bitch: Or, I'd Rather be Having a Midlife Crisis


"First Comes Love, Then Comes Malaria is a hilarious, smart, and compelling debut. Eve Brown-Waite vividly captures the ex-pat experience, the paradox of trying to save the world while desperately craving a cappuccino and proves that, in some locales, you can be "a little bit pregnant." The result is a grand adventure, love story, and journey of self-discovery that you will not be able to put down."
—Danielle Younge-Ullman, author of Falling Under

Advertisement