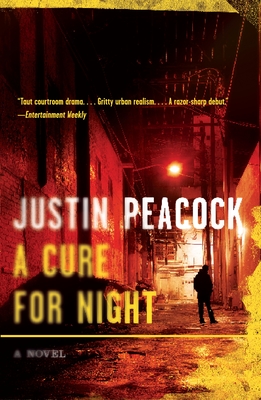 A Cure for Night (Paperback)
A Novel
Vintage Crime/Black Lizard, 9780767929417, 352pp.
Publication Date: October 6, 2009
* Individual store prices may vary.
Description
A Washington Post Best Book of the Year

Edgar Nominee–
Best First Novel

Joel Deveraux is a rising star at a white-shoe law firm in Manhattan. But after a drug-related scandal costs him his job and nearly his law license, he slides down the corporate ladder to the Booklyn Defenders office. He arrives just in time for a high profile murder case, where he is assigned to work with the tough and savvy Myra Goldstein. With pressure from their boss and interest from the tabloids, they take on the defense of a black pot dealer from the projects who is charged with the murder of a white college student. Joel quickly learns that urban criminal law is a form of combat where the best story wins–but who's telling the truth and who's lying are matters of life and death.
About the Author
Justin Peacock received an MFA from Columbia University and a law degree from Yale. Prior to attending law school, he worked as an online producer at the New York Times. His legal experience ranges from death-penalty defense to First Amendment cases. He lives in Brooklyn.

www.justinpeacock.net
Praise For A Cure for Night: A Novel…
"Taut courtroom drama. . . . Gritty urban realism. . . . [A] razor-sharp debut." —Entertainment Weekly

"[Peacock] heads toward Scott Turow country. . . . Based on his work here, he's got a good chance to make partner." —The New York Times Book Review

"A fresh view of the legal system, the drug trade, and an insider's view of Brooklyn. . . . Riveting." —Florida Sun-Sentinel

"A lively, dialogue-driven story of life on the streets and in the courtroom, and in both arenas, anything goes." —USA Today

"Terrific. . . . Chilling . . . . When the prizes are awarded for this year's best first novel, A Cure for Night will be competing for the gold." —Washington Post

"Welcome to Brooklyn's criminal courts and the next generation of courtroom novelists. . . . A strong debut." —New York Post

"Fascinating. . . . Intriguing. . . . [There are] lots of surprises lurking within its pages." —Fredericksburg Free Lance-Star

"[A] brisk debut novel and utterly likable public defender procedural. . . . Peacock—a Brooklyn lawyer in private practice—really knows how to craft an absorbing page-turner with an unexpected finale." —Newark Star-Ledger

"Well-written book. . . . Nothing is what it seems to be. . . . A lot of fun." —Contra-Costa Times

"A Cure for Night compares favorably with such works as Robert Traver"s Anatomy of a Murder and Scott Turow's Presumed Innocent. The courtroom exchanges are scintillating, the action away from the bench is suspenseful, and the conclusion is surprising." —Nashville Tennessean

"Peacock's gritty look at the bowels of the legal system is informed by his legal training, and he paints a complicated, engaging portrait of a city where it's a five-minute walk from high rises to low life." —National Public Radio

"The best courtroom drama in recent memory, as good as what Scott Turow and John Grisham gave us in their prime." —The Rap Sheet

"Remarkable. . . . [Peacock] is a gem of a writer, storyteller, and moralist." —Washington Lawyer

"Thoughtful. . . . Peacock accurately captures the bleak, almost mournful, gritty realism of the underpaid public defenders as they inhabit this sullied world." —Massachusetts Lawyers Weekly

"Haunting, seductive and dead-on-the-mark, A Cure for Night is the best courtroom novel in a generation." —Mark Costello
or
Not Currently Available for Direct Purchase