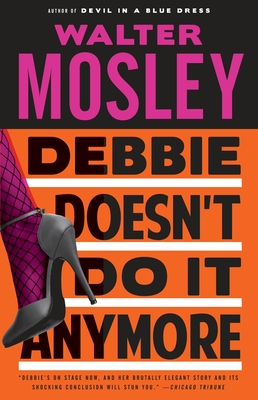 Debbie Doesn't Do It Anymore (Paperback)
Vintage Crime/Black Lizard, 9780767929646, 288pp.
Publication Date: February 3, 2015
Other Editions of This Title:
Digital Audiobook (5/12/2014)
Hardcover (5/13/2014)
* Individual store prices may vary.
Description
Millions of men and (no doubt many) women have watched famed black porn queen Debbie Dare—she of the blond wig and blue contacts—"do it" on television and computer screens in every combination of partners and positions imaginable. But after an unexpected and thunderous on-set orgasm catches her unawares, Debbie returns home to find her porn-producer husband dead, electrocuted in their hot tub in the midst of "auditioning" an aspiring young starlet.
Burdened with massive debt—incurred by her husband, and which various L.A. heavies want to collect on—Debbie must find a way to extricate herself from the peculiar subculture of the porn industry and reconcile herself to sacrifices she's made along the way. In Debbie Doesn't Do it Anymore, the creator of the Easy Rawlins series has painted a moving portrait of a resilient soul in search of salvation and a cure for grief.
About the Author
WALTER MOSLEY is the author of forty-two books, most notably eleven Easy Rawlins mysteries, the first of which, Devil in a Blue Dress, was made into an acclaimed film starring Denzel Washington. Always Outnumbered was an HBO film starring Laurence Fishburne, adapted from his first Socrates Fortlow novel. A native of Los Angeles and a graduate of Goddard College, he holds an MFA from CCNY and lives in Brooklyn, New York. He is the winner of numerous awards, including an O. Henry Award, a Grammy Award, and PEN America's Lifetime Achievement Award.
Praise For Debbie Doesn't Do It Anymore…
"[Debbie Doesn't Do It Anymore] features a range of the best-selling author's trademark plot roller coasters with their sharp rises, dips, and loop-the-loops." —Boston Globe

"In most of his 42 books, the much-admired Mosley has given us desperate characters constantly tested by circumstances and fate. Until now, none of his other series or stand-alones have come close to matching the kudos that have been showered on the Rawlins series. But Debbie's on stage now, and her brutally elegant story and its shocking conclusion will stun you."
—Chicago Tribune

"There is a crime in this book—several, in fact—and there's also self-discovery, recrimination, retribution, reunions and sex. . . .  If you're at all curious about the inner workings of the porn industry, or if you've ever dreamed of doing a life makeover, give this novel a read."
--NPR Books, Staff Pick--Great Reads of the Year

"This could be the best thing Mosley has written in years, a deeply affecting story of a woman whose determination to pull herself out of one life and into another is tested almost to its limits by things she can't control—until she finds a way to control them...[Mosley is] back at the top of his game here."
—Booklist, starred review

"The premise is jarring, yet Mosley is able to paint a picture of ordinary people. He shows the humanity of the characters despite their flaws."
—Library Journal

"Prolific novelist Mosley (Little Green, 2013, etc.) fielded his fair share of criticism for his X-rated one-two punch of Killing Johnny Fry (2006) and Diablerie (2007), and readers attracted to the equally explicit nature of this novel might be expecting more of the same. In truth, readers are likely to be more surprised by the depth of protagonist Sandra Peel, whom the author treats with tremendous compassion... A well-told redemption song about the most unlikely of heroines."
—Kirkus Reviews

"Debbie is an elemental creation in Mosley's canon, a strong female character with an impeccable voice."
—Publishers Weekly