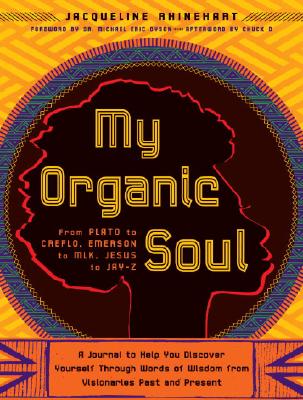 My Organic Soul: From Plato to Creflo, Emerson to MLK, Jesus to Jay-Z--A Journal to Help You Discover Yourself through Words of (Hardcover)
From Plato to Creflo, Emerson to MLK, Jesus to Jay-Z--A Journal to Help You Discover Yourself through Words of
Harmony, 9780767929769, 224pp.
Publication Date: November 11, 2008
* Individual store prices may vary.
or
Not Currently Available for Direct Purchase
Description
Who can speak for you better than you can speak for yourself? Discovery, renewal, and growth begin in the heart--and writing your own story can unlock the power to a new you. Jacqueline Rhinehart has gathered Scripture and quotes and has crafted questions primed to uplift, inspire, and transform. Including pages for journaling, writing music, or just venting and letting it all out, "My Organic Soul "is for anyone seeking the answer to life's ultimate question: "Who Am I?" Now that's a question only "you "can rap to.
About the Author
JACQUELINE RHINEHART is the president and founder of Organic Soul Multicultural Marketing, Inc., a firm that integrates entertainment concepts into creative marketing and branding opportunities.A She is a masterful omni-media strategist, creating, developing and implementing memorable campaigns in the music, entertainment and lifestyle industries. She lives in Orange, New Jersey.
Praise For My Organic Soul: From Plato to Creflo, Emerson to MLK, Jesus to Jay-Z--A Journal to Help You Discover Yourself through Words of …
"Ms. Rhinehart's book is not chicken soup for the soul—it's a feast. Beautiful, inspirational, necessary." – Danyel Smith, Editor-in-Chief, VIBE and author of More Like Wrestling and Bliss

"Jacqueline Rhinehart's My Organic Soul is a rich tapestry of wisdom from the words of grand sages of the past and present. Since all of us must wrestle with the question "Who am I?" this deep book is a needed companion for everyone. So don't miss it!" Dr. Cornel West, Princeton University

"With insight, humor and a shot of attitude, this provocative journal offers up the audacious and succinct boldness of hip hop lyrics and the sage musings of philosophers, helping to spur in readers their own introspection about the finer points of living. By inviting you to then pen your own thoughts, Jackie provides you the opportunity to ponder and to refine your own personal philosophy." – Johnnie L. Roberts, Newsweek

"My Organic Soul is a brilliant and loving gift book of self-discovery and empowerment, no matter race, color, or creed. With music as her foundation, author Jacqueline Rhinehart has put together quotes from the likes of Plato and Dr. King; Jesus and Jay-Z; C.S. Lewis and Dave Chappelle. And from that cutting and scratching and remixing of historical and present-day words of inspiration come practical solutions for all of us to make it through life, one drumbeat at a time." – Kevin Powell, activist and author of No Sleep Till Brooklyn and Who 's Gonna Take the Weight
Advertisement