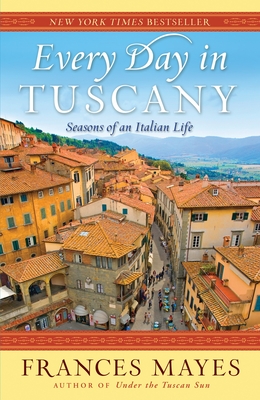 Every Day in Tuscany (Paperback)
Seasons of an Italian Life
Broadway Books, 9780767929837, 320pp.
Publication Date: March 8, 2011
* Individual store prices may vary.
Description
#1 NEW YORK TIMES BESTSELLER AND A TIMELESS CLASSIC FROM THE AUTHOR OF UNDER MAGNOLIA
 
Frances Mayes—widely published poet, gourmet cook, and travel writer—opnes the door to a wondrous new world when she buys and restores an abandoned villa in the spectacular Tuscan countryside. In evocative language, she brings the reader along as she discovers the beauty and simplicity of life in Italy. Mayes also creates dozens of delicious seasonal recipes from her traditional kitchen and simple garden, all of which she includes in the book. Doing for Tuscany what M.F.K. Fisher and Peter Mayle did for Provence, Mayes writes about the tastes and pleasures of a foreign country with gusto and passion.
About the Author
In addition to her Tuscany memoirs, Under the Tuscan Sun and Bella Tuscany, FRANCES MAYES is the author of the travel memoir A Year in the World; the illustrated books In Tuscany and Bringing Tuscany Home; Swan, a novel; The Discovery of Poetry, a text for readers; five books of poetry; and most recently a southern memoir, Under Magnolia.  She divides her time between homes in Italy and North Carolina.  Visit France Mayes's blog at www.francesmayesbooks.com.
Praise For Every Day in Tuscany: Seasons of an Italian Life…
#1 NEW YORK TIMES BESTSELLER
A NEW YORK TIMES NOTABLE BOOK

"An intense celebration of what [Mayes] calls 'the voluptuousness of Italian life'...appealing and very vivid...[The] book seems like the kind of thing you'd tuck into a picnic basket on an August day...or better yet, keep handy on the bedside table in the depths of January."
—New York Times Book Review

"This beautifully written memoir about taking chances, living in Italy, loving a house, and, always, the pleasures of food, would make a perfect gift for a loved one. But it's so delicious, read it first yourself."
—USA Today

"Mayes [has] perfect vision...I do not doubt that centuries from now, whoever lives in Bramasole will one day uncover bits of pottery used at Mayes's table. She has, by the sweat of her brow and the strength of her vision, become a layer in the history of this place."
—Los Angeles Times

"Irresistible...a sensuous book for a sensuous countryside."
—Minneapolis Star Tribune

"[A] parade of art, food, elemental landscape and abiding camaraderie...stir[s] the reader's gastric juices with luscious tales...Food is the pivot around which her days swing, and Mayes serves it forth with brio and dash-and recipes."
—Kirkus Reviews

"Mayes's affectionate and warm memoir vividly celebrates the lush abundance and charm of daily life in the Italian countryside."
—Publisher's Weekly

"The woman who singlehandedly started the travel-memoir craze returns with more on her life in Tuscany...With a four-city tour; can't miss."
—Library Journal

"We're right there with Mayes, fighting every urge to jump straight into these sun-soaked and citrus-scented pages...Mayes is generous with her thoughts, and her evocative writing simply oozes charm and warmth. In these times, this quick read is a thoroughly enjoyable way to visit Italy without once considering the heartbreaking dollar-to-euro conversion rate."
—Booklist