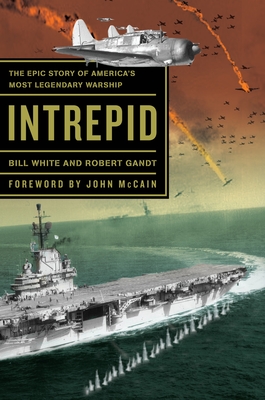 Intrepid
The Epic Story of America's Most Legendary Warship
Paperback

* Individual store prices may vary.
Other Editions of This Title:
Digital Audiobook (9/29/2008)
MP3 CD (9/30/2008)
Compact Disc (9/30/2008)
Compact Disc (9/30/2008)
Description
The first official history of the legendary aircraft carrier that fought in World War II and Vietnam and continues to serve as a major air and space museum in New York City

The USS Intrepid is a warship unlike any other. Since her launching in 1943, the 27,000-ton, Essex-class aircraft carrier has sailed into harm's way around the globe. During World War II, she fought her way across the Pacific—Kwajalein, Truk, Peleliu, Formosa, the Philippines, Okinawa—surviving kamikaze and torpedo attacks and covering herself with glory. The famous ship endured to become a Cold War attack carrier, recovery ship for America's first astronauts, and a three-tour combatant in Vietnam.
 In a riveting narrative based on archival research and interviews with surviving crewmen, authors Bill White and Robert Gandt take us inside the war in the Pacific. We join Intrepid's airmen at the Battle of Leyte Gulf, in October 1944, as they gaze in awe at the apparitions beneath them: five Japanese battleships, including the dreadnoughts Yamato and Musashi, plus a fleet of heavily armored cruisers and destroyers. The sky fills with multihued bursts of anti-aircraft fire. The flak, a Helldiver pilot would write in his action report, "was so thick you could get out and walk on it." Half a dozen Intrepid aircraft are blown from the sky, but they sink the Musashi. A few months later, off Okinawa, they again meet her sister ship, the mighty Yamato. In a two-hour tableau of hellfire and towering explosions, Intrepid's warplanes help send the super-battleship and 3,000 Japanese crewmen to the bottom of the sea.

We're next to nineteen-year-old Alonzo Swann in Gun Tub 10 aboard Intrepid as he peers over the breech of a 20-mm anti-aircraft gun. He's heard of kamikazes, but until today he's never seen one. Swann and his fellow gunners are among the few African Americans assigned to combat duty in the U.S. Navy of 1944. Blazing away at the diving Japanese Zero, Swann realizes with a dreadful certainty where it will strike: directly into Gun Tub 10.

The authors follow Intrepid's journey to Vietnam. "MiG-21 high!" crackles the voice of Lt. Tony Nargi in his F-8 Crusader. It is 1968, and Intrepid is again at war. Launching from Yankee Station in the Tonkin Gulf, Nargi and his wingman have intercepted a flight of Russian-built supersonic fighters. Minutes later, after a swirling dogfight over North Vietnam, Nargi—and Intrepid—have added another downed enemy airplane to their credit.

 Intrepid: The Epic Story of America's Most Legendary Warship brings a renowned ship to life in a stirring tribute complete with the personal recollections of those who served aboard her, dramatic photographs, time lines, maps, and vivid descriptions of Intrepid's deadly conflicts. More than a numbers-and-dates narrative, Intrepid is the story of people—those who sailed in her, fought to keep her alive, perished in her defense—and powerfully captures the human element in this saga of American heroism.
Praise For Intrepid: The Epic Story of America's Most Legendary Warship…
"Eloquently written."
—Tucson Citizen

"Vivid World War II sea and air battle descriptions."
—Washington Times

"The story of the Intrepid is as fresh and exciting today as it was when the great ship was in the thick of the most ferocious sea battles ever. We're so lucky to have her around to remind us of past glories and dangerous times."
—Tom Brokaw

"USS Intrepid's story is the story of a ship from World War II to Vietnam, the 55,000 men who served aboard her, and all those who fought so valiantly to save her for future generations. Intrepid's story is America's story, for as long as the flag caresses the wind and Americans believe in each other. Bill White and Robert Gandt have told it eloquently and well." —Stephen Coonts

"No ship other than Old Ironsides herself has a name that rings more brightly in the annals of our Navy's history than the USS Intrepid. This is an absorbing chronicle of the legendary aircraft carrier's long service in the fleet, from her two years in the fevered carrier actions of World War II to her unlikely role, moored on a Hudson River pier, on September 11, 2001. It's a fascinating look at how our carrier navy catapulted itself from a proud past into a limitless future. I learned something on almost every page."
—James D. Hornfischer, author of The Last Stand of the Tin Can Sailors and Ship of Ghosts

"Bill White and Bob Gandt's tale of Intrepid represents a rare then-to-now account of a fighting flattop. It's rare because so few historic carriers remain today, let alone one that launched aircraft in World War II and Vietnam and featured in recoveries of multiple space capsules. Small wonder, then, that CV-11's veteran sailors and aviators retain such pride in their ship." —Barrett Tillman, author of Clash of the Carriers
Crown, 9780767929981, 384pp.
Publication Date: September 8, 2009
About the Author
BILL WHITE is president of the Intrepid Sea, Air & Space Museum and the Intrepid Fallen Heroes Fund. ROBERT GANDT is a former U.S. Navy fighter pilot and Delta Air Lines captain. His numerous previous books include the definitive work on naval aviation, Bogeys and Bandits, which was adapted for the television series Pensacola: Wings of Gold.
or
Not Currently Available for Direct Purchase