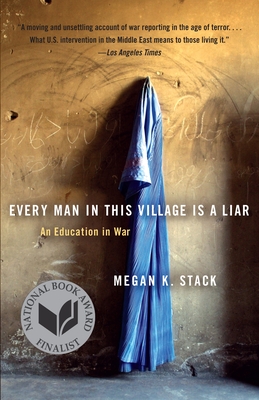 Every Man in This Village Is a Liar
An Education in War
Paperback

* Individual store prices may vary.
Other Editions of This Title:
Digital Audiobook (6/14/2010)
Hardcover (6/15/2010)
Hardcover, Large Print, Large Print (9/1/2010)
Paperback (7/1/2011)
Description
A shattering account of war and disillusionment from a young woman reporter on the front lines of the war on terror. 

A few weeks after the planes crashed into the World Trade Center, journalist Megan K. Stack was thrust into Afghanistan and Pakistan, dodging gunmen, prodding warlords for information, and witnessing the changes sweeping the Muslim world.  Every Man in This Village Is a Liar is her riveting story of what she saw in the combat zones and beyond. She relates her initial wild excitement and slow disillusionment as the cost of violence outweighs the promise of democracy; she records the raw pain of suicide bombings in Israel and Iraq; and, one by one, she marks the deaths and disappearances of those she interviews.
Praise For Every Man in This Village Is a Liar: An Education in War…
"A moving and unsettling account of war reporting in the age of terror. . . . Brave and engaged." —Los Angeles Times

"For readers frustrated with cold and unfeeling news coverage, Megan K. Stack's Every Man in This Village Is a Liar will serve as a much-needed antidote. . . . Personal and impassioned. . . . Refreshingly candid and undeniably affecting." —San Francisco Chronicle

"Above and beyond the 24-hour news chatter, opaque papers, and truncated press reports, stands Megan K. Stack's glittering Every Man in This Village is a Liar." —The Christian Science Monitor
 
"Without stories like Stack's, war becomes impersonal and easy to gloss over, relegated to page two. These stories—personal and vulnerable—are meaningful, if for no other reason than they force us to look again." —Minneapolis Star-Tribune

"Journalist Megan Stack sheds the customary pretenses of her profession to show us—with blistering eloquence and her own raw nerves laid bare—war's impact on the non-combatants who bear the brunt of its horrors. You'll be thinking about this book long after you turn the final page." —Jon Krakauer, author of Where Men Win Glory

"Every Man in This Village is a Liar is an electrifying book by an extraordinary foreign correspondent. Megan Stack has braved the battlefields of Afghanistan and Iraq, decoded the secrets of Israel and Egypt. She shows us what war and terror have done to humanity in the 21st century. Read it if you have the courage to care about your country, its allies, and its enemies." —Tim Weiner, author of Legacy of Ashes
 
"A piercing take on what it's like to be a female correspondent in today's Middle East." —Vogue


"There have been plenty of books by journalists about the Iraq and Afghan wars, many by reporters 'embedded' with troops. Megan Stack's offering is a different exercise in understanding, and all the better for it. . . . What makes this such a refreshing, and revealing book is that Stack never makes herself into anything other than she is, a woman, an American, young, naive and even innocent. . . . As an attempt to make sense of what was without sense, and a portrayal of a mood and time, Stack's book may be the best account yet of the so-called 'War on Terror'." —The Independent (London)

"[An] extraordinary book: Stack removes all the usual nonsense from war reporting. What you read here is the truth, gorgeously rendered in shimmering sentences, but unrelenting all the same." —Joe Klein, author of Politics Lost and Primary Colors
 
"A brave and beautifully written book. . . . [Stack] conveys is a war without direction and so badly managed that it has left in its wake a string of shattered societies across the globe." —The Sunday Times (London)
 
"Bracing. . . . Of lasting importance." —Elle
 
"Evocative. . . . Stack does not seek to tease out the links and disconnections between the various and varied nations of which she writes; it's a relief to realize that she isn't going to try to place, for example, Afghanistan and Egypt into the same crucible of analysis (if 'the war on terror' is a myth, so is 'the Muslim world'). What she does instead, with her fine journalistic eye, is capture what she sees and hears, and present it alongside enough taut analysis to move her accounts beyond the merely factual." —The Guardian (London) 

Anchor, 9780767930345, 272pp.
Publication Date: June 14, 2011
About the Author
Megan K. Stack has reported on war, terrorism, and political Islam from twenty-two countries since 2001. She was most recently Moscow bureau chief for the Los Angeles Times. She was awarded the 2007 Overseas Press Club's Hal Boyle Award for best newspaper reporting from abroad and was a finalist for the 2007 Pulitzer Prize in international reporting.
or
Not Currently Available for Direct Purchase