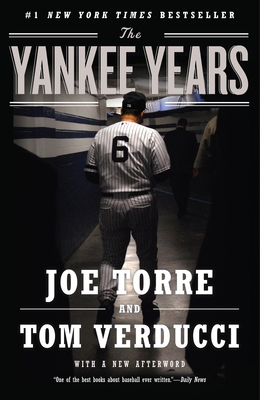 The Yankee Years (Paperback)
Anchor, 9780767930420, 528pp.
Publication Date: March 9, 2010
* Individual store prices may vary.
Description
The definitive story of one of the greatest dynasties in baseball history, Joe Torre's New York Yankees.
 
When Joe Torre took over as manager of the Yankees in 1996, they had not won a World Series title in eighteen years. In that time seventeen others had tried to take the helm of America's most famous baseball team. Each one was fired by George Steinbrenner. After twelve triumphant seasons—with twelve straight playoff appearances, six pennants, and four World Series titles—Torre left the Yankees as the most beloved manager in baseball. But dealing with players like Jason Giambi, A-Rod, Derek Jeter, Mariano Rivera, Roger Clemens, and Randy Johnson is what managing is all about. Here, for the first time, Joe Torre and Tom Verducci take readers inside the dugout, the clubhouse, and the front office, showing what it took to keep the Yankees on top of the baseball world.
About the Author
Joe Torre played for the Braves, the Cardinals, and the Mets before managing all three teams. From 1996 to 2007, Torre managed the New York Yankees. He is currently the manager for the Los Angeles Dodgers.
 
Tom Verducci is the senior baseball writer for Sports Illustrated and SportsIllustrated.com, and a baseball analyst for the MLB Network. He coauthored Joe Torre's first book, Chasing the Dream, and has also published an anthology of his work from Sports Illustrated, titled Inside Baseball: The Best of Tom Verducci.
Praise For The Yankee Years…
"One of the best books about baseball ever written."—New York Daily News 

"An insightful and non-hagiographic look at a legendary manager and team during one of baseball's most transformational eras."--Boston Globe
  
"The consummate insider's view of what may be the last great dynasty in baseball history."--Los Angeles Times
 
"An appealing portrait of a likable, hard-working man. One closes the book with a high regard for Mr. Torre, not least as a manager."--Wall Street Journal
 
"A lively chronicle. . . . What this book does . . . very persuasively is chart the rise and fall of one of baseball's great dynasties, while showing the care and feeding it took to bring the city of New York four championships in five years." —Michiko Kakutani, The New York Times
 
"A capacious fresh account of [Torre's] great run in the Bronx.... Verducci has range and ease; he's a shortstop on the page." —The New Yorker
 
"Compelling. . . . A hybrid of insider reporting [and] autobiography." —The Christian Science Monitor
 
"Fascinating reading."—The New York Times Book Review
 
"[Filled with] many insights, some about human nature, many about the great American game." —Bloomberg News