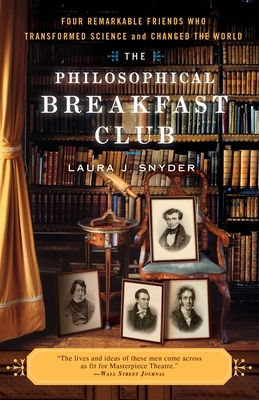 The Philosophical Breakfast Club (Paperback)
Four Remarkable Friends Who Transformed Science and Changed the World
Broadway Books, 9780767930499, 464pp.
Publication Date: January 17, 2012
Other Editions of This Title:
Hardcover (2/22/2011)
* Individual store prices may vary.
Description
"[A] fascinating book...about the way four geniuses at Cambridge University revolutionized modern science." —Newsweek

The Philosophical Breakfast Club recounts the life and work of four men who met as students at Cambridge University: Charles Babbage, John Herschel, William Whewell, and Richard Jones. Recognizing that they shared a love of science (as well as good food and drink) they began to meet on Sunday mornings to talk about the state of science in Britain and the world at large. Inspired by the great 17th century scientific reformer and political figure Francis Bacon—another former student of Cambridge—the Philosophical Breakfast Club plotted to bring about a new scientific revolution. And to a remarkable extent, they succeeded, even in ways they never intended.

Historian of science and philosopher Laura J. Snyder exposes the political passions, religious impulses, friendships, rivalries, and love of knowledge—and power—that drove these extraordinary men. Whewell (who not only invented the word "scientist," but also founded the fields of crystallography, mathematical economics, and the science of tides), Babbage (a mathematical genius who invented the modern computer), Herschel (who mapped the skies of the Southern Hemisphere and contributed to the invention of photography), and Jones (a curate who shaped the science of economics) were at the vanguard of the modernization of science.
 
This absorbing narrative of people, science and ideas chronicles the intellectual revolution inaugurated by these men, one that continues to mold our understanding of the world around us and of our place within it. Drawing upon the voluminous correspondence between the four men over the fifty years of their work, Laura J. Snyder shows how friendship worked to spur the men on to greater accomplishments, and how it enabled them to transform science and help create the modern world.

"The lives and works of these men come across as fit for Masterpiece Theatre." —Wall Street Journal

"Snyder succeeds famously in evoking the excitement, variety and wide-open sense of possibility of the scientific life in 19th-century Britain...splendidly evoked in this engaging book." —American Scientist

"This fine book is as wide-ranging and anecdotal, as excited and exciting, as those long-ago Sunday morning conversations at Cambridge. The Philosophical Breakfast Club forms a natural successor to Jenny Uglow's The Lunar Men...and Richard Holmes's The Age of Wonder." —Washington Post

About the Author
An expert on Victorian science and culture, Fulbright scholar Laura J. Snyder was the president of the International Society for the History of Philosophy of Science from 2009-2010.  She is professor of philosophy at St. John's University and the author of Reforming Philosophy: A Victorian Debate on Science and Society.
Praise For The Philosophical Breakfast Club: Four Remarkable Friends Who Transformed Science and Changed the World…
"Philosopher and science historian Snyder (St. John's Univ.) has written an impressive biography of four Victorian polymaths: William Whewell, Charles Babbage, John Herschel, and Richard Jones. Their individual achievements are remarkable.... The men's entangled lives and work make engaging and informative reading."
—CHOICE

"Snyder succeeds famously in evoking the excitement, variety and wide-open sense of possibility of the scientific life in nineteenth-century Britain."
—American Scientist

"Smoothly and meticulously tells this complicated story of intellectual revolution and triumph in Victorian England... provides much interesting social and historic detail."
—The Providence Journal

"This fine book is as wide-ranging and anecdotal, as excited and exciting, as those long-ago Sunday morning conversations at Cambridge.  To me her book is an example of popular intellectual history at its near best.  What's more, The Philosophical Breakfast Club forms a natural successor to Jenny Uglow's The Lunar Men (which focuses on 18th-century chemist Joseph Priestley, inventors James Watt and Josiah Wedgwood, and polymath Erasmus Darwin), and Richard Holmes's The Age of Wonder."
—The Washington Post

"The scientific method and the respect accorded science seem so obvious now that it is hard to believe it could be any other way. Yet the conversion from what science is and what it was is a fascinating story, one told with considerable charm by Laura J. Snyder in The Philosophical Breakfast Club."
—Washington Times

"Laura J. Snyder deftly recreates this age of marvels through the lives of four remarkable Victorian men. In doing so, she tells a greater tale of the rise of science as a formal discipline, and the triumph of evidence-based methods of inductive reason...Much of the delight of Ms. Snyder's telling lies in her eye for details...a sure-footed guide to the mores and foibles of 19th-century Britain...The members of the Philosophical Breakfast Club left behind some lavish gifts. This volume offers them up delightfully."
—The Economist

"Fulbright scholar and historian Laura J. Snyder plunges confidently and stylishly...Snyder engagingly stakes out an era beginning with science as a hobby of vicars and the wealthy to its evolution as the engine of imperial growth."
—Newark Star-Ledger 
 
"Geeks, scientists, intellectuals will leap for joy at Laura J. Snyder's book, which tells the tale of four Victorian men of Science."
—The Daily

"This is an excellent book about the history and status of science in 19th century England. If you enjoy the history of science, this book stands a good chance of being the best one in that genre to come out this year."
—Tyler Cowen, MarginalRevolution.com

"Ms. Snyder, a scholar of Victorian science and culture at St. John's University in New York, shows a full command of the scientific, social and cultural dimensions of the age. In Ms. Snyder's telling, the lives and ideas of these men come across as fit for "Masterpiece Theater.""
—Wall Street Journal
 
Snyder "leaves the reader with an inspiring sense of just how influential these men were in shaping our world and laying the foundation for major science and technological changes. The call to action is clear: bring the arts and the sciences back to the breakfast table and raise a mug of ale in memory of the four Victorian scientists who changed the world."
 —DailyBeast.com

A "masterful portrait of science in the 19th Century."
—New Scientist
 
"A philosopher of science, Snyder writes with the depth of a scholar and the beauty of a novelist."
—Science News

"If wonder and humanity do return to science, wonderful biographical works such as Snyder's Philosophical Breakfast Club will no doubt have played a part. The Philosophical Breakfast Club is an intellectual banquet, recounting myriad thought-provoking scientific discoveries, and sufficiently detailed to convey the kind of environment these men lived in and how they dramatically changed science for the better. Snyder's extensive bibliography attests to the painstaking effort she put into this work, and the result is an entertaining and enlightening journey through the Victorian age filled with scores of interesting scientists besides the Philosophical Breakfast Club, many of whom, given their contributions to science and human life, deserve their own biographies."
—The Objective Standard

"Smoothly and meticulously tells this complicated story of intellectual revolution and triumph in Victorian England... provides much interesting social and historic detail."
—The Providence Journal

"The author's extensive research, wonderful writing, and passion for lifelong learning all serve to awaken the reader's inner spirit of discovery."
—Bookreporter

"Engrossing...Packed with good stories and anecdotes, as well as with good science and history."
—Book News

"Each of the four figures is a worthy subject in his own right, and by combining their stories Snyder provides the right balance of biography and science. It also allows Snyder to discuss a wide range of scientific developments that are sufficiently modern to appeal to today's readers."
—Publishers Weekly

"A striking account of how a few bold individuals catalyzed profound social change."
—Booklist

"Snyder captures not only the scientific ambitions of the foursome, but also the dynamics of their youthful friendship."
—The Chronicle of Higher Education

"An accessible and engaging read on the origins of Victorian science, its personalities, and the cultural contribution made by these four men, this will appeal to readers interested in Victorian science, biographies, astronomy, chemistry, the religion vs. science debate, Darwin, computers, and a smorgasbord of related sciences."
—Library Journal

"The author skillfully weaves together the lives of her four principals with the science of their day."
—Kirkus Reviews

"Snyder paints a vivid picture of a revolution in scientific thought….Its portrayal of a world and time much different from our own is remarkable, and Snyder spares no expense in immersing the reader into the world that produced these natural philosophers."
—Fully Booked (Philippines)

"It is too easy to think that 'science' is what happens now, that modernity and scientific thought are inseparable. Yet as Laura Snyder so brilliantly shows in this riveting picture of the first heroic age, the nineteenth century saw the invention of the computer, of electrical impulses, the harnessing of the power of steam—the birth of railways, statistics and technology. In 'The Philosophical Breakfast Club' she draws an endearing—almost domestic— picture of four scientific titans, and shows how—through their very 'clubbability'—they created the scientific basis on which the modern world stands."
—Judith Flanders, author of Inside the Victorian Home

"The four busy geniuses who inhabit Laura Snyder's wonderfully engaging book did not invent friendship or science, but by combining those pastimes in their "philosophical breakfasts," they managed to invent much else, from the very word "scientist" to versions of the computer and the camera." 
—Joyce E. Chaplin, James Duncan Phillips Professor of History, Harvard University

"By tracing the careers of the four members of the Philosophical Breakfast Club, Laura Snyder has found a wonderful way not just to tell the great stories of 19th-century science, but to bring them vividly to life."
—Tom Standage, author of A History of the World in 6 Glasses

"In this elegantly written book, Snyder has brought to life four of the most important British scientists of the first half of the nineteenth century…[She] tracks the intertwined lives of these four figures—their loves, their personal successes, and their devastating failures--while casting light on every facet of British science during their lifetime…Snyder relies on sound scholarship without losing sight of what makes these men so fascinating."
—Bernard Lightman, Professor of Humanities and Director, Institute of Science and Technology Studies, York University

"Who would not want to be invited to breakfast with the young philosophers and scientists that Laura Snyder portrays so vividly and with searching imagination? Charles Babbage, William Whewell, John Herschel, and Richard Jones, even as students at Cambridge, plotted the reform of science, which in the early nineteenth century hardly existed in the British universities.  As they attained intellectual and institutional power, they continued their efforts, often working through elite social networks.  At exquisite dinner parties, for instance, Babbage would demonstrate his new invention, the analytical engine, a forerunner of the modern computer, and therewith beguile the young Charles Darwin just back from his Beagle voyage.  Science and the personalities who created it spring to life in Snyder's compelling biographical depictions."
—Robert J. Richards, Morris Fishbein Professor of the History of Science, University of Chicago