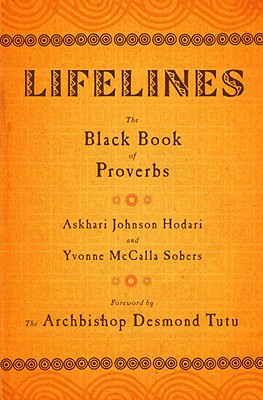 Lifelines
The Black Book of Proverbs
Hardcover

* Individual store prices may vary.
Description
This little book contains the wisdom of the ages, and is guaranteed to produce a smile of appreciation at the sheer sense of the proverbs you will find inside. From advice you wish your mother had given you, to things you probably suspected, but had never put into words, Lifelines is a book to be read, absorbed and treasured.—Pearl Cleage, New York Times best selling author of What Looks Like Crazy On An Ordinary Day

This illustrated treasury of proverbs unites the timeless wisdom of Black communities in Africa, the Caribbean, and the Americas, while speaking to the triumphs and challenges of everyday life.

Lifelines: The Black book of Proverbs travels to all corners of the globe to reclaim and preserve African wisdom. This book offers the remarkably wise heart of Africa and her children to readers experiencing career changes, new births, weddings, death, and other rites of passage. Readers will find truth in the African saying, "When the occasion arises, there is a proverb to suit it."

Proverbs are presented in vibrant story-poem form; and are uniquely arranged by key life cycle events such as birth, initiation, marriage, and death. The proverbs can be found under themes such as "wealth", "parenting", "change" and "strength." Inspired illustrations introduce each section along with beautiful vignettes showing how African proverbs comfort, inspire and instruct during different phases of life.

Lifelines illuminates how traditions, civilization and spirit survive and thrive, despite centuries of loss of freedom, family, identity, language, land, and wealth. The proverbs offer wisdom for every stage of our lives. Collected in one place as never before, it is the perfect addition to the book shelves of families large and small, from Nairobi to New Orleans and every city in between.

From Birth:
Every cackling hen was an egg at first.
-Rwanda
to Marriage:

A woman's clothes are the price her husband pays for peace.
-Central Africa, East Africa, and Southern Africa (Bantu)
and Elderhood:
Every time an old man dies it is as if a library has burnt down.
-West Africa

as well as every stage of life in between, the proverbs found in Lifelines offer the guidance and wisdom to last a life time.

Unlike other collections of proverbs, Lifelines hews closely to the cycle of life and draws inspiration from the authors combined 110 years of experience. Askhari Johnson Hodari and Yvonne McCalla Sobers have set out to let their proverbs both tell a story and stand alone. So whether you flip it open to a random page, read it through from start to finish, or go searching for a proverb to match your unique circumstance, you'll find just the right lifeline to provide the comfort and guidance you're looking for.
Praise For Lifelines: The Black Book of Proverbs…
These black proverbs will make you laugh, nod in agreement, remember your grandparents' wise sayings or simply mutter a heartfelt "amen." Crammed with pithy advice, Lifelines sheds wisdom on just about every situation from childbirth to adultery to choosing friends. Hallelujah and pass the proverbs.–Betty DeRamus, author of Forbidden Fruit: Love Stories from the Underground Railroad and Freedom by Any Means: True Stories of Courage and Cunning on the Underground Railroad.

Lifelines is an indispensable gem to have wherever you are. But most importantly, it is the life-line our youths need to buffer their rough edges. What a marvelous gift the authors have compiled for us. Nuff Respect. –Opal Palmer Adisa, author of I Name Me Name

Lifelines is a rich and fascinating exploration into the vast well of African wisdom throughout the centuries. The authors have superbly culled and categorized an exquisite array of ancestral insight and knowledge. This book not only reflects Africa's intellectual contribution to humanity, but it inspires and encourages self-reflection while educating one on history, geography, and social customs. Lifelines provides the necessary perspective and clarity we need in these complex times.  - Tony Medina, author of I and I: Bob Marley 

When I am attentive in my living, I learn....but to be given all these lessons of ancestral wisdom through Lifelines is a sacred honor. If I had any doubts as to where new inspiration and direction for my composing would be found, I can rest assured that it is within this brilliant gift. Asante sana.–Nitanju Bolade Casel, of Sweet Honey in the Rock

These are proverbs about life, not about race. Here are memorable truisms full of wit and wisdom. These are pithy proverbs anyone can understand and powerful proverbs everyone will be able to use.–Kalamu ya Salaam, New Orleans writer/educator

Lifelines cleverly and uniquely helps to motivate and inspire individuals from all walks of life to move beyond challenges and roadblocks to enjoy a wonderful and awesome life! The authors and creators are truly ingenious, very witty and most insightful.–Michele Wright, Ph.D., Author of Dear Success Seeker

Broadway Books, 9780767931205, 256pp.
Publication Date: November 10, 2009
or
Not Currently Available for Direct Purchase