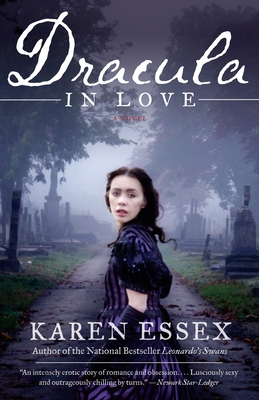 Dracula in Love
Paperback

* Individual store prices may vary.
Other Editions of This Title:
Digital Audiobook (10/28/2010)
Description
London, 1890. Mina Murray Harker, the rosy-cheeked, quintessentially pure Victorian heroine, becomes Count Dracula's object of desire. To preserve her chastity, five male "defenders" rush in to rescue her from the vampire's evil clutches. This is the story we have been told. But now, from Mina's own pen, we discover a tale more sensual, more devious, and more enthralling than the Victorians could have ever imagined. From the shadowy banks of the river Thames to the wild and windswept Yorkshire coast, Mina vividly recounts the intimate details of what really transpired between her and the Count—the joys and terrors of a passionate affair, as well as her rebellion against her own frightening preternatural powers.
Praise For Dracula in Love…
"An intensely erotic story of romance and obsession. . . . Lusciously sexy and outrageously chilling by turns." –Newark Star-Ledger

"Required reading. . . . Essex retells Bram Stoker's Dracula legend, but this time the story comes entirely from heroine Mina Harker's point of view . . . meeting the ubervampire himself face to face, not to mention fang to neck." –New York Post

"Thrilling, shocking, and deliciously seductive, Dracula in Love will sink its teeth into you and suck you in from start to finish. Karen Essex has wielded her magic on one of the world's most terrifying tales, and the result is absolutely irresistible." –Anne Fortier, author of Juliet

"Dark, gothic, and utterly sensual. . . . The character of Mina Murray leaps from the pages in an extraordinary confession of what truly happened between her and Count Dracula. In this novel of forbidden desires and secrecy, purity is an overrated virtue." —Michelle Moran, bestselling author of Nefertiti: A Novel

"Beautifully written. . . .  Romance and vampire fiction buffs will snap this up." —Library Journal 
 
"Dracula in Love is a sensual fantasy feast, a flight of the imagination, a darkly rich pleasure." —Margaret George, author of The Memoirs of Cleopatra
 
"Mina Harker is a heroine for the ages—bold, intrepid, and in love with one of the most dangerous, irresistible men in history. If you read only one more vampire novel, let it be this one." —C.W. Gortner, author of The Last Queen

"In Essex's hands, Mina becomes a woman with unusual gifts and powers, and she must learn to use them." —BookPage

"Gorgeously written and erotically charged, the novel Dracula in Love is like its century-jumping central characters: deeply rooted in the past while pushing ageless mythology into strikingly current realms. Historical novels should have plenty of history, and this novel surely does. Romantic novels should have their share of sex and romance, and this novel delivers both. But its true revelation is its gripping sense of anticipation, heartache, discovery, and unflinching chill." —Bruce Feiler, author of Walking the Bible

"[Dracula in Love] is a haunting, feminist portrayal of eternal love, forbidden desires, and Victorian virtues. . . . A refreshing take on a classic that is sure to mesmerize readers." —Fangoria
Anchor, 9780767931229, 384pp.
Publication Date: July 5, 2011
About the Author
KAREN ESSEX is the author of four novels, including the international bestseller Leonardo's Swans. Her award-winning essays and articles have appeared in many periodicals, among them L.A. Weekly, Vogue, and Playboy. She lives in Los Angeles.
In the prologue, Mina Murray writes, "The truth is we must fear monsters less and be warier of our own kind." What "monsters" evoke fear in the book? Which humans evoke fear?
How does feminism play into Mina's choices? Miss Hadley's? Lucy's? Kate's? How are these women similar? Which of the women do you ultimately consider more liberated?
How does Mina evolve throughout the story? What changes her? Where does she get her true power? Do you agree with her choices?
In some ways, the book is an exploration of free will versus fate. Are there any victims in the story, and why are they victims? To what or whom are they victims? Do you believe what Dracula says, that a person cannot be made to do something s/he has not chosen on some level?
Did Dracula in Love deepen your understanding of the roots of vampirism?
Discuss the different elements of vampire folklore in the book (i.e. The Lamia, the story of Lilith, the Sidhe, the ghost tales of Whitby) and the ways in which they have contributed to modern day vampire myths.
Victorian ideology and customs are strongly painted in the book. In what ways, does Mina accept them and give in to them? In what ways, does she reject them?
How do the vampires differ from vampires in other vampire books, films, and television shows, whether classic or contemporary?
Discuss sexuality as it pertains to different characters in the book. (Mina and Jonathan. Mina and the Count. Lucy and Arthur. Lucy and Morris. Mina and John Seward. Jonathan and the Lamia.)
What symptoms and behaviors deemed a patient "insane" in Lindenwood? How does the characterization of the insane relate to Victorian ideology?
In what ways does Dracula in Love reflect the Victorian obsession with Darwin's theory of evolution and other scientific and medical advancements of the time? What 20th century events does it foreshadow?
What are the most poignant ways in which Dracula in Love differs from Bram Stoker's Dracula? Do you find one account more credible than the other?
or
Not Currently Available for Direct Purchase