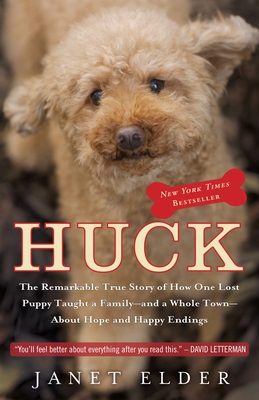 Huck
The Remarkable True Story of How One Lost Puppy Taught a Family--and a Whole Town--About Hope and Happy Endings
Paperback

* Individual store prices may vary.
Other Editions of This Title:
Digital Audiobook (9/27/2010)
Hardcover (9/28/2010)
MP3 CD (9/28/2010)
Compact Disc (9/28/2010)
Compact Disc (9/28/2010)
Description
Huck is a page-turning, unforgettable true story of the tenacity of one small dog, the unexpected, extraordinary kindness of strangers, and a family's devotion to each other.
 
Michael was four when his relentless campaign for a dog began. At seven he made a PowerPoint presentation, "My Dog," with headings like "A Childhood Without a Dog is a Sad Thing." His parents, Janet and Rich, were steadfast; bringing a dog into their fast-paced New York City lives was utterly impractical.
 
However, on a trip to Italy, a chance happening leads Janet to reconsider, a decision then hastened by a diagnosis of breast cancer.  Janet decides the excitement of a new puppy would  be the perfect antidote to the strain on the family of months of arduous treatments for her illness. The prospect of a new puppy would be an affirmation of life, a powerful talisman for them all.
 
On Thanksgiving weekend, soon after the grueling months of treatments are over, Huck, a sweet, mischievous, red-haired, toy poodle joins the family and wins everyone's heart.
 
A few months later the family ventures to baseball's spring training, leaving Huck with Janet's sister in Ramsey, New Jersey.  Barely twenty-four hours into the trip, Janet receives the dreaded phone call: Huck has slipped through the backyard fence and run away. 
 
Broken-hearted and frantic, the family catches the first plane to New Jersey to begin a search for their lost puppy. It is a race against time, for little Huck is now lost in an area entirely unfamiliar to him, facing the threat of bears and coyotes, swamps and freezing temperatures, rain and fast cars. 
 
Moved by the family's plight, strangers – from school children to townspeople to the police lieutenant – join the search, one that proves to be an unyielding test of determination and faith.
 
Touching and warm-hearted, Huck is a spirit-lifting story about resilience, the generosity of strangers, and hope.
Praise For Huck: The Remarkable True Story of How One Lost Puppy Taught a Family--and a Whole Town--About Hope and Happy Endings…
"There is an aura of happy innocence--a kind of euphoria-- pervading this book....Elder shows us humanity in its best light and we are uplifted."  
—The New York Times

"It's about hope, it's about fear, it's about triumph … I guarantee you, you'll feel better about everything after you read this." – David Letterman

"This story takes place in the most familiar places – a doctor's office, a family's kitchen, a suburban high school, and the woods out back. It's a modern-day myth that happened to be true. It's a story in which wonderful things occurred because people believed in themselves and in each other. It's a story about the power of love to change our world."
—Caroline Kennedy
 
"A story of how healing the love of a pet can be and of faith that good things can still happen when people pull together – a true, feel-good read"
—Patricia Cornwell, author of the Scarpetta series and dog lover
 
"Huck is the Dewey of the canine world. The dog is a delight-- even my cat Norton would have been charmed (after a hiss or two) -- and the book itself is lovely and inspiring. I rate it 5 barks."
—Peter Gethers, author of The Cat Who Went to Paris and The Cat Who'll Live Forever
 
"Janet Elder's wonderful story of Huck reminds us that the best stories about dogs are really about people or, in this case, community. Few things in America these days can bring people together more than a shared love of dogs. Dogs enter our lives for all kinds of reasons, and Huck entered Janet Elder's life for one of the most important. This is a wonderful story, gripping and heartwarming. And I can't say I've ever read a dog story with a more meaningful or uplifting ending. You are likely to cry some happy tears."
—Jon Katz, author of Soul of a Dog: Reflections on the Spirits of the Animals of Bedlam Farm

"This dog story made me feel good about people, families, and New Jersey."
—Roy Blount Jr.
 
"Puppies have always been better than people. Now comes a book where a puppy makes people better people. Pet it, feed it, even read it. You'll love it---and become a better person."
—Dan Jenkins, sportswriter/novelist
Crown, 9780767931359, 320pp.
Publication Date: October 4, 2011
About the Author
Janet Elder is a senior editor at The New York Times. She lives in Manhattan with her husband, Richard Pinsky, their son, Michael, and the family dog.
or
Not Currently Available for Direct Purchase