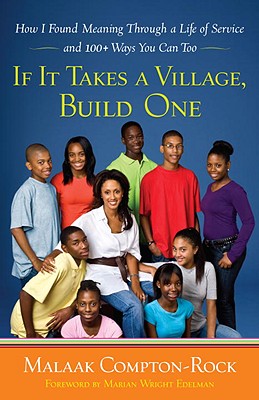 If It Takes a Village, Build One (Hardcover)
How I Found Meaning Through a Life of Service and 100+ Ways You Can Too
Crown Archetype, 9780767931700, 304pp.
Publication Date: April 6, 2010
* Individual store prices may vary.
Description
A must have book for anyone has
ever wanted to make a difference in the world.
________________________________________________
 
Service is the rent we pay for living" says preeminent children's advocate Marian Wright Edelman and this is the motto by which Malaak Compton Rock, dedicated humanitarian and wife of comedian Chris Rock, lives her life.   From a childhood grounded in the importance of giving back to her work in public relations at The U.S. Fund for UNICEF to becoming a full-time mother and humanitarian, Malaak's life has fully embodied this sentiment. 
 
Part memoir, part practical guide, If It Takes a Village, Build One offers readers insightful advice on everything from how to find just the right volunteer opportunity, how to get kids involved in a life of service, how to research charities, and even how to start a nonprofit, as Malaak did several years ago.  All of this practical wisdom is grounded in inspirational anecdotes about her own experience with service, including her work with Katrina rebuilding and her recent brainchild, Journey for Change: Empowering Youth Through Global Service, a program for at-risk kids from Bushwick, Brooklyn, which takes teens on a two week service mission  to South Africa to volunteer and experience the world.
 
The book also features interviews with other well known humanitarians, like PR powerhouse Terrie M. Williams, activist Bobby Shriver, and journalist Soledad O'Brien and engaging sidebars with interesting facts about service and nuggets of advice.  At the end of the narrative readers will find a compendium of information including Malaak's favorite charities, unique service ideas, and suggested reading and web resources, which will make this a book to be visited time and time again.
 
Far from being preachy or sanctimonious, Malaak's warm voice reminds us all that giving back is ultimately easier and infinitely more fulfilling than we thought it could be. Warm, honest, and accessible, If it Takes a Village, Build One will be the must-have book (and perfect gift!) for aspiring do-gooders.
About the Author
Malaak Compton-Rock lives in the New Jersey suburbs with her husband, Chris Rock, and two daughters. She holds a BFA in arts/production management from Howard University, sits on the board of directors for the Children's Defense Fund, and is a member of New York Women in Communications and the Cause Marketing Forum. In 2008, she was a cojudge on the Harpo/ABC-TV reality show Oprah's Big Give. She recently founded the Angelrock Project--an online e-village that promotes volunteerism, social responsibility, and sustainable change. The organization can be found at www.angelrockproject.com. This is her first book.
Praise For If It Takes a Village, Build One: How I Found Meaning Through a Life of Service and 100+ Ways You Can Too…
"Malaak Compton-Rock is changing the world!  Her focus on helping young people become all that they can be is a stunningly simple blueprint for what all of us can do.  If It Takes a Village, Build One is a must read if you want to make real change in your world."
--Soledad O'Brien, CNN anchor and special correspondent
 
 
"Malaak has taken her own life experiences with service, community and family and penned an important how-to for taking action and giving back. I've been fortunate to know her and to work with her, witnessing first-hand her dedication to helping others. If It Takes a Village, Build One is an empowering must-read for all of us working to make our communities, our country and our world a better place."
- Congresswoman Maxine Waters

"Millions of people around the world have been inspired by watching Malaak Compton-Rock work her extraordinary magic. Now she's written a moving and absorbing guide to how you, too, can easily tap into your inner humanitarian."
--Jon Klein, President of CNN/U.S
or
Not Currently Available for Direct Purchase