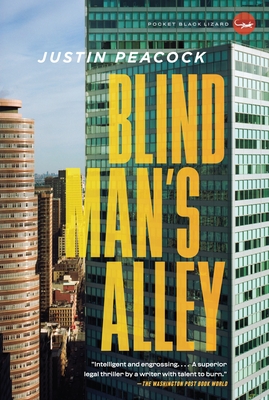 Blind Man's Alley (Paperback)
Vintage Books, 9780767932455, 526pp.
Publication Date: June 28, 2011
* Individual store prices may vary.
or
Not Currently Available for Direct Purchase
Description
Duncan Riley, a rising legal star, is defending his firm's major client, Roth Properties, after a fatal accident on a downtown construction site. Meanwhile, he represents a helpless young man accused of a murder in a housing development being built by . . . Roth Properties. Caught in a web of power, money, and influence, Duncan must balance the interests of his firm, the demands of his wealthy client, and the weight of his own conscience. All is not as it seems, however, and blackmail and homicide may just be two more hardball tactics in the cutthroat world of New York real estate.
About the Author
Justin Peacock received an MFA from Columbia University and a law degree from Yale. His legal experience ranges from death-penalty defense to First Amendment cases to big firm litigation. He lives in Brooklyn."
Praise For Blind Man's Alley…
"Intelligent and engrossing. . . . A superior legal thriller by a writer with talent to burn. . . . The novel's panoramic look at New York recalls Tom Wolfe's The Bonfire of the Vanities."
—Washington Post Book World

"Blind Man's Alley dives into the skulduggery of commercial real estate dealings with enthusiastic gusto. . . . Peacock zips up and down plot twists like fire escape stairways running through those awesome Manhattan skyscrapers."
—Los Angeles Times

"An ambitious thriller that delves into the interlocking worlds of real estate, law, journalism and politics."
—Bloomberg

"Strong storytelling from a crime fiction up-and-comer. . . . [Peacock is] a stylist with flair and that will take him a long way. . . . This is an author who knows exactly how to blend it all in way that will solidly entertain."
—The Dallas Morning News

"Dense, enthralling, complex, and extremely satisfying, Justin Peacock's Blind Man's Alley is an absolutely captivating read from an exceptionally talented writer who knows his stuff inside out."
—John Lescroart, author of A Plague of Secrets

"Filled with real characters and lawyers that we can finally respect, Blind Man's Alley is a legal thriller with a lot more gray areas than any Grisham novel."
—San Francisco Book Review
 
"Move over John Grisham and Scott Turow. There's a new legal thriller writer in town who is on par with, perhaps superior to, these bestselling authors. Justin Peacock, whose first novel, A Cure for Night, won him high praise, has written another blockbuster novel, this one set in the cutthroat world of New York real estate. . . . A fascinating look behind the scenes of a dog-eat-dog business."
—London Free Press
 
"Blind Man's Alley never lets down, and Peacock keeps his finger firmly on the pulse of the graft, corruption and political conspiracy that marks the pages of New York City newspapers on a daily basis."
—BookReporter.com
 
"Blind Man's Alley is cunningly plotted and utterly true to contemporary New York.  It covers every level of the city, from the penthouses to the projects.  And the characters are finely drawn—the good ones are never boring in their goodness, while the bad ones are as horrifying as New York produces."
—Edward Hayes, author of Mouthpiece
Advertisement