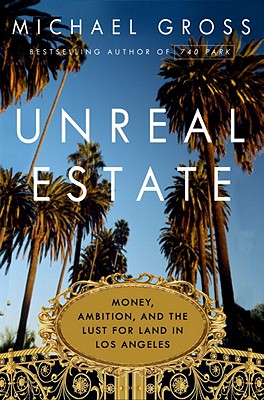 Unreal Estate (Hardcover)
Money, Ambition, and the Lust for Land in Los Angeles
Broadway Books, 9780767932653, 560pp.
Publication Date: November 1, 2011
* Individual store prices may vary.
Description
Michael Gross is the preeminent chronicler of America's rich and powerful, most recently in 740 Park and Rogues' Gallery.Now, he goes west to uncover the very secret history of Los Angeles, specifically those wealthiest and most private of enclaves— Beverly Hills, Bel Air, Holmby Hills, and Beverly Park—through their most mind-boggling estates, and the fascinating, fabulous folks who created and populate them. 
            Gross begins his epic tale with the sordid mob-driven history of the newest mega-mansion district in L.A., Beverly Park, (home to among others Magic Johnson, Barry Bonds, Rod Stewart, Mark Wahlberg, Reba McIntyre, Faith Hill and Tim McGraw, Samuel L. Jackson, Sly Stallone, Richard Zanuck, and relatives of an Indonesian dictator and Saudi Arabia's king). He then flashes back to the creation of this fabled district, built on dusty lima bean fields and carved out of the rugged impassible mountains between the city and the sea. Using the century-long evolution from adobe huts to $100 million mansions as the baseline of the story, he reveals how a few powerful and often ruthless oil and railroad magnates imposed their idyllic vision of the good life on the Los Angeles landscape to create the legendary communities known as the Platinum Triangle.
            Gross goes on to give vivid, riveting accounts of the most lavish of the many lavish houses that started springing up almost immediately (with only a brief slowdown during the Depression). But the stories of these homes are just a window onto the lives of their owners and occupants over the course of the twentieth century, and onto the bigger story of a people and a storied region that have become, in Gross's words, "the Mecca of self-invention."
            As one might imagine, there is a truly glittering cast of characters. Apart from the many Hollywood stars who have passed through these houses—Douglas Fairbanks Jr., Harold Lloyd, Marilyn Monroe, Jayne Mansfield, George Hamilton, Tony Curtis, Cher, to name just a few—you will meet decadent Spanish land-grant families, desperado oilmen and railroad titans, the country's first all-powerful corporate legends, con men and pyramid schemers, porn magnates, and Arab potentates, not to mention contemporary tabloid luminaries from the worlds of business and entertainment. Taken altogether, their stories read like a cross between Valley of the Dolls, Hollywood Babylon, and Gross's own 740 Park—with a little of the film Chinatown thrown in too. 
            Los Angeles provides Michael Gross with his broadest canvas yet; Unreal Estate will surprise, fascinate, and most of all entertain you with a story you don't know about a place you think you do. 
Praise For Unreal Estate: Money, Ambition, and the Lust for Land in Los Angeles…
"Unreal Estate . . . might be best described as what would happen if Us Weekly and Architectural Digest had a love child that was much smarter than either. The book provides a panorama of what was going on inside some of the most frivolous, gated houses on a hill that have ever existed." -Alana Semuels, Los Angeles Times

"Unreal Estate has it all: movie stars, murders, strippers, pimps, playboys and Mafiosi alongside the founding members of Los Angeles society . . . The book is a great read." -New York Social Diary

"Murderers, lawyers, actors, pornographers, tycoons, and addicts . . . Fantasy and ambition, cheating and careless waste . . . Gross's research is meticulous. Hard to read. Harder to put down." -Los Angeles Magazine

"A juicy, breezily told social history of La La Land . . ." -Kirkus 

"A gripping picture of what made Los Angeles what it is today...In Unreal Estate, [Michael Gross] takes on the Western Frontier like a modern day cowboy — seeking, searching and taking no prisoners." -Lucy Blodgett, The Huffington Post

"Juicy cocktail-party anecdotes . . . fill Unreal Estate." -Details

"Scandal filled" -Degen Pener, The Hollywood Reporter

"Juicy" -Curbed

"Gross writes with an aficionado's zeal . . ." -Publishers Weekly
or
Not Currently Available for Direct Purchase