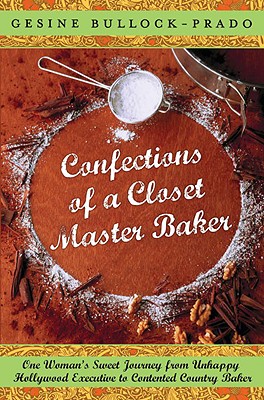 Confections of a Closet Master Baker: One Woman's Sweet Journey from Unhappy Hollywood Executive to Contented Country Baker (Hardcover)
One Woman's Sweet Journey from Unhappy Hollywood Executive to Contented Country Baker
Broadway Books, 9780767932684, 240pp.
Publication Date: September 8, 2009
* Individual store prices may vary.
or
Not Currently Available for Direct Purchase
Description
A former Hollywood insider trades the Hollywood Hills for Green Acres—and lives to tell about it in this hilarious, poignant treat of a memoir.

As head of her celebrity sister's production company, Gesine Bullock-Prado had a closet full of designer clothes and the ear of all the influential studio heads, but she was miserable. The only solace she found was in her secret hobby: baking. With every sugary, buttery confection to emerge from her oven, Gesine took one step away from her glittery, empty existence—and one step closer to her true destiny. Before long, she and her husband left the trappings of their Hollywood lifestyle behind, ending up in Vermont, where they started the gem known as Gesine Confectionary. And they never looked back. Confections of a Closet Master Baker follows Gesine's journey from sugar-obsessed child to miserable, awkward Hollywood insider to reluctant master baker. Chock-full of eccentric characters, beautifully detailed descriptions of her baking process, ceaselessly funny renditions of Hollywood nonsense, and recipes, the ingredients of her story will appeal to anyone who has ever considered leaving the life they know and completely starting over.
About the Author
GESINE BULLOCK-PRADO's delicious confections have been featured on the Food Network's hottest new show, "Road Tasted with the Neelys" and in such publications as "In Style," "People," "Vermont Life, "and "Boston Common." Gesine still lives in Vermont and is preparing to open another bakery in Austin, Texas.
In many ways, Gesine's recipes are a tribute to the people who have shaped her life. What memories do you bring to the kitchen when you cook? Who is the most memorable cook in your family?
Wisely, Gesine does not give out her macaroon recipe—her lifeblood. Are there secret recipes or secret ingredients in your repertoire? Or a recipe that never quite delivers the same results as the relative who made it famous?
Gesine and her husband moved from one coast to the other when they launched their new life. How does she describe each of these settings in her memoir? How does the shift from L.A. to Vermont also cause a shift in her identity?
Gesine celebrates the pleasure of dessert, but she is also troubled by America's obesity problem. Discuss the points she raises about quality baking and helping children develop a healthy attitude toward sweets. What is the best way to ensure that they become neither obese nor anorexic, like many members of the Hollywood culture that Gesine had to flee?
Gesine shares childhood memories of stolen Oreos and craving the processed food everyone else seemed to have, while feeling ashamed of the ultra-healthy lunches her mother made for her. How does this compare to your upbringing? What are your earliest memories of food restrictions and cravings?
In chapter three, Gesine describes the experience of watching her father cook. While male chefs dominate the culinary world, women dominate home kitchens. Do men and women have different approaches to cooking? Is there any downside to a family in which only the women cook?
Gesine's closeted hobby turned into a successful business venture. What secret hobby lurks in your daydreams? What would it take for you to pursue it fulltime, embarking on a new path in life? Would it spoil the fun if you turned your hobby into a business venture?
What is Gesine's approach to long workdays and the pursuit of perfection in baking? Why might this be excruciating under different circumstances? What is the key to finding joy in work—even very difficult work?
Describe your response to the tragedy Gesine confronted when her mother was diagnosed with a terminal illness. What ironies lie in her mother's final indulgence in decadent foods, while Gesine coped by becoming a runner? What can these scenes teach us about savoring life?
Gesine captures the challenges and triumphs she encountered when handling the baking for her sister's wedding. If she were going to bake for your wedding, what would you order?
Confections of a Closet Master Baker describes the generations of women, in America and abroad, who have shaped Gesine. What legacies have they given her? What have they taught her about being a fulfilled woman?
In your community, is there a gathering spot like Gesine Confectionary? If so, which of her customers reminds you most of yourself?
Would Confections of a Closet Master Baker be a useful addition to the business-book section? How does this author define a "successful" business? What is refreshing about her missteps—steeped in honesty—with the media and order fulfillment, and with customers who don't pronounce her name correctly? What could corporate America learn from her approach to human-resource management?
Gesine's recipes very much capture her cultural heritage. What ancestries would be reflected if you were to write a memoir packed with recipes?
Besides satisfying customers' sweet tooths, what other hungers were fed at Gesine Confectionary?
Advertisement