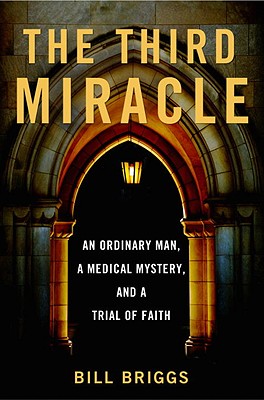 The Third Miracle
An Ordinary Man, a Medical Mystery, and a Trial of Faith
Hardcover

* Individual store prices may vary.
Other Editions of This Title:
Paperback (11/13/2012)
Description
Part detective story and part courtroom drama—with a touch of the supernatural—The Third Miracle exposes, for the first time ever, the secret rituals and investigations the Catholic Church today undertakes in order to determine sainthood.
On a raw January 2001 morning at a Catholic convent deep in the Indiana woods, a Baptist handyman named Phil McCord made an urgent plea to God. He was by no means a religious man but he was a desperate man. McCord's right eye was a furious shade of red and had pulsed for months in the wake of cataract surgery. He had one shot at recovery: a risky procedure that would replace part of his diseased eye with healthy tissue from a corpse. Dreading the grisly operation, McCord stopped into the convent's chapel and offered a prayer—a spontaneous and fumbling request of God: Can you help me get through this? He merely hoped for inner peace, but when McCord awoke the next day, his eye was better—suddenly and shockingly better. Without surgery. Without medicine. And no doctor could explain it. Many would argue that Mother Théodore Guérin, the long-deceased matriarchal founder of the convent, had "interceded" on McCord's behalf. Was the healing of Phil McCord's eye a miracle?
That was a question that the Catholic Church and the pope himself would ultimately decide. As part of an ancient and little-known process, top Catholic officials would convene a confidential tribunal to examine the handyman's healing, to verify whether his recovery defied the laws of nature. They would formally summon McCord, his doctors, coworkers, and family to a windowless basement room at the Archdiocese of Indianapolis. They would appoint two local priests to serve the roles of judge and prosecutor. And they would put this alleged miracle on trial, all in an effort to determine if Mother Théodore, whose cause for beatification and canonization dated back to 1909, should be named the eighth American saint.
In The Third Miracle, journalist Bill Briggs meticulously chronicles the Church investigation into this mysterious healing and offers a unique window into the ritualistic world of the secretive Catholic saint-making process—one of the very foundations on which the Church is built. With exclusive access to the case and its players, Briggs gives readers a front-row seat inside the closed-door drama as doctors are grilled about the supernatural, priests doggedly hunt for soft spots in the claim, and McCord comes to terms with the metaphorical "third miracle": his own reconciliation with the metaphysical. As the inquiry shifts from the American heartland to an awaiting jury at Vatican City in Rome, Briggs astutely probes our hunger for everyday miracles in an age of technology, the Catholic Church's surprisingly active saint-making operation, and the eternal clash of faith and science. 
Praise For The Third Miracle: An Ordinary Man, a Medical Mystery, and a Trial of Faith…
"Bill Briggs is that rare journalist who can report like a bulldog and write like a poet."
—Mark Obmascik, author of The Big Year: A Tale of Man, Nature, and Fowl Obsession 
 
"This book has the two most important ingredients for great nonfiction: a great story and a great storyteller. Bill Briggs has a marvelous voice and deft touch."
—Adrian Wojnarowski, author of the New York Times bestseller The Miracle of St. Anthony

"[An] intriguing glimpse into the Vatican saint-making process….In page-turning prose, Briggs details not only the process by which [one] miracle was authenticated by the church, but also the personal disquiet felt by the recipient, who was forced to ask the question—why me?" --Kirkus Reviews
Broadway Books, 9780767932691, 352pp.
Publication Date: January 11, 2011
About the Author
BILL BRIGGS writes for MSNBC.com, covering business, travel, and health. He is the coauthor of "Amped: A Soldier's Race for Gold in the Shadow of War" (Wiley, 2008). He earned seven national writing awards for the "Denver Post," from investigative journalism to humor pieces. His articles ranged from an expose on a sexual predator coaching youth basketball to a series of stories revealing dysfunction and financial irregularities within the U.S. Olympic Committee. Briggs also has written for the "Financial Times," the "Miami Herald," and the "Nashville Banner," covering business, sports, health, travel, and crime. Briggs has one daughter, Andrea, a college student. He lives in Denver, Colorado, with his wife, Nancy.
or
Not Currently Available for Direct Purchase