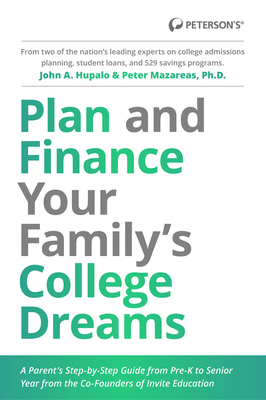 Plan and Finance Your Family's College Dreams (Paperback)
Peterson Nelnet Co, 9780768940800, 312pp.
Publication Date: May 18, 2016
* Individual store prices may vary.
Description
Planning and paying for a college education is a daunting task for most parents. It is a stressful and costly process that needs a well-thought-out academic and financial strategy. This guide offers just that Two of the nation's leading college planning and financing experts provide clear step-by-step guidance on how to successfully save, plan for, apply to, and finance a college education.
About the Author
John Hupalo is a nationally recognized expert in education loan finance and private credit student loans-having structured or securitized more than $50 billion of student loans, helping over 1 million students finance their educations. His career spans three decades with senior positions of a publicly traded education finance company and as Manager of a number of Education Loan Groups on Wall Street. In 2012, he co-founded Invite Education to empower families with better information, tools, and services to more effectively plan and pay for college. John began his career in 1982 on the Washington staff of Congressman John Porter, a member of the Appropriations Subcommittee on Education and Labor. From 1987-2003, he was a member or Manager of Education Finance Groups at Manufacturers Hanover Securities Corporation, Salomon Smith Barney, PaineWebber/UBS, and Deutsche Bank (2010). In 2003, he joined First Marblehead Corp., where he participated in the IPO and served as Senior EVP and Chief Financial Officer. Mr. Hupalo received his B.A. with Honors from Boston University in 1982 and an MBA in Finance from NYU's Stern School of Business in 1987. He has testified before Congress, frequently speaks at industry conferences, and has had articles published in U.S. News & World Report, the Association of Finance Professional Exchange, and the Greentree Gazette. Dr. Peter Mazareas is considered one of the nation's foremost experts on college planning and financing.He is one of the founders of 529 Plans, having worked with Congress on legislation to enable the creation and implementation of 529 savings plans. Peter helped establish and was elected Chair of the two 529 Trade Associations-the College Savings Plan Network (CSPN) and the College Savings Foundation. As a consultant, he helped design, launch, and market several of the nation's largest 529 Programs. He is the former Executive Director of the Massachusetts Educational Financing Authority, where he implemented some of the nation's first college loan and 529 savings plans. He is featured at national conferences and has been quoted and interviewed in a variety of national publications and radio and TV shows, including The Wall Street Journal; USA Today; Kiplinger's; CNN; PBS; Bob Brinker; Money Magazine; Smart Money Magazine; and Investment News. Dr. Mazareas has also served as Deputy Treasurer, Commonwealth of Massachusetts. He was a senior administrator and on the faculty at 3 universities, including as a full-time Professor of Business at Boston College's Carroll Graduate School of Management. He is a co-founder of Invite Education. Dr. Mazareas received a B.A. from Harvard College and an M.B.A. and Ph.D. from the University of Chicago.