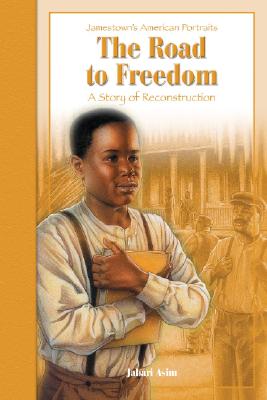 The Road to Freedom: A Story of the Reconstruction (Paperback)
A Story of the Reconstruction
Waterbird Books, 9780769634326, 126pp.
Publication Date: April 1, 2004
* Individual store prices may vary.
or
Not Currently Available for Direct Purchase
Description
It is 1865, and freedom is in thw air. Ten-year-old Exra Taplin is living on a North Carolina plantation when Union soldiers arrive to set the slaves free. Ezra and his father, Silas, must deal with their newfound livberty while finding a way to support themselves. After spending time in a Union work camp, they journey to Charleston, South Carolina, where freed slaves are organizing to establish better lives for themselves and their families. As Ezra matures, both he and his father discover the true meaning of freedom.
Jamestown's American Portraits explores the growth of different generations and cultures through the lives of young boys and girls. These titles are told from a diverse group of boys and girls, coming from different and unique backgrounds that represent America's own diverse population, spanning from the Jamestown Settlement to the Civil Rights Movement.
Titles in this series:

• This Generation of Americans: A Story of the Civil Rights Movement, by Fredrick L. McKissack, Jr.

• The Road to Freedom: A Story of the Reconstruction, by Jabari Asim

• All For Texas: A Story of Texas Liberation, by G. Clifton Wisler

• The Worst of Times: A Story of the Great Depression, by James Lincoln Collier

• Wind on the River: A Story of the Civil War, by Laurie Lawlor

• When I Dream of Heaven: Angelina's Story, by Steven Kroll (1895 Italian Immigrant in NYC)

• An Eye for an Eye: A Story of the Revolutionary War, by Peter and Connie Roop

• Sweet America: An Immigrant's Story, by Steven Kroll

• The Corn Raid: A Story of the Jamestown Settlement, by James Lincoln Collier

• Revenge of the Aztecs: A Story of 1920s Hollywood, by Susan Beth Pfeffer

• To Touch the Stars: A Story of World War II, by Karen Zeinert

Advertisement