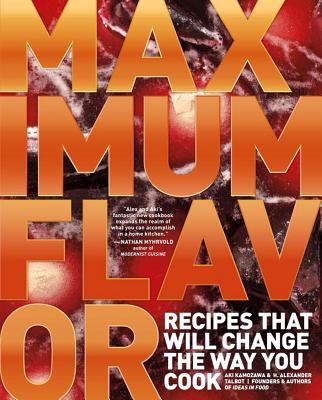 Maximum Flavor
Recipes That Will Change the Way You Cook
Hardcover

* Individual store prices may vary.
Description
Whether you're interested in molecular gastronomy or just want a perfect chicken recipe for dinner tonight, the authors of Ideas in Food deliver reliable techniques and dishes—no hard-to-find ingredients or break-the-bank equipment required—for real home cooks.
 
On the cutting edge of kitchen science, Kamozawa and Talbot regularly consult for restaurants to help them solve cooking conundrums. And yet they often find it's the simplest tips that can be the most surprising—and the ones that can help home cooks take their cooking to a new level.
 
With this book, you'll learn:

   • Why steaming potatoes in the pressure cooker before frying them makes for the crispiest French fries
   • Why, contrary to popular belief, you should flip your burgers often as you cook them for the best results
   • How a simple coating of egg white, baking soda, and salt helps create chicken wings that are moist and juicy on the inside with a thin, crackling exterior
   • How to cook steak consistently and perfectly every time
   • How to make easy egg-free ice creams that are more flavorful than their traditional custard-base cousins
   • How to make no-knead Danish that are even better than the ones at your local bakery
   • How to smoke vegetables to make flavorful vegetarian dishes
   • Why pâte à choux—or cream puff dough—makes foolproof, light-as-air gnocchi
   • How pressure cooking sunflower seeds can transform them into a creamy risotto
   • How to elevate everyday favorites and give them a fresh new spin with small changes—such as adding nori to a classic tomato salad
Sharing expert advice on everything from making gluten-free baking mixes and homemade cheeses and buttermilk to understanding the finer points of fermentation or sous-vide cooking, Kamozawa and Talbot chronicle their quest to bring out the best in every ingredient. With a focus on recipes and techniques that can help anyone make better meals every day and 75 color photographs that show both step-by-step processes and finished dishes, Maximum Flavor will encourage you to experiment, taste, play with your food, and discover again why cooking and eating are so fascinating and fun.
Praise For Maximum Flavor: Recipes That Will Change the Way You Cook…
"Alex and Aki's fantastic new cookbook expands the realm of what you can accomplish in a home kitchen."
--Nathan Myhrvold

"Aki and Alex have packed this cookbook full of ingenious ideas. Your food will look professional but will actually be simple to make because they've already done the heavy mental lifting for you."
--David Chang

"It's been a long time since I have read a book full of so many new tips and techniques. From fermentation 101 to brilliant new uses for the pressure cooker, Maximum Flavor is guaranteed to make cooking more fun and rewarding."
--Sean Brock

"In today's cluttered and often confusing food world, Aki Kamozawa and H. Alexander Talbot are bright lights I always look to for guidance. Their intelligence and, critically, their curiosity lead them down paths I have never traveled or even thought to. I welcome every new word, recipe, and technique from this talented couple and am thrilled to have Maximum Flavor in my kitchen."
--Michael Ruhlman

"Who ever says the sequel is the tour de force? It turns out that Maximum Flavor, the follow up to Ideas in Food, is a clever and eloquent fusion of food science tips and techniques that lead you to even better versions of many familiar and appetizing dishes. From a perfected recipe for French fries to caramel sauce with fresh ginger, this book is filled with simple ways to make some of our most beloved foods taste better than ever before."
--Alex Guarnaschelli

"I have been using Aki and Alex's blog, Ideas in Food, for years as a source of inspiration. I was excited to see that they bound all of their thoughtfulness, passion, and delicious recipes into a book, so even more people can maximize flavor in their home kitchens."
--Grant Achatz

"This book is a joy to read, with Alex and Aki at their most approachable and engaging. A must for anyone who loves to cook."
--Daniel Patterson

"It's simple: Aki and Alex are some of the smartest cooks around. Their sensible modern approach to making food better is inspiring."
--Richard Blais

"Maximum Flavor is a book that reminds me why I cook: to make things that simply taste good. This is a book for everyone to cook from—not just to look at the stunning pictures."
--Michael Voltaggio

"Aki and Alex redefine the pursuit for incredible flavor through their original ideas and techniques. Maximum Flavor will change the way we cook and will inspire curiosity and new possibilities in professional and home kitchens alike."
--Bryan Voltaggio

"Their new cookbook, Maximum Flavor, is filled with specific recipes for steaks, cakes, breads, pickles, and soups, but the book is exciting if each recipe is used as a jumping-off point for experimentation. There's a technical trick embedded in just about every dish in the book that not only helps improve the recipe itself, but it also can be read as an idea on its own…Whichever path you take, there is still plenty to learn."
--Serious Eats
Clarkson Potter, 9780770433215, 256pp.
Publication Date: October 8, 2013
About the Author
AKI KAMOZAWA and H. ALEXANDER TALBOT, authors of Ideas in Food and owners of a consulting business by the same name, have worked with both individual chefs and companies, such as No. 9 Group in Boston, Fourth Wall Restaurants in New York City, Frito Lay, and Unilever. Their company grew out of their blog, ideasinfood.com, which they started in 2004 as a way to record their daily work in restaurant kitchens. Winners of an IACP award in 2012 for their recipe writing, they have been featured in the New York Times, Popular Science, Food & Wine, and Saveur and regularly speak at professional conferences around the world.
or
Not Currently Available for Direct Purchase