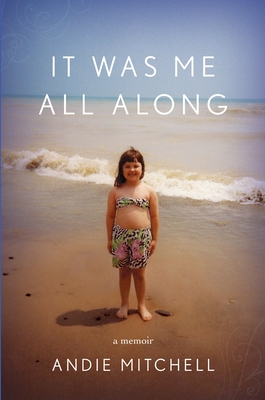 It Was Me All Along
A Memoir
Hardcover

* Individual store prices may vary.
Other Editions of This Title:
Digital Audiobook (1/5/2015)
Paperback (12/29/2015)
Description
NEW YORK TIMES BESTSELLER

A heartbreakingly honest, endearing memoir of incredible weight loss by a young food blogger who battles body image issues and overcomes food addiction to find self-acceptance.
 
All her life, Andie Mitchell had eaten lustily and mindlessly. Food was her babysitter, her best friend, her confidant, and it provided a refuge from her fractured family. But when she stepped on the scale on her twentieth birthday and it registered a shocking 268 pounds, she knew she had to change the way she thought about food and herself; that her life was at stake.

It Was Me All Along takes Andie from working class Boston to the romantic streets of Rome, from morbidly obese to half her size, from seeking comfort in anything that came cream-filled and two-to-a-pack to finding balance in exquisite (but modest) bowls of handmade pasta. This story is about much more than a woman who loves food and abhors her body. It is about someone who made changes when her situation seemed too far gone and how she discovered balance in an off-kilter world. More than anything, though, it is the story of her finding beauty in acceptance and learning to love all parts of herself.
Praise For It Was Me All Along: A Memoir…
"Andie Mitchell draws you in from the first cupcake—you taste the creamy frosting, feel every hunger pang, and your heart aches right along with hers. She beautifully exposes the dark and painful struggles of weight loss, food addiction, and self-hate that so many in this country face. Her journey to mental and physical health—the long road to overcoming her obsessive behavior—is so relatable you can't help but love and cheer for her. Read this book because it offers wonderful lessons for healthy living, being kind to yourself, and finding balance. Read it because it's heartbreakingly honest and endearingly educational. Just READ IT!"
—Alison Sweeney, host of NBC's The Biggest Loser
 
"Loving yourself is the bravest thing, and I'm so glad Andie found her bravery and was willing to share it. Cheers to chocolate cake in moderation and happiness in abundance!"
—Giada De Laurentiis, author of Giada's Feel Good Food
 
"Andie's story, in which she takes us along for her 135-pound weight loss journey and makes peace with food, is remarkable. She chooses to see the positives from her past, and she realizes that who she was when she was bigger molded her into the person she is today. Andie is an inspiration to anyone who struggles with the challenges of dieting and weight loss."
—Gina Homolka, author of The Skinnytaste Cookbook

 "A charming memoir about weight loss and self-discovery."
—People magazine
 
 "The book's biggest surprise is how relatable it is: Beneath the extreme eating scenarios Mitchell describes some universal truths about how women connect and clash with food. …It Was Me All Along is the perfect book to read in January, because Mitchell's total bluntness will inspire you to have a more honest year."
—Glamour.com
 
 "Anyone embarking on New Year's resolutions of eating healthier and losing weight will be humbled by reading Andie Mitchell's memoir, a poetically written, honest account of her struggles with binging, obesity and the traumatic childhood that led her to seek solace in food."
—StyleBistro.com
 
"In a moving new memoir, It Was Me All Along, Andie Mitchell describes how her life became a prison of calorie-counting, cravings and self-consciousness until she found a comfortable weight."
—Daily Mail
 
 "Mitchell's journey towards acceptance, chronicled in her new memoir, It Was Me All Along, has struck a chord with women everywhere."
—Yahoo! News
 
"It Was Me All Along is the strikingly honest story of one woman's long journey to self-acceptance. It's a must-read memoir for anyone who has used food to numb the pain rather than nourish the body."
—BookPage
 
"A candid and inspiring memoir."
—Kirkus Reviews
Clarkson Potter, 9780770433246, 240pp.
Publication Date: January 6, 2015
About the Author
ANDIE MITCHELL is a writer, recipe developer, and lover of cake. Her popular blog, CanYouStayForDinner.com, shares the inspiring story of her successful weight loss and continued passion for good food. She lives in New York City, where she is the social media director for ShriverReport.org. 
or
Not Currently Available for Direct Purchase