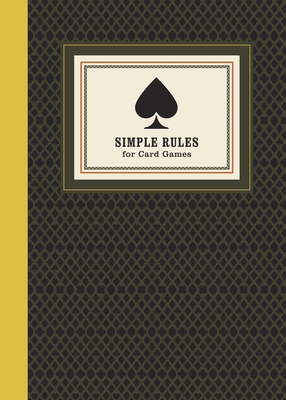 Simple Rules for Card Games: Instructions and Strategy for Twenty Card Games (Hardcover)
Instructions and Strategy for Twenty Card Games
Potter Style, 9780770433857, 128pp.
Publication Date: May 14, 2013
Description
Rules for Card Games is a sophisticated guide to 30 of the most popular card games with easy-to-follow text and illustrations. Perfectly priced at $10.00, this hardcover volume is just the right impulse item to pair with high-end and inexpensive gifts alike (a bottle of scotch, a cocktail shaker, a tin of gourmet popcorn, or a classic pack of Bicycle playing cards). The book is designed with ultimate cross-over appeal in mind; it's a great offering for hostesses, dads, grandparents, and college kids. After all, card games bring all kinds of people together While there are many "ultimate" card rule books crammed with fine print, this book represents a selective group of 30 of the most popular and easy-to-learn games. The text is easy to follow and, wherever possible, diagrams and illustrations are used to help spell out the rules and strategy.
About the Author
Potter Style, an imprint of the Crown Publishing group, is a high-end gift book and stationery line, specializing in lifestyle, design, art, fashion, humor, and DIY.
Advertisement